China is reporting numerous COVID-19 outbreaks around the country. Entrepreneurs complain that the zero-tolerance policy has locked their factories, employees, and transportation facilities. They're worried their businesses will shutter soon.
Changchun
In northeastern China's Changchun city, a transportation business owner Zhao (pseudonym) complained that all his drivers were locked-in at home, and the transport trucks were parked in the garage. There are no orders to fill because all his clients are under lockdown as well.
"We have been locked down at home for over one week. The [COVID-19] epidemic status here is like Wuhan (the world's COVID-19 ground zero which was locked down for over two months) in early 2020," Zhao told the Chinese-language Epoch Times on Mar. 18. "I earn nothing, but spend my savings every day."
Zhao lives in a village in the city's Luyuan District. He said that the regime didn't tell people how many residents in the community were infected with COVID-19 in the past days, but simply asked them to continually be tested.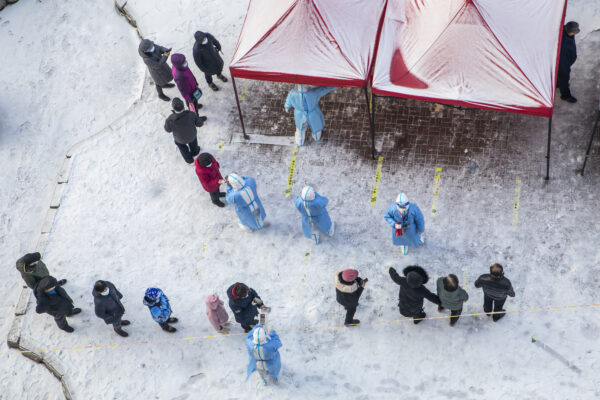 According to the Jilin provincial authorities, the worst outbreak in the province is in Jilin city, where thousands of people are hospitalized. Changchun is the province's capital, and announced nearly 1,000 new infections from 8:00 a.m. on Mar. 17 to 8:00 a.m. on Mar. 18.
The cities of Siping and Yanbian in Jilin Province also announced local outbreaks.
The regime has temporarily set up 10,494 makeshift hospital beds to treat only patients with mild symptoms. The patients with severe symptoms nearly fully occupy the regular hospitals. Asymptomatic infections, which the Chinese regime doesn't treat as infections and counts separately, are quarantined in hotels.
On Mar. 14, the regime locked the Jilin Province border and asked the residents to stay in their own cities rather than travel. Residents in Changchun and Jilin cities were locked at home.
Sanhe
Sanhe city in northern China's Hebei Province became well-known in the country for a local outbreak. The provincial regime announced that 97 percent of new infections in Hebei on Mar. 18 were from Sanhe.
"Seven of my employees are locked down at home now, and my company can't operate," Businessman Zhang (pseudonym) told the Chinese-language Epoch Times on Mar. 18. "I have lots of products piled in the company's storage. I have many orders on hand. But my employees can't go to the storage and the transportation companies are temporarily closed."
Zhang's company has an office and warehouse at Dongmao International Mall in Sanhe, and almost all his employees live in the Dongmao Residential Compound which is close to the mall.
He was in Beijing when the Sanhe regime locked the city down. He then decided to stay in the nation's capital and tried to find solutions to maintain his company's operations. "[My company's] loss is huge. The products in storage have a value of about 700,000 yuan ($110,000). I lose about 6,000 yuan ($945) every day. Spring is a golden season for my company, but I can't sell products," Zhang complained.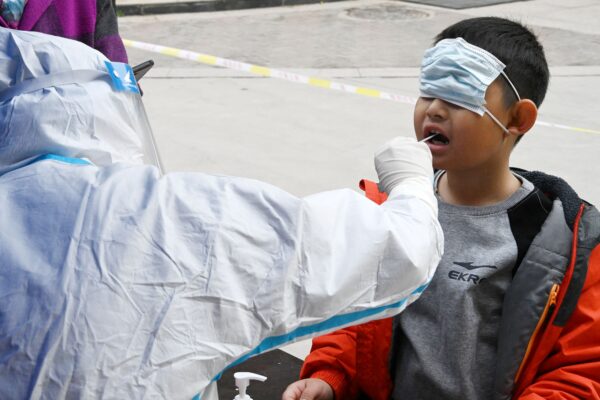 Southern China's Dongguan city is the home of over one million companies, most of which are export oriented. The city's total imports and exports reached 1524.7 billion yuan ($240 billion) in 2021.
The city's factories are closed now because of the lockdown policy launched on Mar. 14 to curb the severe COVID-19 outbreak.
"The regime forced us to shut down the businesses. Since then, no truck has driven out, and no package has been delivered. The whole operation was cut off," textile factory owner Wang told the Chinese-language Epoch Times on Mar. 14.
Wang said that the city locked down Dalang township where his textile factory is located for all of December 2021, then all of February and the first half of March. Just when people hoped the town would be unlocked, the regime locked the city which included the town.
"The lockdown this time is more strict than the previous ones. All are closed," Wang complained.
Huang owns another textile factory in Dongguan. He complained that the regime didn't pay and won't pay any stimulus checks nor relief money. "We (factories in Dongguan) will all die if the city doesn't allow us to operate."
Peng's factory in Dalang produces hardware mold accessories, employs over 20 workers, and most of the products are sold outside China. "Our customers ask us to send the products. How can we send? All transportation is shut down. We don't dare to sign any new orders," Peng said.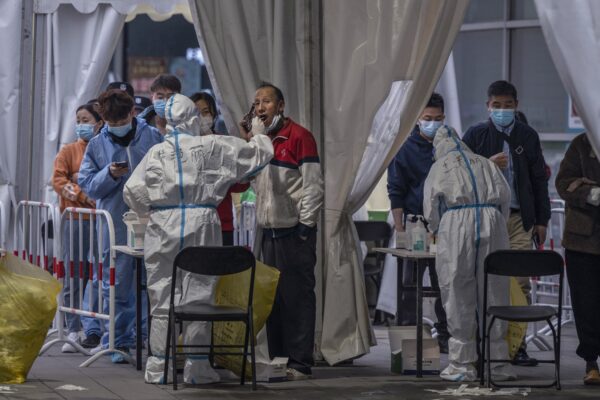 Factories can't operate, workers are suffering. Liu, a worker in Dongguan, told the Chinese-language Epoch Times that the private companies and factories won't pay workers when the businesses can't operate. "We need to feed ourselves, and we need to pay the rent," Liu said. "If they [the regime] don't unlock us within two months, we won't survive."