NEW YORK—Members of the House Select Committee on China are pledging to redouble their efforts to counter Beijing's ongoing threats to its targets on U.S. soil.
Standing in front of a now-shuttered overseas Chinese police outpost in downtown Manhattan on Feb. 25, and surrounded by dozens of pro-democracy activists, Rep. Mike Gallagher (R-Wis.), the chairman of the House Select Committee on China, likened the threats from the Chinese Communist Party (CCP) to those of a mafia.
"They buy off politicians, multinational organizations, companies, and in some cases, law enforcement. They use muscle and threats, instead of persuasion. And like the mafia, they [aren't] afraid to make people disappear," he told the listeners at the press event.
Having spoken to dozens of Chinese dissidents, he said, it was "rare to find anyone who hasn't experienced some low-level forms of digital harassment from the CCP"—one Chinese American citizen was detained against her will in China for eight months while she was pregnant.
"We have been blind while the CCP has been very cunning," said Gallagher, who was joined by Reps. Ritchie Torres (D-N.Y.) and Neal Dunn (R-Fla.), both members of the China committee. "Now, they want to export that repression around the world, and the only thing standing in their way is our will to defend our values."
He noted the spy balloon spotted traversing the United States that turned out to be part of a state-run Chinese surveillance program worldwide. Both the overseas police stations and the spy balloon program are an affront to U.S. sovereignty, he said.
"It sent the message of 'look what we can do and get away with and you won't push back,'" Gallagher told The Epoch Times about the balloon incident. "So that's why we need to push back and make sure that we're not allowing stuff like this to happen."
The New York overseas Chinese police office, which
closed
after an FBI raid, is one of more than 100 that the Chinese regime has set up in 53 nations around the world, according to data analyzed by the human rights group Safeguard Defenders. At least
two other such facilities
exist in America—in New York and Los Angeles.
These facilities have been linked to the regime's United Front Work Department, part of Beijing's overseas arm to conduct foreign influence operations, gather intelligence, amplify party narratives, and suppress dissenting voices.
The
Manhattan Chinese police division
is located inside the headquarters of the American ChangLe Association, a nonprofit closely affiliated with the Chinese regime that also is one of the most influential communities for immigrants from China's southeastern Fujian Province. Its website features a certificate of appreciation from the New York consulate for its support for CCP leaders in 2015.
Zhou Fengsuo, a former student leader during the 1989 Tiananmen Square protests, thanked the lawmakers for giving victims of Beijing's overseas repression a platform.
"This police station here is such a tip of the iceberg of the CCP's control of America," he told The Epoch Times, noting the regime's extensive influence in Wall Street, academia, and research institutions.
"In the past, the United States was misguided by these beliefs that trade and technology will change China, but in reality, it's the other way: China is changing America."
At the rally, Chinese dissidents from various backgrounds shared stories of abuses they and their friends suffered despite having escaped China.
Henry Yue
, an adherent of the spiritual group Falun Gong, which has been heavily suppressed in China since 1999, is a volunteer at an informational booth in New York's Flushing neighborhood striving to shed light on the 23-year-long persecution campaign of the practice.
His friend David Fang was just
assaulted last week
by a pro-CCP man while at the same stand, which resulted in multiple scrapes around his neck, hand, and knee. That incident is one of a string of attacks targeting these booths over the past two decades. The assailant, who has a dialect from Fujian Province's capital Fuzhou, attempted to bite Fang and beat him with a walking stick. He also verbally abused other Falun Gong adherents for years when they tried to speak about the abuses taking place in communist China.
Wang Yonghong, a former senior accountant at a Chinese state firm who underwent over a year of jail time in China for his human rights advocacy work, was hit by the regime's supporters near Grand Central Station in July 2019 at a rally to welcome Taiwan's president, Tsai Ing-wen.
The suspected Beijing agents attacked them with flag poles and speakers, causing five to be sent to the hospital. Wang, who was among them, sustained light injuries on his head, arm, and leg.
"The Communist Party is simply out of control," he told The Epoch Times. "Not only has it enslaved the Chinese people, its evil claws are reaching us after we fled to America."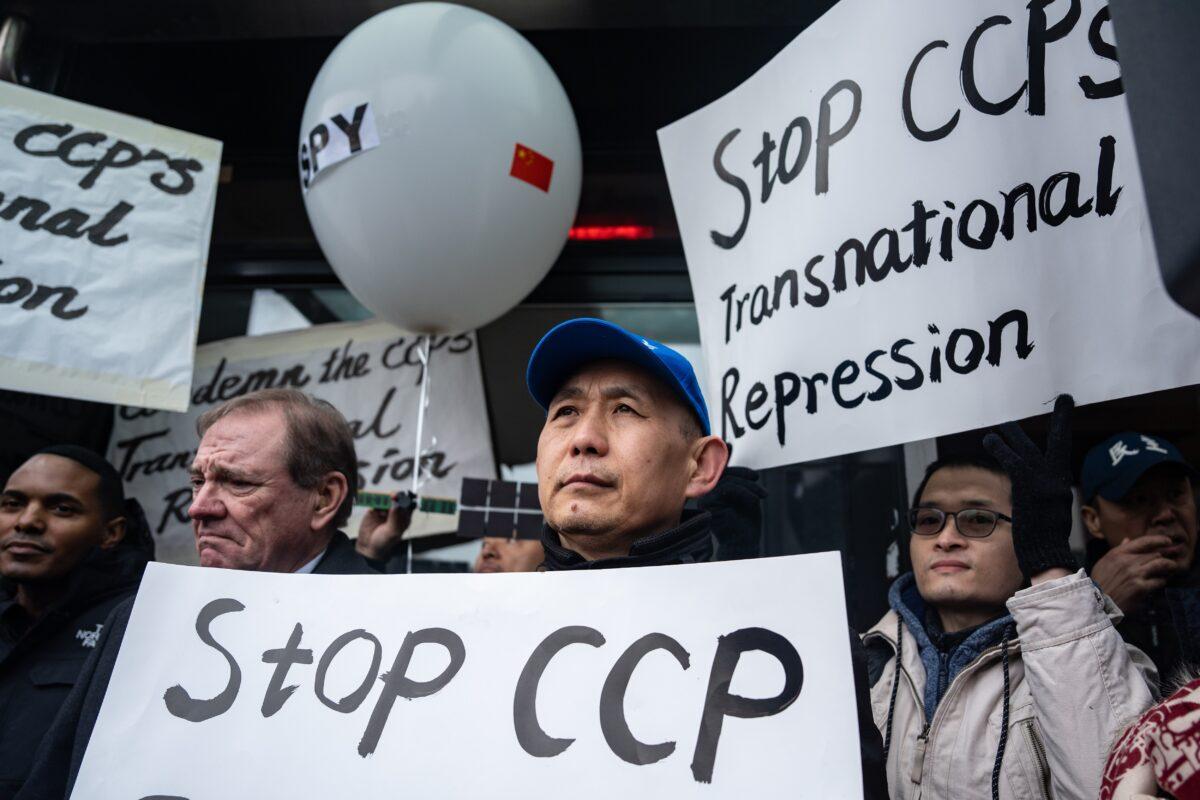 Shining a light on incidents like these is the most important task for the China committee, Gallagher told reporters when asked about the Flushing attack and vandalism to newspaper boxes belonging to the Chinese language edition of The Epoch Times—one of the only remaining sources of Chinese news independent of the CCP.
"That's the discussion we're starting today. It's the early part of the discussion, but we're hoping to prevent crimes like this from happening in the future," he said.
Gallagher, who sent a letter to FBI director Christopher Wray a day before regarding the police stations, said he wants to start a dialogue with the agency to address such targeted harassment and attacks. One possible solution, he told The Epoch Times, is to increase penalties for such acts if they are on behalf of a foreign adversary.
The lawmakers at the rally expressed hope that the work will be a bipartisan collaboration.
"We're here because we're Americans who believe in the rule of law, and human rights and freedom for every single person, including the Chinese dissidents here in the United States," said Torres. "How can we, the United States of America, claim to be a defender of freedom if we fail to defend freedom fighters within our own borders or on U.S. soil?"
Gallagher echoed his views.
"If Congress can speak with one voice when it comes to standing up against and pushing back against Chinese Communist Party aggression, America is stronger, the world is stronger, the free world is stronger," he said.