A blank sheet of white paper has become the latest symbol of defiance in communist China.
From Beijing to Shanghai, throngs of protesters over the weekend held wordless papers high to vent their frustrations about the regime's harsh COVID rules, while digital white rectangles inundated feeds on the country's largest social media platform WeChat—even as censors scrambled to scrub them off the web.
In a country ruled by a regime notorious for its intolerance of dissent, the blank sheets of paper—a metaphor for what's left unsaid—have become a powerful tool for discontented Chinese, adding fuel to a movement that has spread to a scale unheard-of in recent decades.
Chinese residents in at least a dozen cities took to the streets over the weekend, demanding an end to the Chinese Communist Party's (CCP) unrelenting zero-COVID policy that, nearly three years into the pandemic, continues to confine millions to their homes while limiting basic daily activities in a bid to tamp down virus cases.
The trigger for the protests was a
deadly fire
in a high-rise building in Urumqi, the capital of China's western Xinjiang region, where some residents had lived under lockdown for more than 100 days. The blaze on Nov. 24 took 10 lives and injured nine, officials claim, though rights groups contend that the death toll is about four times higher. Videos from the incident showed a desperate woman screaming for help and fire responders unable to reach the apartment, prompting anger and questions as to whether the COVID curbs had hindered residents' escape and rescue efforts, claims refuted by authorities.
What otherwise would have been an isolated incident shook the Chinese public who have lived under the COVID restrictions for three years, which, at times, left people barricaded inside their apartments or even entire residential buildings being welded shut. Others have been transported to mass quarantine centers with no guarantee of basic necessities.
"With the current lockdown measures in place, people are sealed in and if a fire happens ... this can happen to anyone, so who wouldn't be afraid?" a Beijing resident surnamed Wang told The Epoch Times on Nov. 27.
The wave of fury that followed swiftly rippled from the city to the rest of the country. Thousands gathered to mourn the victims with vigils and flowers. On college campuses, students held up signs showing a math equation called a Friedmann equation, which is a homophone for "freedman."
'Witnessing History'
Some protesters went so far as to call for regime change and greater political freedoms.

"Xi Jinping step down! Communist Party step down!" some

chanted

in the metropolis of Shanghai, where

memories of a months-long lockdown

earlier this year are still fresh in the minds of many residents. The lockdown left even the wealthy struggling to source food and caused the death of some sick and elderly who were deprived of medical care.

"The government's lie can no longer deceive us," Mr. Li, who didn't want to give his full name due to safety concerns, told The Epoch Times on Nov. 27, referring to official accounts claiming that "some residents' ability to rescue themselves was too weak" in deflecting blame for the Xinjiang fire fatalities.

"Our Shanghai was locked down for two months, and there were many things we could relate to," he added.

Dong Zhengyi, a recent university graduate who used a pseudonym when speaking with The Epoch Times, said she had goosebumps at the Shanghai protest scene.

"I felt like I was witnessing history," she said.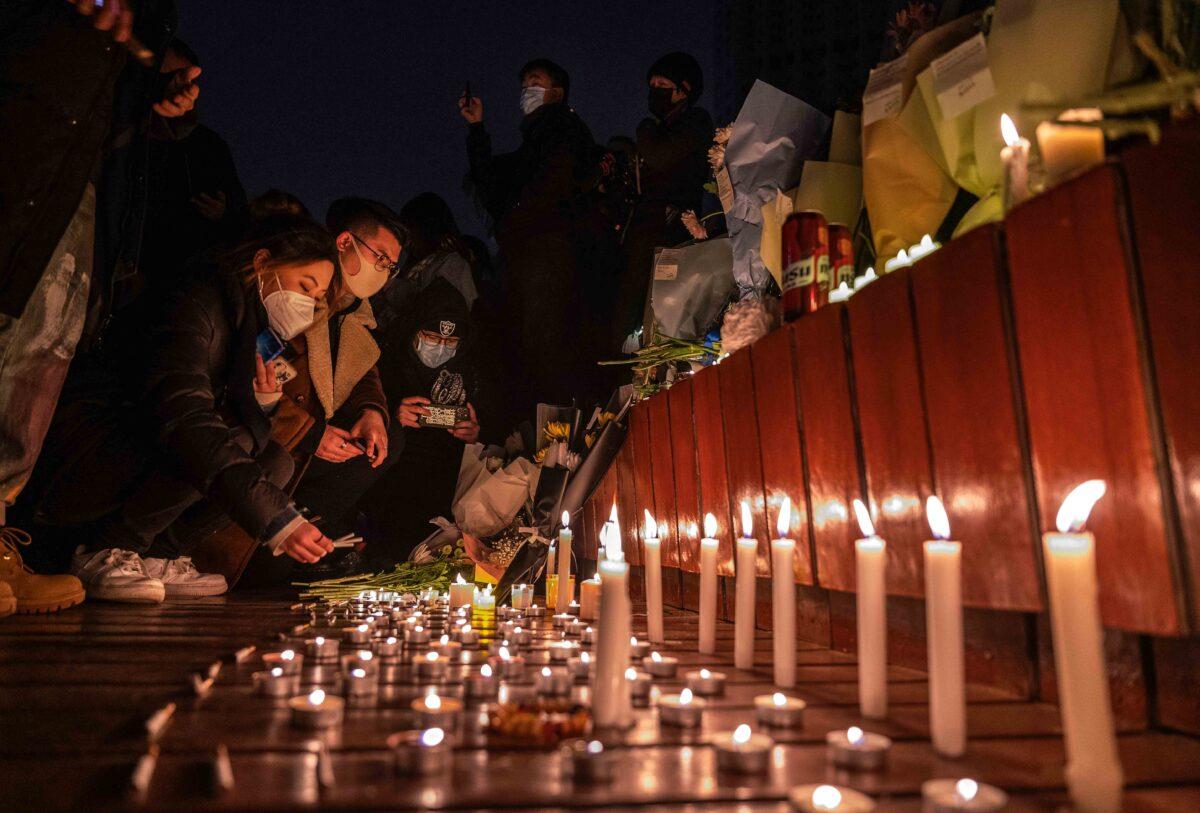 On Nov. 27, Dong and her boyfriend joined protests on Wulumuqi Middle Road, a street bearing the same name as Xinjiang's capital, where the fire occurred. While she once trusted that the regime would lead China for the better, Dong watched in shock as dozens of police beat and arrested protesters.
"This is not the way to solve issues," she said, vowing that this wouldn't dampen protesters' resolve to be heard.
Shanghai police that night also briefly detained a BBC correspondent for hours after kicking and handcuffing him, an episode that led the British government to summon the Chinese envoy on Nov. 29.
'A Rebellion'
The widespread demonstrations, according to Miles Yu, a chief China policy adviser under the Trump administration, weren't a mere reaction to the tragedy in Xinjiang, but a reckoning with the regime's rule more broadly.

"Facing the authoritarian Chinese Communist Party, the Chinese people used to think that if they couldn't afford to provoke them, at least they would stay away," he told The Epoch Times in an interview in Chinese. "But the zero-COVID policies … have turned the entire country into a giant prison."

To those who haven't followed developments in China closely, the eruption of the demonstrations could come as a surprise, but not to Yu.

He pointed to sporadic protests from migrant workers in the past. But unlike those instances of unrest, the regime's zero-COVID rules this time around have affected all social classes, including the country's vast middle class, homeowners who have been locked inside their dwellings for inordinate periods of time.

"The Chinese Communist Party is fundamentally at odds with the Chinese people," Yu said.
Echoing Yu, British human rights advocate Benedict Rogers said the protests represent defiance of the Chinese regime's oppressive rule.
"They are, I think, a boiling over of not just frustration at the very draconian COVID lockdowns, but actually rebellion against the very severe repression, the surveillance state that has developed under Xi Jinping over the last decade," Rogers told EpochTV's "American Thought Leaders" program on Nov. 28, referring to the Chinese leader.
According to Rogers, the CCP has an unspoken deal with the Chinese people: In return for tolerance of severely limited political and religious freedoms, the Party would preside over an era of economic prosperity, increasing the populace's living standards.
But with the Chinese regime's insistence on its zero-tolerance COVID handling strategy, which has devastated the country's economy, this deal has been put on ice.
"It appears that the people of China are increasingly recognizing that Xi Jinping has broken that pact because he's no longer pursuing economic policies that support private enterprise. He's reverting to a much more ideological rule," Rogers said.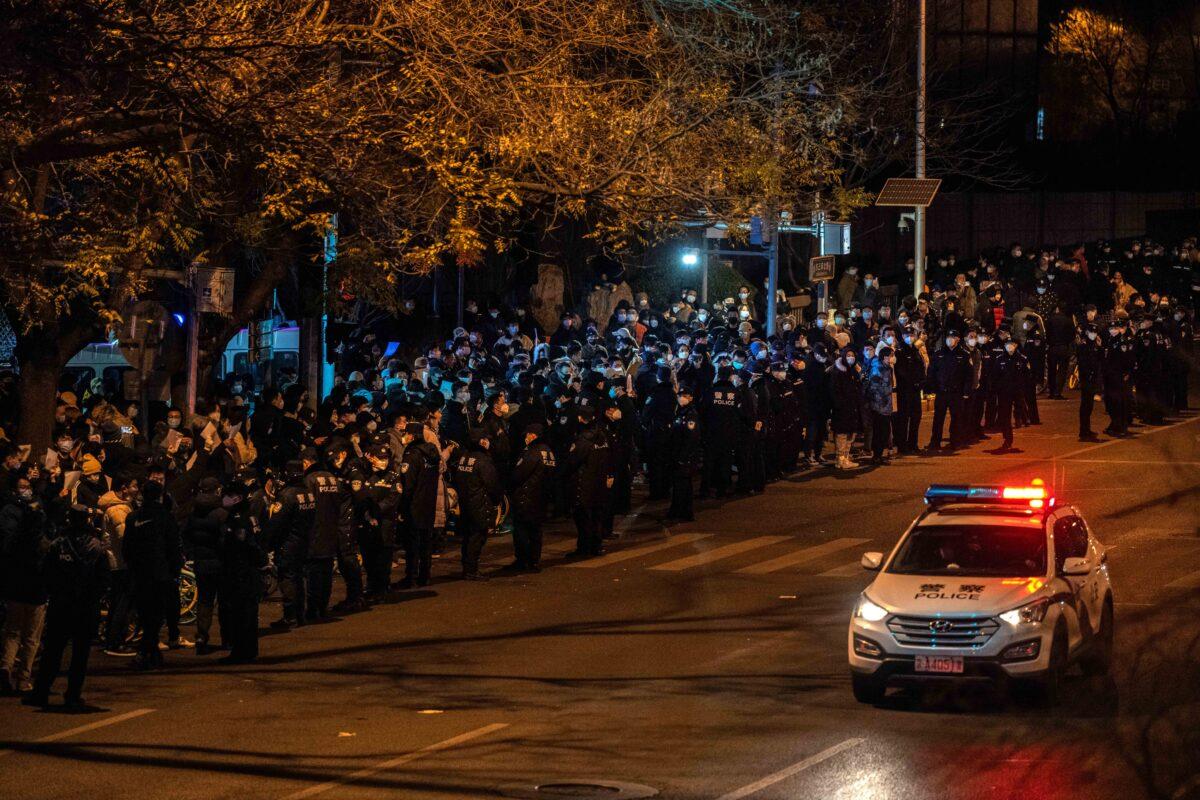 Authorities Clamp Down
Since the public outpouring of anger, some Chinese cities have partially relaxed their anti-virus measures, but authorities gave no sign of backtracking on the national policy.

In a press briefing on Nov. 28, foreign ministry spokesperson Zhao Lijian responded with a long pause when a reporter asked whether China would consider rescinding the zero-COVID strategy in response to the protests.

He looked down for more than a minute, flipping through notes and requesting the reporter to repeat the question. When he answered, Zhao spoke with less confidence than usual, pausing several times as he asserted that what the reporter had said "does not reflect what actually happened."

"China has always been making adjustments based on the overall dynamic zero-COVID guideline and realities on the ground," he said, adding that the "fight against COVID will be successful" with the Party's leadership.

The exchange wasn't included in the published transcript of the briefing on the ministry's website.

But concern is growing that the regime will use its well-worn tactic of resorting to violence and intimidation to quell any ongoing shows of dissent. Already, there are signs that the Party's pervasive surveillance apparatus has swung into action to track and identify participants of the demonstrations.

On Nov. 28 and 29, police were out in significant numbers in major cities to discourage protesters from reconvening. Near the protest sites in Shanghai, blue barricades were erected to prevent gatherings, while police at the subway entries and thoroughfares stopped passersby to screen their phones.
In Beijing and elsewhere, reports
indicate
that demonstrators have received calls from the police asking about their whereabouts over the weekend. One Chinese lawyer told The Wall Street Journal that she suspected police used data on protesters' mobile phones, including those collected by the regime's mandatory COVID tracing app, to ascertain their identities.
For the Party, the stringent virus policy has been elevated to the flagship level, purportedly evidencing socialism's superiority over the West—so there's no turning back, according to Yu.
"It can't admit mistakes," he said of the Chinese regime. "Even though it has reached a dead end and there's no path forward, it still keeps going and eventually has to hit the wall."
Jenny Li, Gu Xiaohua, and Li Xin'an contributed to this report.