Chinese authorities in Zhanjiang city of Guangdong Province have been actively monitoring public opinion and suppressing petitioners in order to prevent social unrest, according to leaked government records obtained by The Epoch Times from a trusted source.
Petitioners are citizens who have grievances they wish to bring up to the central authorities in Beijing.
The "Duty Comprehensive Report" is a weekly log that came from the duty office of the Zhanjiang Municipal Party Committee. Local authorities recorded "group incidents"—meaning protests with crowds gathering—and "petitioning cases" that occurred each week, from Jan. 2, 2019, to June 29, 2020. Within that time period, there were 117 protests and 176 petitioning cases. Some protests had more than 100 people participating.
The document revealed that Zhanjiang municipal authorities were also instructed to "monitor and guide public opinion" every week.
Zhanjiang city had a population of 7.36 million at the end of 2019, according to official statistics.
CCP Official Instructions on Preventing and Suppressing 'Group Incidents'
Below are some incidents from the internal government weekly publication that include the local officials' instructions.

In the week of Feb. 10 to 16, a netizen surnamed Song accessed COVID-19 information from Voice of America and Radio Free Asia through a virtual private network (VPN) and posted the information on Twitter and WeChat. VPN software is often used to circumvent the Chinese regime's internet firewall. Song was detained for seven days for "spreading rumors." Zhanjiang Municipal Standing Committee Member and Organization Department head Cao Yongzhong instructed that severe punishment should be imposed.

In the week of Dec. 2 to Dec. 8, Li Qingwen, a "key individual" in Zhanjiang who is being monitored by the authorities for being an outspoken critic of the Chinese regime, was spreading a video on WeChat showing clashes between the police and the civilians at the Huazhou funeral home in Maoming city. The local police forced Li to close his WeChat account and to sign a guarantee statement promising not to repeat the offense. Notes from the deputy mayor of Zhanjiang, Huang Yongwu, instructed the public security bureau to continue to monitor such incidents on a daily basis.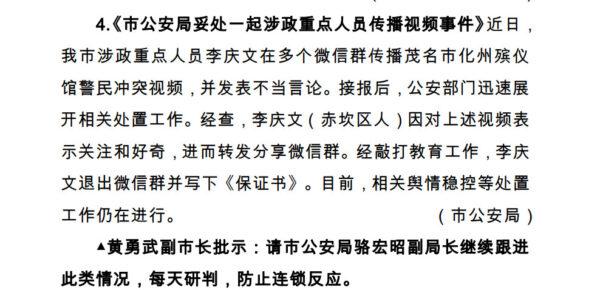 On the morning of Sept. 13, 2019, more than 60 villagers from Su village of the town of Changqi gathered to protest the government acquiring their land. The protesters attracted many onlookers. Zhanjiang Mayor Jiang Jianjun and Secretary-General Chen Caijun told local authorities to "maintain stability and keep the incident from escalating."
On Aug. 28, 2019, more than 10 business owners of Zhanjiang Yiwu International Trade City mall went to Zhanjiang Yiwu Sales Center to hold a protest. Municipal Party Secretary Zheng Renhao instructed local authorities to control the situation and prevent it from becoming "a large-scale petitioning incident."
On the evening of April 4, 2019, a drunk driver hit a group of people in Meiling village, Shicheng town of Zhanjiang, killing four and injuring seven. Local authorities wanted to conceal the incident. Party Secretary Zheng and Mayor Jiang said, "We must manage and control public opinion [of it]."
On March 3, 2019, nearly 30 petitioners who have been monitored by Zhanjiang authorities as "key individuals" went to Beijing to petition and were subsequently intercepted by the municipal government. At that time, the "Two Sessions," or the annual political meetings of China's rubber-stamp legislature (National People's Congress) and the Chinese People's Political Consultative Conference, were taking place in Beijing.
Instructions from Party Secretary Zheng regarding the incident stated: "Take this as a political task and fight it as a tough battle. Punish the key individuals who are involved."
Mass Petitioning
The internal documents also revealed that group petitions in Zhanjiang have continued to occur. There are dozens of group incidents recorded in the document that involve more than 30 people protesting over a wide range of issues such as government corruption, human rights, social welfare, veteran affairs, high rental fees, and land disputes.
On June 8, 2020, more than 60 business owners on the first floor of Baiyuan Market, Chikan District, petitioned at the municipal government because of the issues of the delayed rent reduction during the pandemic lockdown.
On the morning of Feb. 21, 2019, 137 veterans from all over Zhanjiang petitioned at the local bureau of veterans affairs for poor treatment. Many of the veterans' medical, retirement, and disability benefits were either denied, delayed, or insufficient.
From Dec. 31, 2018, to Jan. 3, 2019, more than 100 homeowners from Vanke city in Zhanjiang held banners and marched to the municipal government to protest the high parking fees in their housing development.
Gu Qing'er contributed to this report.