Chinese rights lawyer Yu Wensheng was awarded a human rights prize by the Stockholm-based Foundation of Anna Dahlbäck Memorial Fund on Sept. 9.
Yu, who's based in Beijing, was unable to attend the Stockholm awards ceremony and he had someone else receive the award on his behalf.
For his work as a human rights lawyer, Yu had long been targeted by China's communist authorities. Earlier this year he was released after several years in prison for his rights work.
The award recognizes Yu's work on human rights and his "great dedication and moral courage," the foundation said in the award announcement.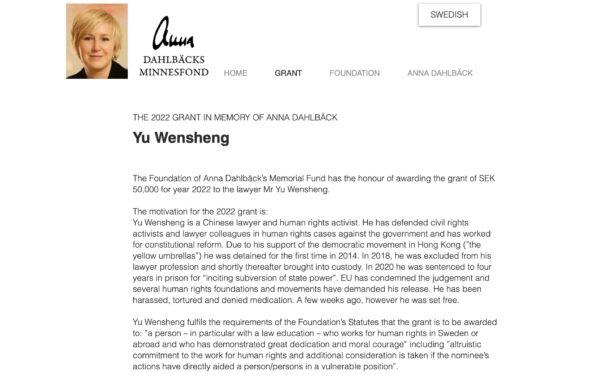 Yu told The Epoch Times on Sept. 13, that the award belongs to all human rights defenders.
He emphasized that Chinese people especially need civic courage, but first of all, they need civic awareness.
"The servile thinking in the Chinese mind is too much, and some people need to walk in the front to lead the Chinese people to achieve freedom, democracy, human rights, and the rule of law," Yu said.
"Human rights lawyers and human rights defenders are the ones who are leading the way," he said.
Yu said over the past ten years, dozens of human rights lawyers have been arrested by the communist regime, adding that the rule of law and human rights in China has seriously regressed.
"At the same time, we have also seen that the family members of human rights lawyers are not afraid of tyranny and firmly defend their rights. Here I am very grateful to my wife Xu Yan. She is not only the wife of a human rights lawyer but also a staunch human rights defender," he said.
Yu added that human rights lawyers in China are still suffering and called for more attention to be made on their situation and that of their families.
In a
statement from February
when her husband was still imprisoned rights group Amnesty International said that Xu had been under constant surveillance and repeatedly faced harassment by the Chinese authorities—having been summoned, detained, and occasionally banned from leaving her house.
Persecution
As a well-known human right lawyer in Beijing, Yu has been persecuted by the Chinese regime for years.
On Oct. 13, 2014, he was arrested by the Daxing Branch of the Beijing Public Security Bureau for supporting the "Hong Kong Occupy Central" democratic protest. He was detained for 99 days, during which he was tortured and fell ill.
On Aug. 6, 2015, Yu was arrested for his connections with hundreds of Chinese rights lawyers who were arrested by the regime on July 9 that year. He was released 24 hours later. He later became the attorney for one of the arrested lawyers Wang Quanzhang but in August 2016, his legal status as Wang's attorney was stripped by the regime.
In 2016, he represented many Falun Gong practitioners—persecuted by the communist regime since 1999—and defended them in courts. "In the past ten years, through the defense, it has not only been made clear their activities are legal and they are innocent, but also made clear that the suppression of Falun Gong beliefs is illegal," Yu said then. "Yes. The role each of us plays in it requires careful consideration."
In January 2018, his lawyer's license was revoked by the authorities, and he was arrested by the regime for advocating constitutional reform.
He was charged with "inciting subversion of the state" in April 2018 and sentenced to four years in jail. In prison, Yu was severely tortured and physically mutilated. He was released on March 1 this year.
International Support
For his human rights activism, Yu has gained international support.

In January 2019, he was awarded the Franco-German Prize for Human Rights and the Rule of Law, while in February 2021, he was awarded the Martin Ennals annual prize for Human Rights Defenders.

Yu's award from the Foundation of Anna Dahlbäck Memorial Fund is supported and participated by Amnesty International, the Swedish NGO Diakonia, the United Nations High Commissioner for Refugees, the Red Cross, the Swedish Bar Association, among other organizations and institutions.

Ning Haizhong and Hong Ning contributed to the report.