The Chinese Communist Party (CCP) kicked off its most important political meeting of the year on Oct. 26 to discuss economic policies.
State media reported that top Party officials will come up with a five-year economic and development plan and introduce a new 15-year plan called Vision 2035, during the gathering being held Oct. 26 to 29.
Officially known as the fifth plenary session, all 202 members and 168 alternate members of the CCP's elite Central Committee must participate.
China analysts say Party leader Xi Jinping is seeking to solidify his power through the meeting, while ordinary citizens who tried to petition their grievances to Beijing authorities have been swiftly silenced.
Economic Plans
State media Xinhua
published
one paragraph on Oct. 26, simply stating that the five-year-plan and Vision 2035 were being drafted. While neither the Chinese regime nor state-run media reported any other details, Xi previewed some of the Party's priorities during a Politburo meeting on Oct 22.
"The complicated international environment has brought new conflicts and challenges" so "we should promote high-quality development during the 14th five-year-plan, and focus on building a new development pattern with domestic economic circulation as the main body and domestic-international dual circulation as a complement," Xi
said.
Amid an economic downturn due to the COVID-19 pandemic and
increased sanctions
on Chinese firms, the CCP
started
in July to promote the concept of "domestic economic circulation"—meaning to have domestic supply chains produce all goods that Chinese consumers want to buy.
The economic plans are likely Xi's attempts "at solving the political and economic issues within the CCP regime," noting that the Vision 2035 plan suggests Xi wishes to stay in power at least until then, U.S.-based China affairs commentator Tang Jingyuan said.
Another U.S.-based commentator, Chen Pokong, similarly
said
on his YouTube channel, "Using the economic plan, Xi expressed his purpose to rule the country for another 15 years."
In 2018, the Party modified its
constitution
and eliminated the leader's two-term limit, paving the road for Xi to legitimately rule for life.
Some people have indirectly criticized Beijing's "economic circulation" plan.
On Oct. 24, Chinese Vice Chair Wang Qishan gave a speech at the Second Bund Summit in Shanghai, in which he urged: "China should not take the road of self-circulation that is full of financial bubbles. China should not take the evil path of Ponzi schemes."
Wang urged the country to instead develop the real economy (non-financial elements of the economy such as manufacturing, service industry, construction).
"Without a real economy, the finance sector would be like water without a source or a tree that has lost its roots," he said.
At the same summit, former Alibaba CEO Jack Ma complained in his speech that China had "too many prohibitions and limitations with too few policies," and that authorities were "using old measures to tightly control current developments."
Political Infighting
Prior to and during the fifth plenary session, Xi also replaced some senior officials, indicating that he's intent on purging those who aren't loyal to him.

On Oct. 27, officials in China's Inner Mongolia region

announced

that four bureau director-level officials were being investigated for corruption-related allegations. The same day, China's top prosecutor's office also announced that a fifth bureau director-level official from Inner Mongolia was being prosecuted for bribery crimes.

On Oct. 20, two major CCP mouthpieces—People's Daily and Xinhua—announced that their directors were to be replaced by the outlets' chief editors.

This year, the Party has replaced 13 of its provincial bosses. Six officials known to be loyal to Xi were promoted to the Party boss position. For example, former Shanghai mayor Ying Yong was promoted in February to be Party boss of Hubei Province.

Tang believes that Xi is seeking to place loyal officials to senior positions before the Party's 20th National Congress—expected to be held in October 2022. The meeting is held every five years to determine successors within the Party's core leadership.

"Xi wants to make sure that he can keep his position as the regime leader by promoting his supporters. So he takes all chances to replace the officials loyal to other CCP factions," Tang said.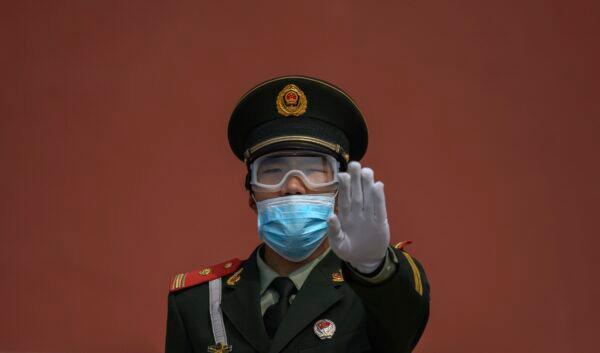 Silence People
Authorities have tightly monitored dissidents in the lead-up to the fifth plenum.

A petitioner who was outside the country's highest government agency to receive public appeals—the National Public Complaints and Proposals Administration (NPCPA)—witnessed a fellow protester attempting suicide after authorities refused to help him.

"A large number of petitioners are [in front of the NPCPA] today, with many police officers who tried to detain us," the petitioner

told

The Epoch Times in a phone interview.

He said the man, who was in his 60s, was very emotional; he said the man suddenly took out a knife to cut his wrists.

"Police officers from the petitioner's hometown carried him into the NPCPA, but didn't call an ambulance," the eyewitness said. "Police onsite didn't allow us to take photos or videos."

The man's fate is unknown.

Petitioners from across the country, including Sichuan, Hubei, and Shanghai, told The Epoch Times that they traveled to Beijing to appeal weeks before the plenum. But they were sent back to their hometowns by authorities before the session started.

A Beijing-based dissident and human rights lawyer, Ni Yulan,

told

The Epoch Times that her 70-year-old husband was detained at a local police station for more than 24 hours on Oct. 24. Two days later, police sought to detain her.