TAIPEI, Taiwan—China fired several Dongfeng ballistic missiles into waters near Taiwan on Thursday, drawing condemnation from the island's defense ministry.
The missile launch was reported by Taiwan's Ministry of National Defense at around 3:30 p.m. local time, and the missiles landed into water around Taiwan's northeast and southwest.
According to the ministry, China began firing the missiles at around 1:56 p.m. local time. However, the ministry did not say the range of the missiles.
In response, the Taiwanese ministry said it activated its defense system and strengthened its combat readiness.
"We condemn such irrational action that has jeopardized regional peace," the ministry
wrote
on Twitter.
Just before 6 p.m. local time, the ministry issued another statement, saying that China fired a total of 11 Dongfeng missiles as of 4 p.m. local time.
China has reported firing missiles as part of its planned exercises on Aug. 4. According to China's state-run media, the Chinese military's rocket force under the East Theater Command fired "multiple types of conventional missiles," accurately hitting targets in water east of Taiwan.
On Aug. 2, China
announced
that it would hold live-fire military drills in six zones around Taiwan from Aug. 4 to Aug. 7, in apparent retaliation against a visit by U.S. House Speaker Nancy Pelosi (D-Calif.) to the island. Some of the zones partially overlap with Taiwan's territorial waters. The drills are the biggest the Chinese regime has ever held in the Taiwan Strait, according to Reuters.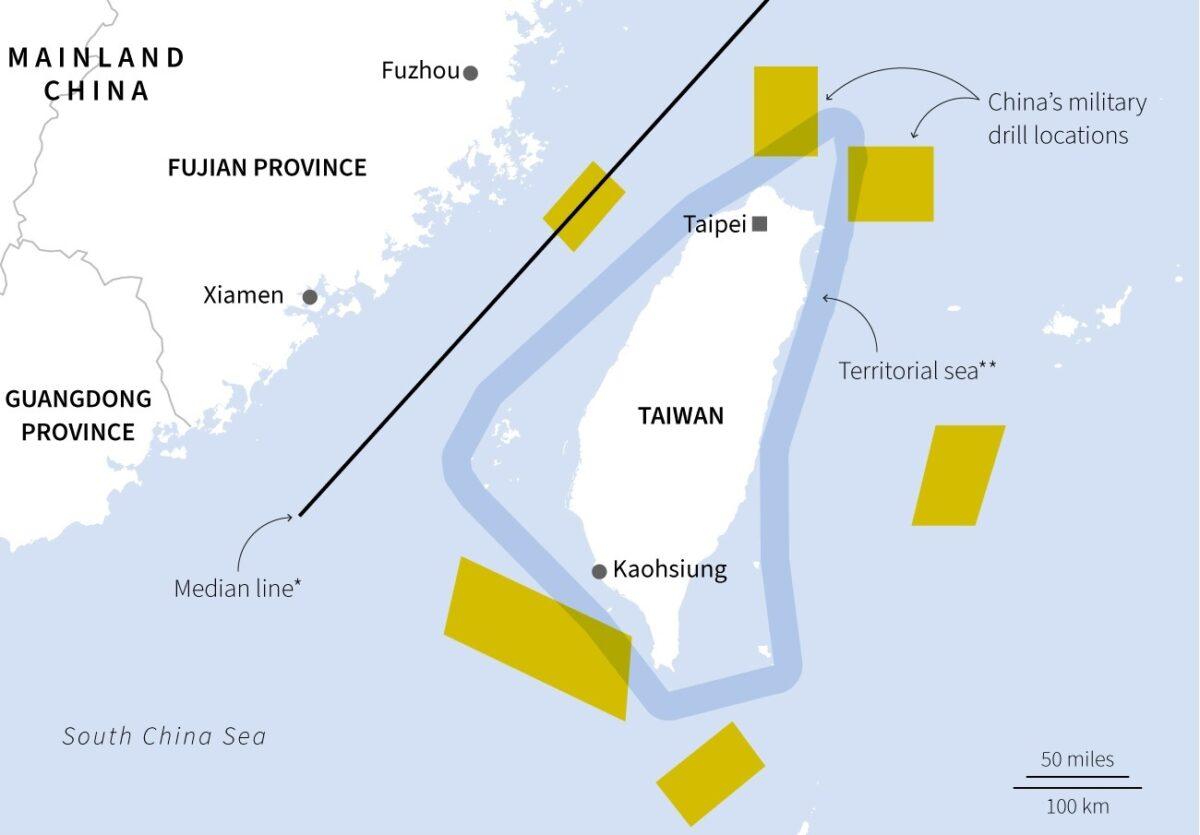 Pelosi left Taiwan on Aug. 3 after spending about 19 hours on the island, the third stop of her Asia trip following Singapore and Malaysia.
While in Taiwan, she met
with several Taiwanese government officials including President Tsai Ing-wen and Vice President William Lai.
"Today, our delegation, of which I'm very proud, came to Taiwan to make unequivocally clear, we will not abandon our commitment to Taiwan, and we are proud of our enduring friendship," Pelosi said in Taiwan, reaffirming the U.S. commitment to the self-ruled island.
The Chinese regime claims Taiwan as a part of its territory and opposes governments and international organizations interacting or forming ties with Taiwanese officials, as such actions suggest that the island is a de facto nation-state.
Some U.S. lawmakers have taken to Twitter to denounce China's military drills encircling Taiwan.
"Communist China cannot dictate where we go or who we talk to," Sen. Joni Ernst (R-Iowa)
wrote
. "China's encircling exercises, sanctions, and other retaliatory measures need to be met with strong U.S. leadership to reinforce our rock solid partnership with Taiwan."
"Communist China is again violating its hollow promises to resolve its differences with #Taiwan peacefully," Rep. Tom Tiffany (R-Wis.)
wrote
. "It is time to end the dishonest 'One China Policy' and normalize US-Taiwan ties."
This story has been updated with the latest information.