The Chinese regime's reported plan to create a secret eavesdropping facility in Cuba should be cause for alarm for everyone in the United States, according to lawmakers.
In its latest challenge to the United States, China has reached a deal with Cuba to install an electronic spy base on the island, just about 100 miles from Florida, The Wall Street Journal reported, citing unnamed U.S. officials familiar with highly classified intelligence.
It would be close enough for Chinese intelligence services to garner electronic communications from the southeastern United States—home to many military bases—potentially including emails, phone calls, and satellite transmission data, the officials have said. They said Beijing agreed to pay Havana billions of dollars for the arrangement.
Revelation of the secret intelligence facility sparked wide concern in Washington.
"Any time there is surveillance so close to the United States, there ought to be alarm bells for us," Sen. Richard Blumenthal (D-Conn.) told The Epoch Times.
According to Sen. Rick Scott (R-Fla.), a longtime China critic, the implications of Beijing's plan are grim.
"This move by Communist China presents grave threats to America's national security that cannot be ignored. Every American should be up in arms about this. It's not just spying on the government, which is bad enough, it's spying on you, seeing your emails and your data," he said in a statement.
Sen. Mike Braun (R-Ind.) described the news as "ominous."
"I think [it's] another indication of how China is pushing the envelope, so I think we all need to be keeping an eye on that one," he told The Epoch Times.
Sen. Pete Ricketts (R-Neb.), while noting he has yet to look at the details of the proposal, told The Epoch Times: "We ought not to be surprised that the People's Republic of China is continuing to have aggressive behavior toward the United States, which is why we need a strong stance to push back on it."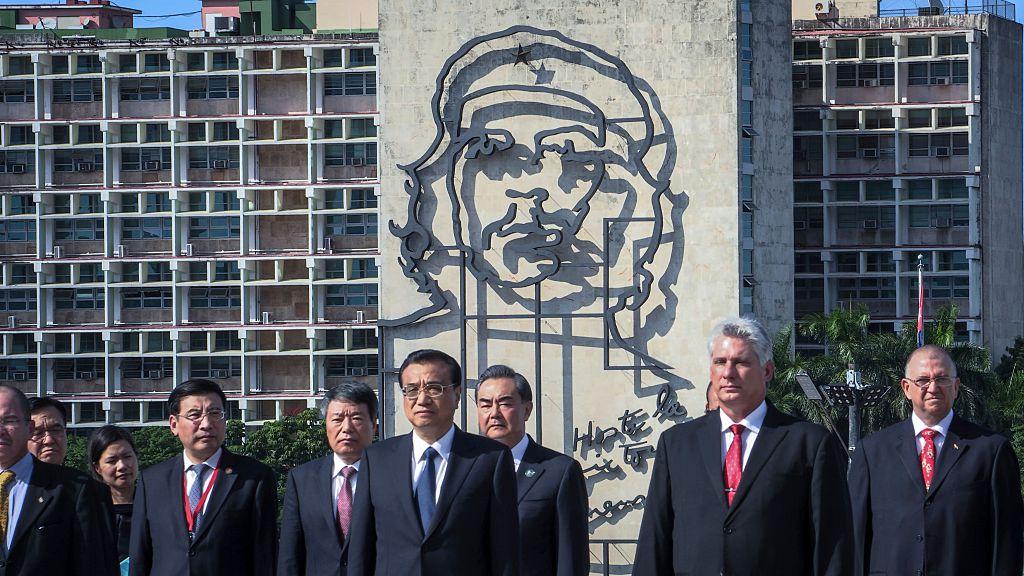 'New Cold War'
Sixty-one years have passed since the United States and the now-collapsed Soviet Union came dangerously close to a nuclear conflict.

In what became known as the Cuban missile crisis of 1962, Moscow placed nuclear weapons in Cuba, prompting the United States to quarantine the island nation. The Soviet Union eventually backed down and removed the installations.

Beijing's new Cuban deal, coming amid U.S.–China tensions following the incursion of a

Chinese surveillance balloon

across the United States, is reminiscent of those moments.

It "reminds us we are in a New Cold War that, once again, has come to our doorstep," Rep. Mike Gallagher (R-Wis.) said in a statement. "Our ardent diplomatic pursuit of the CCP in the aftermath of the spy balloon has only emboldened CCP aggression."
Gallagher, chairman of the House Select Committee on China, said the report calls for the United States to take "long-overdue actions" to counter Beijing, including ending export licenses for chips to blacklisted Chinese telecom provider Huawei, restricting outbound investment in crucial sectors in China, closing trade loopholes that allow Chinese imports to enter the United States tariff-free, enhancing research security, and curbing Chinese land purchases near sensitive military bases.
"We must make it clear that, as President [John] Kennedy said over 60 years ago on the eve of a previous crisis in Cuba, 'one path we shall never choose, and that is the path of surrender or submission,'" he said.
Declining to comment on the report directly, a spokesperson for the State Department
told
The Epoch Times that the department is monitoring and working to counter CCP efforts to build up military infrastructure in the Western Hemisphere.
"We cannot speak to this specific report, we are well aware of—and have spoken many times to—the People's Republic of China's efforts to invest in infrastructure around the world that may have military purposes, including in this hemisphere," the spokesperson said in an email.
"We monitor it closely, take steps to counter it, and remain confident that we are able to meet all our security commitments at home, in the region, and around the world."
In a joint statement, Senate Select Committee on Intelligence Chair Mark R. Warner (D-Va.) and Vice Chair Marco Rubio (R-Fla.) urged the Biden administration to take steps to stop Chinese intelligence services from establishing such a presence.
"The United States must respond to China's ongoing and brazen attacks on our nation's security. We must be clear that it would be unacceptable for China to establish an intelligence facility within 100 miles of Florida and the United States, in an area also populated with key military installations and extensive maritime traffic," they said, adding that such a scenario would pose a "serious threat" to U.S. national security and sovereignty.