NEW YORK—For New Yorkers walking on the streets of the city's largest Chinatown on April 23, their presence was hard to dismiss.
With lion dancers and a marching band in sky-blue suits leading the way, the 2,000-strong parade marched through the Flushing neighborhood of Queens. On a float richly decorated with golden tassels, blue-gilded clouds, and large lotus flowers, men and women attired in traditional costumes smiled and waved from under a golden tiled rooftop meant to represent a heavenly palace. From time to time, women dressed as traditional Chinese fairies walked by, offering an origami lotus flower from a small wicker basket to passersby.
But cheerful colors and the celebratory mood told only part of the story. The annual tradition, dating back more than a decade, commemorates the largest peaceful resistance in China's recent history seeking religious liberty.
Roughly 23 years ago, on April 25, 1999, 10,000 adherents of Falun Gong, a meditation practice centered on the three principles of truthfulness, compassion, and tolerance, gathered by the Appeals Office near the Chinese communist headquarters in Beijing to appeal for the right to exercise their beliefs without political suppression.
The adherents disbanded quietly that evening after receiving assurances from a top Chinese official that their requests had been heard. But the incident proved to be the prelude to a decades-long persecution targeting their faith.
Three months after the event, then-Party leader Jiang Zemin initiated a nationwide campaign aiming to eradicate the group. Millions have since been subjected to detention in various facilities, where they face torture,
forced labor
, and
organ harvesting
, according to
estimates
by Falun Dafa Information Center.
Still targeted by the communist regime in China, the group's activities—such as the April 23 event in Flushing—have served to raise awareness among the Chinese diaspora about Beijing's abuses.
April, a Chinese expatriate who was witnessing the parade for the first time, said the traditional elements of Chinese culture presented by the adherents felt very "heartwarming."
"There's no way to see this in China," she told the Chinese language NTD, a sister media outlet of The Epoch Times. "No one in China dares to express their thoughts."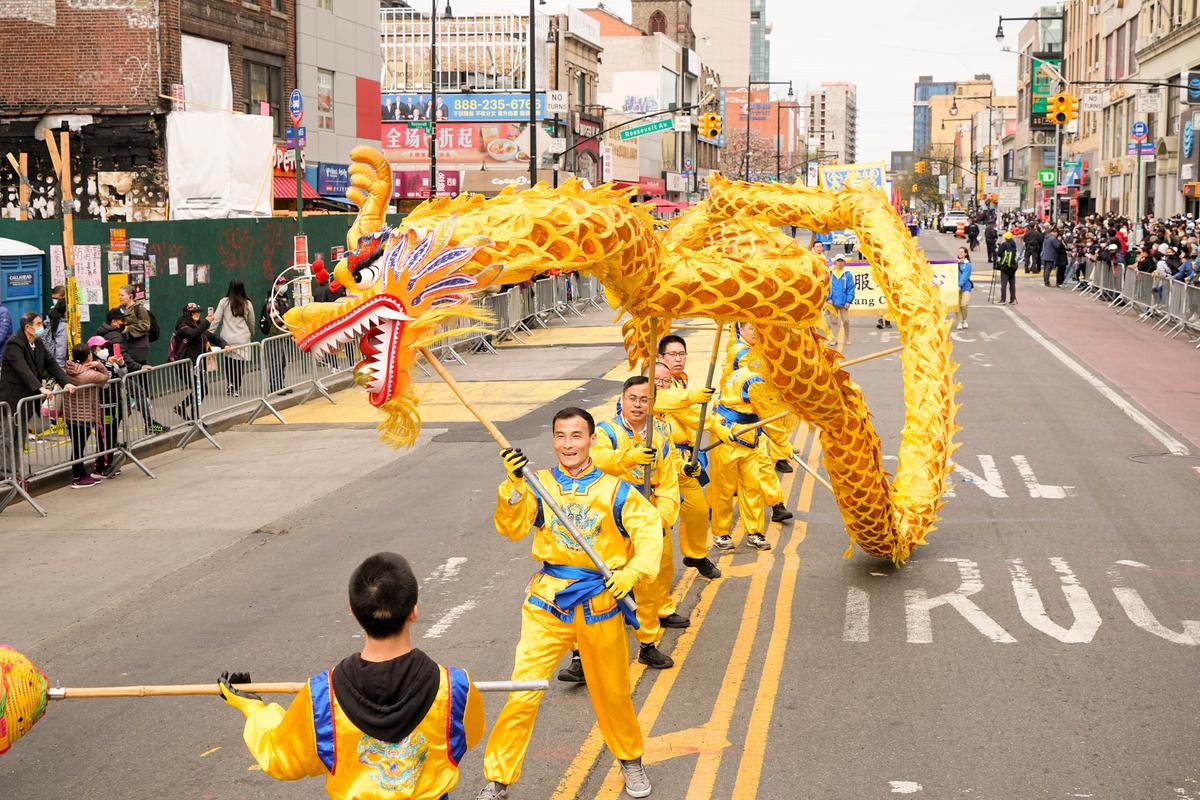 Another Chinese immigrant watching the parade, who identified herself as Susan, said the persecution is one of many egregious abuses that demonstrates the regime to be the "enemy of China."
"For some people from a society to be willing to stand up and fight for the freedom to be good, what an admirable thing is this? But such an attempt has been suppressed," she told NTD.
The persecution, she said, has suppressed people's aspirations to be good, and all of China is bearing the consequences.
"Look at today's Shanghai, even the freedom to eat is almost gone," she said, making a reference to the regime's draconian lockdown in the financial hub that has left many in the city struggling
to obtain food, supplies, and medical care.
"Freedom is something that if you don't defend from the beginning, it will crumble at an accelerating pace. In the end, you not only won't have the right to eat, you won't even have the right to breathe."