Children and young people are bearing the brunt of the mental health crisis caused by the CCP virus pandemic, and mental health services are at risk of being overrun, a professional psychiatric body warned on Friday.
The Royal College of Psychiatrists said its analysis showed that almost 400,000 children and 2.2 million adults sought help for mental health problems during the pandemic, and 1.68 million more sessions were given during the pandemic.
"NHS Digital data shows that while the crisis is affecting people of all ages, it is under-18s who are suffering most," the college said in a press release.
Since March 2020, the UK has been through a number of national and regions lockdowns in order to curb the spread of the CCP(Chinese Communist Party) virus, commonly known as novel coronavirus, and schools had been closed twice for months on end.
According to the Royal College of Psychiatrists' analysis, 372,438 children and young people were referred to Children and Young People's Service (CYP) mental health services between April and December 2020, over 80,000 (28 percent) more than the number in 2019.
The number of treatment sessions given to children and young people was up by a fifth on 2019's figure, to 3.58 million.
The increase in the number of children and young people needing urgent or emergency crisis care was 18 percent.
"Our children and young people are bearing the brunt of the mental health crisis caused by the pandemic and are at risk of lifelong mental illness," Dr. Bernadka Dubicka, chair of the child and adolescent faculty at the Royal College of Psychiatrists, said in a statement.
"As a frontline psychiatrist I've seen the devastating effect that school closures, disrupted friendships, and the uncertainty caused by the pandemic have had on the mental health of our children and young people," Dubicka added.
"Services were already struggling to cope with the number of children needing help before the pandemic hit, and they risk being overrun unless government ensures the promised money reaches the frontline quickly."
Sarah (alias), whose teenage daughter relapsed into anorexia said that the pandemic had been "devastating" for her daughter.
"The disruption to her normal routines and socialising really affected her recovery. She was spending a lot less time doing the things she enjoys and a lot more time alone with her thoughts," she said.
Sarah said she has to tube feed her daughter every day because no specialist eating disorder bed was available in hospital.
Dr. Adrian James, president of the Royal College of Psychiatrists, said the crisis will "likely get a lot worse before it gets better."
"Services are at a very real risk of being overrun by the sheer volume of people needing help with their mental illness," James said.
"While the recent funding announcement is welcome, we need this money to reach mental health services as soon as possible to tackle this crisis."
Last month, the government announced a Mental Health Recovery Action plan, backed by an additional £500 million, "specifically targeting those that have been most impacted by the pandemic including those with severe mental illness, young people, and frontline staff," Minister for Mental Health Nadine Dorries said in a statement emailed to The Epoch Times.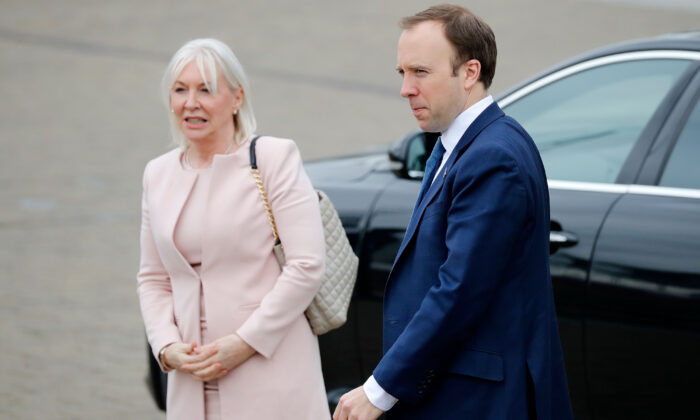 Dorries said she's "absolutely committed" to support people's wellbeing.
"I am acutely aware of how difficult this pandemic has been for many, especially children and young people, and I remain absolutely committed to supporting the mental wellbeing of everyone," Dorries said.
"Early intervention and treatment is vital, and we are providing an extra £2.3 billion a year to mental health services, this will help an additional 345,000 children and young people access NHS-funded services or school and college-based support by 2023/24."