CHICAGO—On Sunday, Oct. 17, the indomitable spirit of the Chicago Sky would allow them to come behind to beat Phoenix Mercury and win their first WNBA Championship.
From the start, the game was extremely intense, and tensions were high. Mercury captain Diana Taurasi and Sky forward Kahleah Copper were both assessed with technical fouls within a minute apart.
In order to win, Phoenix had to put heavy pressure on defense, as it was too porous in game three's loss. Sky veteran Candace Parker was contained to just one for six shooting in the first half, scoring only four points.
Britney Griner of Mercury led scorers with 28. Mercury guards Taurasi and Skylar Diggins-Smith both contributed 16 points. Their dominant play resulted in a 14-point lead with 3:16 remaining in the third quarter.
The Sky was seeded sixth in the post-season tournament with a 16–16 record. The core of the team as stated by Courtney Vandersloot wanted to win a championship together in Chicago. Having lost its only finals appearance to the same Mercury in 2014, they did not seek trades to other teams to chase a title. Vandersloot said, "We wanted to do it here. We didn't want to go find it. We needed a few more pieces, and to believe."
The final piece was one of two hometown heroes that led the team to victory. Parker finished with 16 points, 13 rebounds, and five assists. Meanwhile, DePaul alumni Allie Quigley from Joliet, Illinois, led The Sky overall with 26 points. Quigley was most instrumental in the comeback, scoring five 3-pointers.
The rally was made possible by the Sky implementing a defensive lockdown of their own, allowing just 11 points in the fourth quarter. Their other offensive contributions came from Vandersloot and Copper, who both scored 10 points. Forward Azura Stevens and center Stefanie Dolson both added eight points.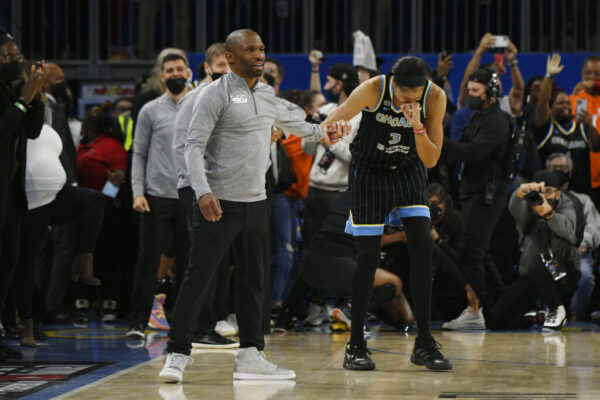 Parker said, "We were down nine, down 11 and we stayed with it. So proud of this group. Sloot doing what she does all year, Allie, it's amazing."
Parker fittingly tied the game, hitting a 26-foot three-point jumper with 1:57 remaining in the game. She also grabbed the final defensive rebound with 5.9 seconds left on the clock. Following the rebound, she dribbled up the court; and when the buzzer sounded, dashed for group hugs with her family.
Parker took a leap of faith in leaving the L.A. Sparks after 13 seasons when her contract expired last year. Her current teammates courted Parker to return to her hometown by showering her with gifts, mostly Chicago food such as deep-dish pizza. The 35-year-old native of suburban Naperville had most of her family attend the game, including her parents and daughter.
Parker's biggest supporter may be her daughter Lailaa. Parker got her approval to play for Chicago while her daughter remained home in Los Angeles.
"We've gone through this together," said Parker, who gave birth to Lailaa just before her second season in the league. "She sacrifices her mom so that I can live my dream. I just am so thankful for her, that she's here for the big moments." There's a picture at their home of Parker and Lailaa embracing on the court after winning the championship with Los Angeles in 2016. Lailaa said that she would like another one.
Parker has won and lost in other championship series. Following game three, she stated to her teammates that she was 0–2 in her previous game four experiences. "But I think yesterday I looked at myself and I was like, 'Why?'" she said. "You can't be passively accepting the other team and what they do. So I just think there's growth in those moments that are heartbreak."
During post-game celebrations Parker said, "This one is so sweet. To do it with this group. I love this group, I love this team. And to do it here at home, it was just supposed to be. But at the end of the day, it's like, 'Do it the best you can, and you live with the results."