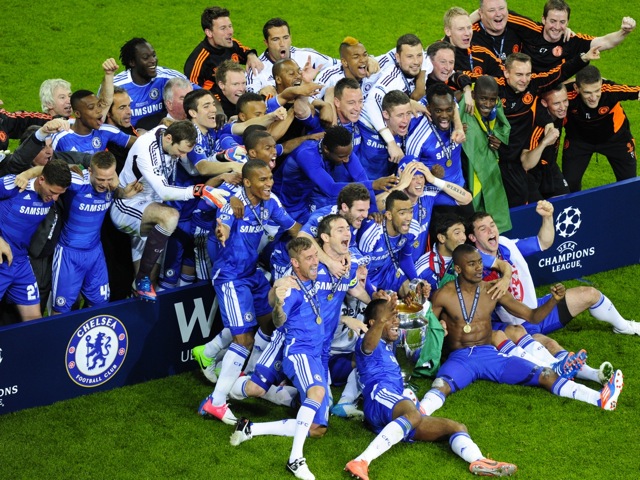 Chelsea are champions of European football after beating Bayern Munich in a penalty shootout 4–3 to win their first Champions League title.
On Saturday night in Munich, a makeshift Chelsea squad benefited from some terrible Bayern misses and then made the most of their own few chances to pull off a most unexpected result.
Bayern had taken a well-deserved 1–0 lead in the 83rd minute on a brilliant headed goal from Thomas Muller. But, on Chelsea's first corner of the match in the 88th minute, after Bayern had taken 16 of their own, Didier Drogba powered home a glancing header to equalize the match 1–1 in unbelievable style.
The match went into extra time and much like in regulation time, Bayern created more scoring opportunities but failed to capitalize. Arjen Robben missed a penalty in what will surely be a night to forget for Bayern's Dutch winger.
In the penalty shoot-out, Bayern actually held a 3–1 lead before Chelsea's Frank Lampard scored. Then Bayern substitute striker Ivica Olic had his penalty saved by Petr Cech's left hand before Ashley Cole made it 3–3.
Bayern's German international midfielder Bastian Schweinsteiger stepped up and fired a shot that hit off Cech's left post. Then Drogba rolled one in on Manuel Neuer's right side for the win.
Drogba had nearly become the goat for Chelsea after conceding a penalty to Bayern in the first period of injury time. But Cech saved a poorly taken penalty by Arjen Robben to keep Chelsea hopes alive.
Heavily favored Bayern, playing in front of their home fans, missed chance after chance and lost a glorious opportunity to win their fifth European championship. The giants of German football came into the match having won 22 Bundesliga titles and are possibly even more distraught than after their 1999 Champions League loss to Manchester United in which they squandered a one-goal lead only to lose 2–1 in injury time.
But Robben's left foot repeatedly misfired and striker Mario Gomez also ballooned a shot in the first half after getting a clear look on goal. Bayern will be left wondering how they lost this Champions League final.
Team of Destiny
Chelsea stunned Barcelona in the semifinals, preventing an "El Clasico" final between Real Madrid and Barcelona. The west London club also came back to beat Napoli in the Round of 16 after losing the first match 3–1. Their story is one of destiny.
Referee Pedro Proenca from Portugal made all the correct calls and deserves credit for handling an extremely important match professionally and without any controversy.
With the win, Chelsea (which finished sixth in the Premier League) will return to Champions League football next year while Tottenham Hotspur who finished in the Champions League qualification place (fourth in the Premier League) will be pushed into Europe League competition.
Follow Rahul on Twitter @RV_ETSports
The Epoch Times publishes in 35 countries and in 19 languages. Subscribe to our e-newsletter.