Chefs Dish Up Support for Madison Park in Creative Ways
July 17, 2013 9:41 pm Last Updated: September 3, 2013 8:58 pm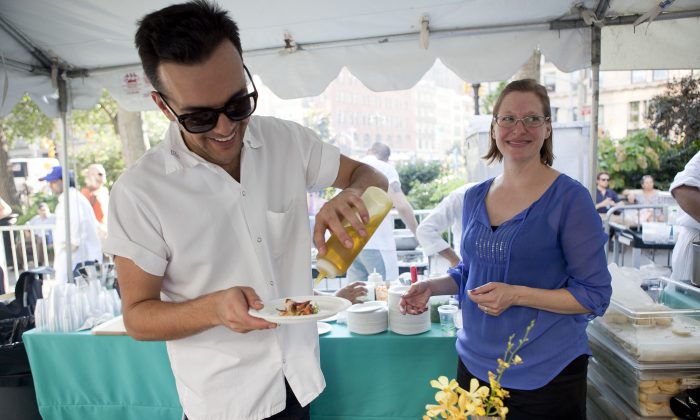 NEW YORK—The heat of the day had abated somewhat by early evening. In the shade of the tall Flatiron buildings and amongst the trees, diners enjoyed interacting with chefs and tasting the small bites on offer, which were as beautifully presented as they were delicious. 
For anyone attending the Celebrate Flatiron Chefs! event on Tuesday evening at Madison Square Park, it was a bit like being a kid in a candy shop. More than 30 restaurants and beverage purveyors treated 800 guests to a feast in aid of the Madison Square Park Conservancy. 
Little glasses of gazpachos were most refreshing, and dishes with watermelon were popular, and most welcome too. Executive chef Marc Vidal of Boqueria brought the two together in his delicious coral-hued watermelon gazpacho.
Being away from the kitchen and their regular amenities, the chefs faced the challenge of how to make and transport 800 portions.
"For us, being that it's so hot outside, you have to think about what's going to hold up," said Jason Pfeifer, chef de cuisine at Maialino. "Obviously there's not a whole lot of access to electricity so you have to be creative as to what you choose." He served house-made bresaola with parmesan, mustard, arugula, and mustard vinaigrette, along with olive oil cupcakes with mascarpone buttercream and fresh berries.
For Kevin Garcia, the executive chef at A Voce Madison, preparation offsite was key. Garcia had prepared a wonderful smoked duck along with a summery vegan salad. At the restaurant it would have been fresh duck breast seared to order but for the event, the duck was smoked, pre-sliced, and served cold. "What's amazing about the smoking process is that it kind of cures it."
Restaurants donated their time and food or the event, and funds from ticket sales go toward programming and upkeep of Madison Square Park. "[The park] is a great oasis for people to get out of their buildings and enjoy the outdoors. There's very few respites in Manhattan. It's such a crazy city," Garcia said.
"This is one of favorite areas to come and visit when I was living in Union Square," said Ratha Chaupoly of Num Pang. This is the first year Num Pang has taken part in the event, being relative newcomers to the area, with locations at The Nomad and nearby on Broadway and 26th St. The park is one of Chaupoly's favorites. "It's peaceful even though there's so many people because people respect your space."
Dessert was also popular. Ciao Bella ran out of gelato early, and sorbets went even earlier. Over at the Gramercy Tavern tent, pastry sous-chef Jessica Perkiss said they were using Nancy Olson's recipes since the restaurant is currently without a pastry chef. For the event, they had prepared delicious squares of brownies with a raspberry filling.
Nearby, pastry chef Angela Pinkerton of Eleven Madison Park was preparing sassafras floats with roasted banana ice cream. The sassafras was redolent of the aroma of root beer. The dessert was a delight and Pinkerton made do without electricity, using ice to keep the ice cream cool.
Madison Square Conservancy special events associate Eric Cova was thrilled by the great restaurants in the neighborhood coming together to support the park. He said this year's event was the largest yet, with over 800 people attending, and no waiting time. 
"I don't think there's any line, which is a great testament to how great the chefs are."