Lululemon Athletica, Inc. and Nike, Inc. have both fallen significantly from their record all-time highs, with Lululemon trading down about 30 percent since Nov. 16 and Nike losing about 20 percent of its value since Nov. 5.
However, the bottom may be in for the stocks, because on Jan. 24 Lululemon and Nike both hit a support level, bounced up from it and reversed course to the upside.
On Jan. 29, Lululemon broke up bullishly from a falling channel, which Benzinga called out the day prior, and has now consolidated into a bull flag pattern, which may provide a solid entry point for a trader. Similarly, Nike has confirmed a trend change, with a possible entry point off a higher low being provided on Wednesday.
Both stocks look to have room for more upside, but profit could be made more quickly in Lululemon because a bull flag is a more powerful short-term chart pattern than an uptrend.
It should be noted, however, that events affecting the general markets, negative or positive reactions to earnings prints and news headlines about a stock can quickly invalidate patterns and break-outs. As the saying goes, 'the trend is your friend until it isn't' and any trader in a position should have a clear stop in place and manage their risk versus reward.
The Lululemon Chart
On Wednesday, Lululemon gapped up slightly higher and looked to be breaking up from the bull flag pattern on higher-than-average volume on lower timeframes. The pole of the pattern was formed between Jan. 28 and Feb. 2 and the flag was created between Feb. 3 and Tuesday.
The measured move of the bull flag, if it continues to be recognized, is about 16 percent, which indicates Lululemon could trade up toward the $382 level in the future.
The gap up open allowed Lululemon to regain the 21-day exponential moving average (EMA) as support and if the stock is able to continue trading above the area for a period of time the eight-day EMA will eventually cross above the 21-day, which would give bulls more confidence going forward.
Bulls want to see Lululemon pop up over the Feb. 2 high of $353.62, which would confirm the stock is trading in an uptrend. The most recent higher low falls at the $327.81 mark, which would be an ideal place to place a stop for traders already in a position.
Lululemon has resistance above at $347 and $367.79 and support below at $329.54 and $315.90.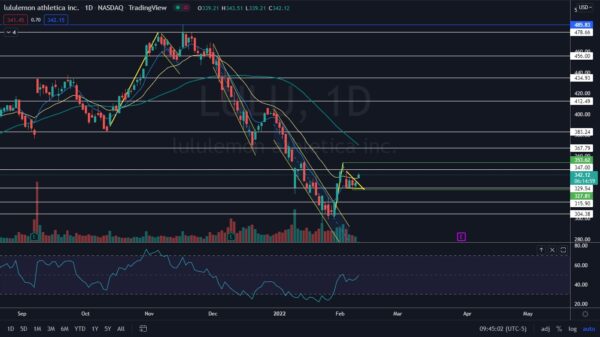 The Nike Chart
Nike has been trading in an uptrend since Jan. 24 and on Wednesday looks to have printed its next higher low at the $142.30 mark. The stock will need to rise up over $149.68 in the coming days to print its next higher high and confirm the trend is still intact.
On Wednesday, Nike gapped up slightly higher, which caused the stock to regain the eight-day EMA as support. If Nike is able to print another higher high, it will regain the 21-day EMA, which would be bullish.
Nike has a gap above on its chart between $153.60 and $156.86. Gaps on charts fill about 90 percent of the time, so it is likely the stock will trade up to fill the range in the future.
Nike has resistance above at $150.48 and $153.66 and support below at $145.43 and $139.36.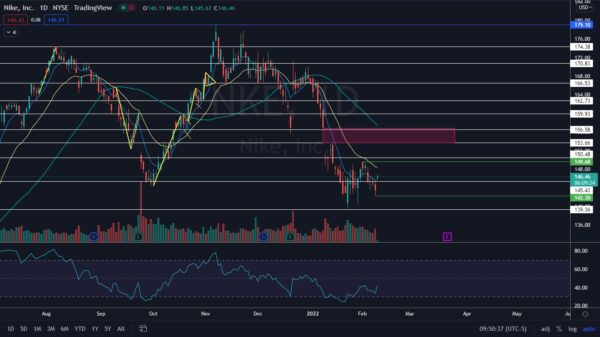 By Melanie Schaffer
© 2021 The Epoch Times. The Epoch Times does not provide investment advice. All rights reserved.