The federal Conservatives are proposing changes to the Broadcasting Act that, if approved by Parliament, may see a possible removal of two Chinese state-owned broadcasters from Canada's airwaves.
The proposed changes target any foreign media that is "subject to direction or controlled by a non-democratic foreign state, by a foreign state that is committing genocide or crimes against humanity, or that transmits, produces, or participates in the production of forced confessions."
Conservatives Garnett Genuis, a human rights critic, and Alain Rayes, the party's heritage critic, said their proposed revisions seek to bar authoritarian or genocidal states from pushing their propaganda to Canadians through the airwaves.
"The promotion and glorification of human rights abuses by state-controlled foreign media has no place in Canada," the two MPs said in a statement released on April 13.
"Allowing foreign states who are violating human rights to promote those abuses or dispel legitimate criticism on Canadian channels run counter to our Canadian values and to the principle of free and open conversation."
I am working with @AlainRayes to seek amendments to the government's broadcasting reform bill to prevent authoritarian or genocidal states from pushing their message on Canada's airwaves. #cdnpoli #humanrights #china #misinformation CC: @SafeguardDefend pic.twitter.com/2qzylDxOG4

— Garnett Genuis (@GarnettGenuis) April 13, 2021
Their statement came on the same day that Safeguard Defenders, a human rights NGO, published a press release calling on TV providers around the world—including Canada's Rogers, to stop airing abusive content such as "confessions" from Chinese state run media China Global Television Network (CGTN) and China Central Television (CCTV-4)
The release also included an open letter (pdf) to the TV providers which victims of forced confessions jointly signed on April 7.
"Most victims are rights lawyers, NGO workers and journalists, who stand up for the rule of law and human rights. As punishment, we have been placed in solitary confinement, held incommunicado and been subjected to physical and mental torture," the letter read.
"All this to ensure that when the camera faced us, we had no choice but to repeat the lines given to us by the Chinese police. Our footage is used, often without our knowledge, to spread fake news and fear among the rights communities we belong to."
"When torture did not work, threats to loved ones were used to extract filmed confessions," the letter added.
"Chinese police script every word, direct the delivery, and decide on the clothes. Chinese media collude with the police in their production," the victims said in the letter.
"The vast majority of victims are never told these recordings are for public airing, and that it will be put on TV, instead we are told its for internal use by the police or courts.
The letter urged TV providers in democratic societies to consider whether they should "continue to be morally complicit in airing such intentionally distorted information obtained through torture, threats and deprivation."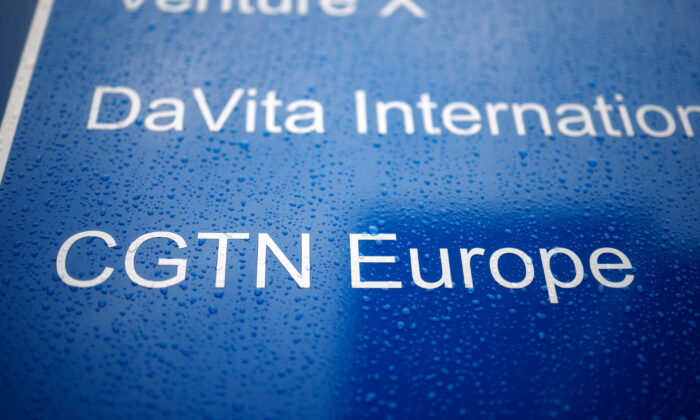 The letter was signed by British citizen Peter Humphrey, who was arrested in China after he was hired to investigate bribery claims and was shown on CGTN confessing to a crime; Simon Cheng, a former employee of the British Consulate in Hong Kong; Swedish activist Angela Gui, on behalf of her father Gui Minhai; and Safeguard Defender's director, who is also the author of the complaint letter, Peter Dahlin.
Safeguard had filed a complaint (pdf) to the Canadian Radio-television and Telecommunications Commission (CRTC) against CGTN and CCTV-4 in December 2019, providing records of 36 forced confessions with 70 victims aired in Canada from the period of 2013 to 2019.
However, Safeguard said CRTC has not taken any action since they presented the findings to the agency.
"After month than 14 months, neither Safeguard Defenders nor any Canadian media who asked have been given a straight answer by the CRTC as to the status of the complaint, nor as to whether any investigation into the allegations has been carried out at all," Safeguard told CRTC director Peter Foster in a letter dated Feb. 18.
Safeguard's letter also noted that when the CRTC granted CCTV permission to air in 2006, it was done with the premise that the commission will remove the television network if it finds out abusive content was aired.
Meanwhile, other countries have taken measures against the two Chinese state broadcasters.
On Feb. 4, UK's broadcasting regulator Ofcom revoked CGTN's license because it was held by Star China Media Limited (SCML), "which has no editorial control over its programs." On March 8, Ofcom issued statutory sanctions against SCML and fined the entity £100,000 for airing five forced confessions.
On March 5, Australian public broadcaster SBS temporarily stopped CCTV and CGTN after receiving a complaint from Safeguard after the networks broadcasted at least 56 forced confessions from prisoners over a seven-year period.
In the same month, France's audiovisual regulator CSA said they would pay "close attention" to CGTN's content after receiving the complaints filed by Dahlin.
On March 22, the U.S. Federal Communications Commission (FCC) said they will investigate the networks for allegedly violating FCC rules regarding airing forced confessions.
The parliament committee on Canadian heritage will hold a meeting Friday to discuss Bill C-6, which seeks to amend the Broadcasting Act. Rayes, who is the committee vice-chair, may present the proposed changes that day or in future meetings.