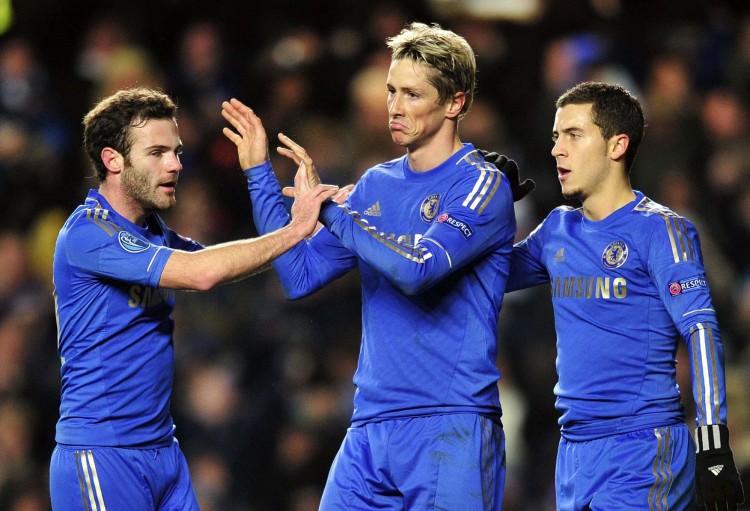 Champions League title-holder Chelsea became the first team to be eliminated the following season at the group stage, while defending English Premier League champion Manchester City was knocked out a day earlier.
Manchester United and Arsenal reached the Round of 16, although they both lost their final group stage matches.
European Champions League group stage play wrapped up on Wednesday leaving 16 teams remaining for the knockout stage, which begins in mid-February.
The group stage was a major success for Germany with all three clubs winning their respective groups.
Little-known Malaga of Spain won Group C, ahead of AC Milan, while perennial European powerhouses Juventus, Barcelona, and Manchester United all won their respective groups.
The teams to advance are (in order of winner followed by runner-up):
Group A: PSG, Porto
Group B: Schalke, Arsenal
Group C: Malaga, AC Milan
Group D: Borussia Dortmund, Real Madrid
Group E: Juventus, Shakhtar
Group F: Bayern Munich, Valencia
Group G: Barcelona, Celtic
Group H: Manchester United, Galatasaray
In Group D, a group that featured the champions of Germany, Spain, England, and Holland, English champion Manchester City failed to win a game and finished in last place with three points from six games. Borussia Dortmund won this "Group of Death" or "Group of Champions" finishing ahead of Real Madrid.
The highly anticipated draw to determine the Round of 16 matchups will take place on Thursday, Dec. 20, in Nyon, Switzerland. Group winners will be paired with group runners-up for a home-and-away series in the Round of 16. The Round of 16 will begin in mid-February and conclude by mid-March.
Teams from the same country cannot face each other. Teams from the same group cannot face each other again. The group winner plays the second game at home.
There are a number of possibly mouth-watering clashes that could arise. A couple of those include Manchester United–Real Madrid and Barcelona–Arsenal in a rematch of the 2006 final.
The final will be played at Wembley Stadium in London on Saturday, May 25, 2013.
Follow Rahul on Twitter @RV_ETSports
The Epoch Times publishes in 35 countries and in 19 languages. Subscribe to our e-newsletter.