Commentary
A survey by Jabil, a Florida-based manufacturing service company, found that 78 percent of supply chains were disrupted by the COVID-19 pandemic.
Eighteen months into the pandemic, supply chains remain disrupted due to continued lockdowns, container shortages, winter weather, hurricanes, wildfires, floods, factory fires, the blocking of the Suez Canal, and a host of other reasons.
Those disruptions have caused global shortages of semiconductors, as well as shortages of polyethylene, polypropylene, and monoethylene, which are used to make plastics. Plastics are contained in nearly every product we use and the lack of plastic has led to factory shutdowns, price increases, and production delays in countless industries. Shortages are impacting the manufacture of everything from personal protective equipment, food packaging, appliances, furniture, smartphones, and car parts to sports equipment.
A shortage of precursor materials (chemical inputs) has caused a shortage of vaccines coming from China. Neodymium, an input for the manufacture of the magnets used in AirPods and electric-vehicle motors, was refined in China. China closed down many of those refineries, causing a neodymium shortage around the world. A shortage of electric-vehicle motors has the knock-on effect of electric-vehicle factories in other countries shutting down production, which leads to unemployment, shortages, and price inflation.
Before the pandemic, global supply chains were created in order to keep manufacturing costs low and keep inventory investment at a minimum. With a reliable supply chain in place, companies could maintain a small inventory, ordering new products or inputs frequently and getting resupplied quickly.
The pandemic has caused companies around the world to rethink their supply chains. Now that they've experienced disruptions firsthand, they want to plan in such a fashion as to avoid them in the future, by building supply chain-resilience capabilities. For many, this means no longer relying on China. Out of 150 manufacturers surveyed by National Law Review, 43 percent have already moved their manufacturing out of China.
The labor-intensive manufacturing done in China lends itself to disruption, as regional COVID-19-lockdowns within China often prevent workers from getting to the factories, while also preventing drivers from carrying goods to ports. And the ports themselves were sometimes closed. Consequently, labor-intensive manufacturing has become a target for restructuring in the face of the post-pandemic planning of many international companies.
In the early stages of economic development, countries such as Japan, Taiwan, and Singapore engaged in labor-intensive, low-end manufacturing. Those countries invested heavily in improving their human capital and eventually moved up the value chain, doing technology-intensive manufacturing and dramatically raising the standard of living of their citizenry. While China has been trying to move up the value chain, its share of labor-intensive exports increased to 26.9 percent in 2018 from 13.9 percent in 2000. In order to remain competitive, China has kept manufacturing salaries artificially low, but the wages in China are now a multiple of manufacturing wages in Vietnam, Thailand, or Indonesia.
China is the world's largest exporter, but much of the goods shipped from China are actually manufactured by companies from other countries. The U.S.–China trade war lays the same tariffs on products coming from China, regardless of the country of origin of the owners of the Chinese factory that manufactured them. The high tariffs, economic sanctions on products from Xinjiang, rising cost of labor, high staff turnover, COVID-19 lockdowns, and concerns about being overdependent on China are driving foreign manufacturers to leave China.
A survey by the American Chamber of Commerce found that 29 percent of American companies said that they were moving some or all of their manufacturing out of China. Other studies have found that manufacturing from Taiwan, South Korea, and Japan are leaving in even greater numbers. The Financial Times reported that hundreds of thousands of Taiwan companies were planning to leave China. The Japanese government offered financial incentives to lure Japanese companies to leave China, out of security concerns of being too dependent on the country. Consequently, sensitive industries, such as pharmaceuticals and semiconductors, have been heavily encouraged to relocate to Japan or Southeast Asia.
The United States has placed sanctions on products imported from Xinjiang because of reports of slave labor. Consequently, U.S. buyers are looking for other markets to import from. Taiwanese electronics manufacturer, Delta, reduced their staff by 90 percent, saying that China was no longer a good place to manufacture. Foreign factories in China are now paying much higher Chinese wages, while also facing U.S. tariffs and sanctions, and the Chinese regime keeps shutting down production or shipping due to COVID-19.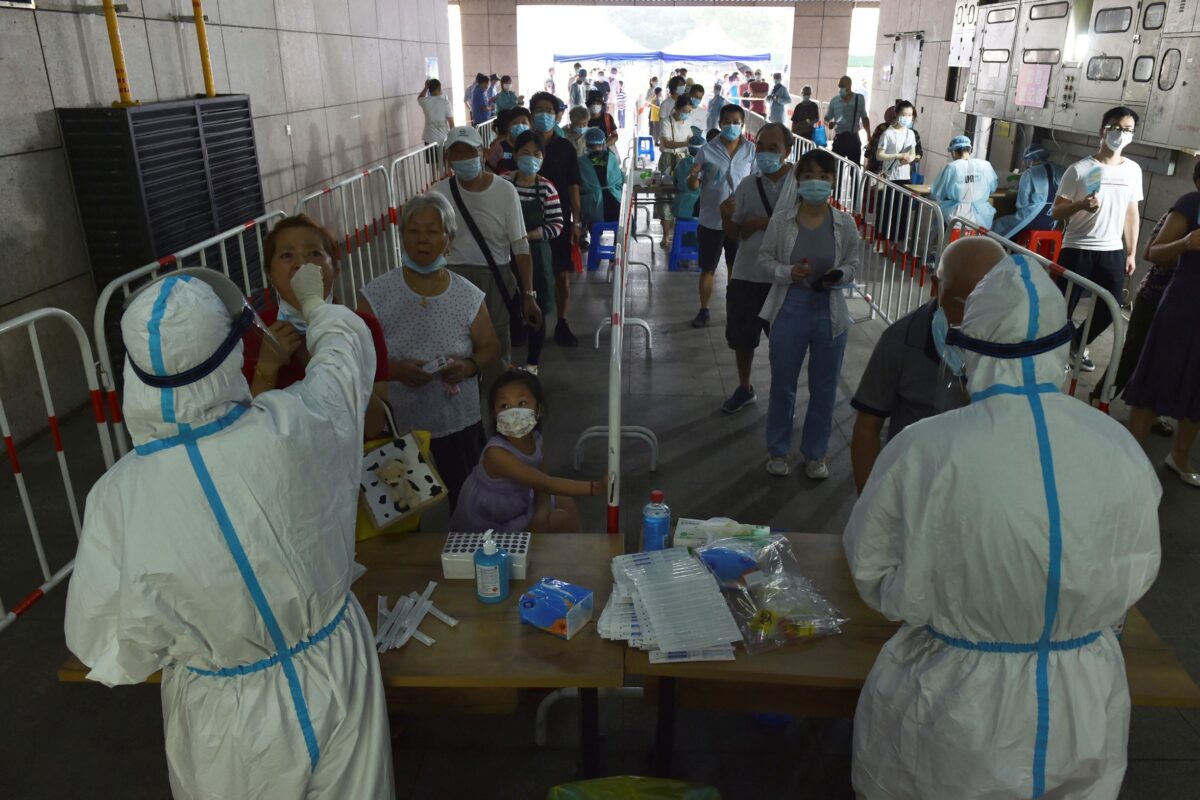 China has taken a zero-tolerance approach to COVID-19, locking down whole cities when just a few cases have been detected. This is causing investors to shy away from Chinese stocks. It also makes manufacturers reluctant to rely on Chinese supply chains.
Due to COVID-19 outbreaks, China has, at various times, canceled flights, locked down cities and regions, and suspended trade along the coast. Yantian port, about 50 miles north of Hong Kong, was shut down for nearly a week. When the port reopened, it operated below capacity, creating a huge backlog of containers, which spilled over to container ports in Shenzhen and Guangzhou. Shipping companies warned their clients that prices had increased dramatically, as wait times at those ports could be as long as 16 days.
Shipping rates have increased dramatically around the world. One of the most shocking increases has come on the route from Shanghai to Rotterdam, Netherlands, which has skyrocketed by 534 percent. The backlog of container ships in Asia has caused U.S. ports, particularly in California, to be inundated with containers. All of those problems have led to inventory shortages and increased prices.
In order to insulate themselves from future disruptions, companies are adopting a "China plus one" strategy, shifting at least some of their Chinese manufacturing facilities to Southeast Asia or India. U.S. companies are also assessing which manufacturing might be relocated to Mexico and then imported to the United States, tariff-free, under the United States–Mexico–Canada Agreement. Whether Southeast Asia or Mexico, new logistics strategies will have to be developed, as those economies aren't as developed as China. In Vietnam, for example, it might be necessary to build roads or pay for electrical power and water grids to be extended to a factory.
Connections with ports may be problematic and the technology within the ports wouldn't be at the same level as in China. Chinese ports are efficient and high-capacity, capable of handling the largest container ships. China also has direct marine shipping services to markets around the world. On the other hand, some companies have already experienced 18 months of supply chain disruption, which couldn't have been good for a company's bottom line.
While some may believe that the COVID-19 lockdowns and restrictions will eventually go away, the high wages, sanctions, and tariffs probably won't. Depending on a potentially belligerent state for semiconductors or life-saving medicines, this should be seen as a security concern for countries such as the United States or Japan. Consequently, it seems prudent for companies to shift manufacturing out of China, rewarding reliable allies in Southeast Asia, such as Vietnam, helping those countries to develop, and reducing long-term manufacturing costs. Ultimately, this would increase supply chain reliability.
Views expressed in this article are the opinions of the author and do not necessarily reflect the views of The Epoch Times.