GAINESVILLE, Fla.—Fleets of specially equipped, federally funded buses are rolling into targeted areas with the mission of convincing people to get the COVID-19 vaccine and giving the jabs on the spot to the newly persuaded.
Under a $6 million grant from the Centers for Disease Control and Prevention (CDC), teams in six states have worked since July to persuade visitors to the buses to take the COVID-19 vaccines. Their efforts have put 1,200 COVID-19 shots in arms, according to Catherine Striley of the University of Florida, who helps oversee the project.
For the $6 million investment, each taxpayer-funded vaccination has cost about $5,000.
Led by the University of Florida, eight universities share the goal of increasing adult vaccination rates in rural and minority communities as part of the program, Striley said. Targeted are areas identified as places "where health care skepticism is common and vaccination rates are low," according to a prepared statement from UF Health, the medical network affiliated with the University of Florida (UF).
Linda Cottler, the senior associate dean for research at the UF College of Public Health and Health Professions, told The Epoch Times in an email after the online publication of this article that the total number of shots administered had gone up to 2,052 and that the program had only begun in October last year.
"To calculate a per-shot cost from a program that is in its early stages is bad math, at best, and misleading, at worst. The grant covers the first year, so a fair calculation would include a year's worth of numbers, and our work in the field only began in October 2021," Cottler said.
"Beyond that, however, the numbers used in the piece are outdated: We've now administered 2,052 shots. Plus, we've reached 266,000 people, offering more than just vaccines. The program also provides important health information and needed health screenings."
Universities partnering in the initiative are the University of Minnesota, Washington University in St. Louis, Montefiore Medical Center of Albert Einstein College, the University of Kentucky, the University of Missouri, Florida State University, and the University of California, Davis.
As part of the program, bus workers also have tested 2,600 people for COVID-19 and have presented educational materials about the illness and vaccines at community events with attendance totalling 260,000 people.
At UF in Gainesville, Fla., the new vaccine education and distribution program is called "Our Community, Our Health." As part of the program, two mobile clinics set up in buses are used to "meet community members where they are," and "tackle vaccine skepticism," UF Health's statement said.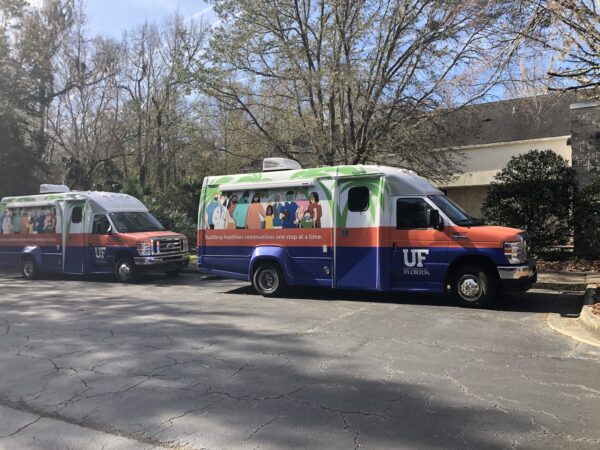 UF Health workers and their newly acquired mobile health vehicles are traveling throughout North Central Florida to reach their "target communities" with CDC-supplied vaccine education materials. The goal is to boost vaccination rates in areas chosen for having "high vaccine-hesitancy rates," UF Health's description of the program states.
Funding for the program comes from a grant called PANDEMIC (Program to Alleviate National Disparities in Ethnic and Minority Immunizations in the Community), provided by the CDC's Partnering for Vaccine Equity program. PANDEMIC has set aside $156 million for organizations across the country to help "improve adult vaccination access and increase vaccination rates," program materials say.
The PANDEMIC grant program is intended to be used to increase "vaccine equity," program materials say. UF Health has emphasized that mission of equity—a term used to indicate equal amounts distributed by race—in the organization's efforts. The aim is to reach groups that may experience "immunization disparities" in racial and ethnic minorities, materials say. They prioritize reaching residents of rural communities, migrant farmworkers, Native Americans, Hispanics, Blacks, and people identifying as part of the LGBTQ community.
The buses visit community events and anywhere else they're asked to appear, said Striley. The two UF Health buses have visited a wide variety of locations, including YMCA clubs, churches, family events, farmworker events, and state fairs. Organizers want attendees to have the opportunity to walk up without an appointment, get educated about vaccines, and potentially receive their first vaccination or a booster shot, she said. The buses also have visited facilities such as The Arc, a support organization for those with developmental disabilities, she said.
Those interested in receiving the vaccine often ask questions about COVID-19 and about the vaccine's safety, including whether pregnant women should get the vaccine, Striley said. "Which, of course, the short answer is, 'Absolutely!'" she added.
"If people aren't sure [that they want the vaccine], then we have educational materials, and our community health workers and the extension agents will talk to them about their particular questions and try to answer their questions and their concerns. And then…[we] immediately give them the vaccine," Striley explained.
William Moody smiled from behind his mask as he stepped out of the bus Feb. 9 after receiving his third shot. He hadn't planned to receive the vaccination that way, he said. But when he saw the sign for the event outside the YMCA, he pulled in to take advantage of the convenient opportunity on his way to work. And while he had no questions about whether he wanted the vaccine, Moody said he felt the bus and the staff inside made it a great experience.
Bus workers try not to turn anyone away. And while the program doesn't specifically aim to give the shots to children, if youngsters express interest in being vaccinated, the PANDEMIC teams try to find a way, Striley said.
"We're trying to get vaccines into adult arms," she said. "That is what the CDC has asked us to do."
The team of universities is finishing its first year of work on the project and will soon find out if they'll receive funding renewal for a second year.
"Everything looks pretty good for that, but there's no guarantee," said Striley.
How long will the programs to distribute vaccines continue? It's unclear, she said. "We'll take it year by year."