The U.S. Centers for Disease Control and Prevention (CDC) confirmed 57 cases of coronavirus in the United States, an increase of four from Monday.
All of the new cases were evacuees from the Diamond Princess cruise ship, which was held in medical isolation for two weeks off the coast of Japan, CDC officials confirmed to CNN.
In all, the confirmed cases include 40 passengers who were on board the Diamond Princess, three people evacuated from China, and fourteen U.S. cases. The ship ultimately turned from a quarantine zone into a highly effective means of transmitting the virus, as hundreds of people became infected, leading to four deaths and prompting criticism about how Japanese officials responded.
Of the 14 U.S. cases, eight have been confirmed in California, one in Washington state, one in Arizona, two in Illinois, one in Massachusetts, and one in Wisconsin. Meanwhile, health officials in Oregon, Michigan, and Washington state say they are monitoring hundreds of people who are at risk of contracting the virus.
Dr. Nancy Messonnier, a Centers for Disease Control and Prevention (CDC) official, told reporters on Tuesday that the virus will likely begin spreading in the United States in the near future and called on Americans to stay prepared.
"We expect we will see community spread in this country. It's not so much a question of if this will happen any more, but the rather more correct question to be asking is, 'When this will happen and how many people in this country will have severe illness?'" she said.
It comes as new clusters of the virus appeared far from its suspected point of origin in China, creating a sense of apprehension in financial markets and political institutions.
Global stocks dropped their lowest levels in over two months on Tuesday over the spread of the virus and its damage to the global economy. At the same time, the virus triggered a sense of urgency among officials in Europe after an outbreak emerged in Italy, as well as in South Korea, Japan, and Iran, which has far fewer resources.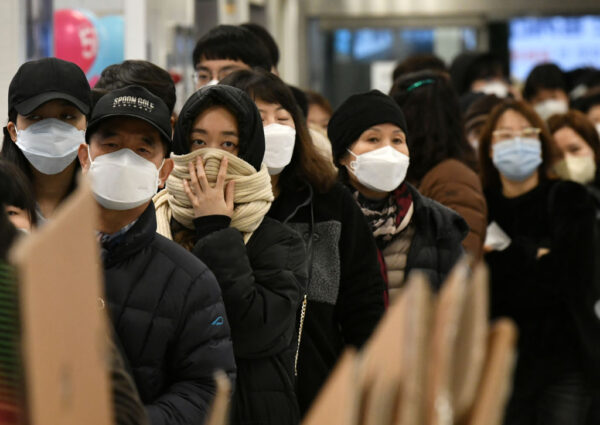 Croatia and Austria, neighbors of Italy, reported their first cases of coronavirus, which causes the COVID-19 disease. And an Italian man staying at a resort in Spain's Tenerife island prompted officials to implement a quarantine on a hotel, affecting about 1,000 people.
In the Middle East, Iran, Afghanistan, Bahrain, Iraq, Kuwait, and Oman reported their first new coronavirus cases on Monday. They were confirmed as people who had been to Iran.
South Korea has the most virus cases outside China, with 977 infections and 10 deaths, and the majority have been linked back to the Shincheonji Church of Jesus in the city of Daegu. Officials believe outbreak is believed to have begun with a 61-year-old woman who had traveled from virus epicenter Wuhan to South Korea.
South Korean President Moon Jae-in acknowledged the situation was "very grave," according to the Yonhap news agency.
Italy, meanwhile, reported 280 cases and seven deaths, most coming in the northern Lombardy and Veneto regions, although one case emerged in the country's south on the island of Sicily.