While the Australian government has announced that it won't mandate CCP virus vaccinations as a blanket policy, business owners in some industries might have options available.
"We have a broad principle with our vaccination program—that the vaccines are both free but they're also voluntary," Australian Treasurer Josh Frydenberg told Seven's Sunrise program on Aug. 10.
"Now there are some exceptions with respect to workers in aged care and as well as in quarantine," he added.
Asked if vaccinated employees could sue their employers if they contract the virus from unvaccinated colleagues, Frydenberg said any business owners looking to implement mandatory vaccination rules need to consider individual circumstances. In fact, fully vaccinated people can transmit the virus, according to Queensland Chief Health Officer Dr. Jeannette Young.
This comes after Australian Prime Minister Scott Morrison said on Friday that businesses have a legal obligation to keep their workplaces safe and encouraged them to review guidelines for COVID-19 vaccinations by the Fair Work Ombudsman and Safe Work Australia.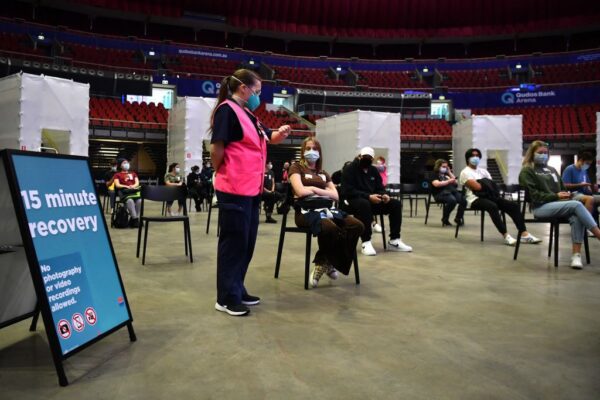 Morrison has maintained that only states and territories have the power to make vaccinations mandatory under public health orders and based on expert medical advice.
"In general, in the absence of a State or Territory public health order or a requirement in an employment contract or industrial instrument, an employer can only mandate that an employee be vaccinated through a lawful and reasonable direction," Morrison said.
But Liberal MP Tanya Davies criticised Morrison's comments, saying, "The Prime Minister's comments in the past few days have left the door wide open for employers to force their employees to be vaccinated. The Federal Government has effectively privatised compulsory COVID-19 vaccinations."
Davies spoke out after construction workers in her western Sydney electorate felt they had no choice to get the vaccines in order to provide for their families.
"The policy of 'no jab no job' is an attack on my community and the people of NSW," she wrote on Facebook. "No citizen should be forced or coerced into having any medical treatment or procedure for fear of being discriminated against."
Last week, fruit and vegetable company SPC was the first Australian company to require COVID-19 vaccinations for all employees and visitors who wish to enter a company worksite.
Australian Manufacturing Workers' Union (AMWU) decried the decision, saying the company did not show that they were genuinely willing to consult with their workers on the vaccine rollout.
Morrison said the government would be keeping a close eye on the legal consequences following the decision.
SPC and AMWU had a meeting on Monday afternoon but ultimately did not come to an agreement as SPC was determined not to backtrack on their decision.
"SPC have refused to remove their demand workers be compulsorily vaccinated as a condition of work, despite the Morrison Government standing up today and saying it wouldn't be making vaccination mandatory," AMWU National Secretary Steve Murphy said.
AMWU believes the call to make workplace vaccinations compulsory should be up to public health officials and not employers.
Currently, COVID-19 vaccines are under provisional approval by the Therapeutic Goods Administration (TGA), meaning the public is allowed to receive the vaccine while manufacturers have two more years to submit additional data for full drug approval.