Chinese leader Xi Jinping held a video meeting with United Nations High Commissioner for Human Rights Michelle Bachelet on May 25, a day after new documents revealing the regime's human rights abuses targeting Uyghurs in Xinjiang was published.
Bachelet kicked off the six-day trip on May 23, the first by a U.N. human rights chief to China since 2005. She will visit Kashgar and Urumqi, both in the far-western region of Xinjiang, where the U.N. has estimated about 1 million Uyghur and other Muslim minorities are detained.
Former detainees have recounted the abuses inside the facilities, such as political indoctrination, torture, drugging, and rape. While the regime denied all abuses, the United States and other Western democracies have labeled Beijing's actions a genocide.
The closely-watched trip was criticized by Western officials and rights advocates who argued that the Chinese regime would limit whom she could talk to, stage-manage her trip, and use it for propaganda purposes.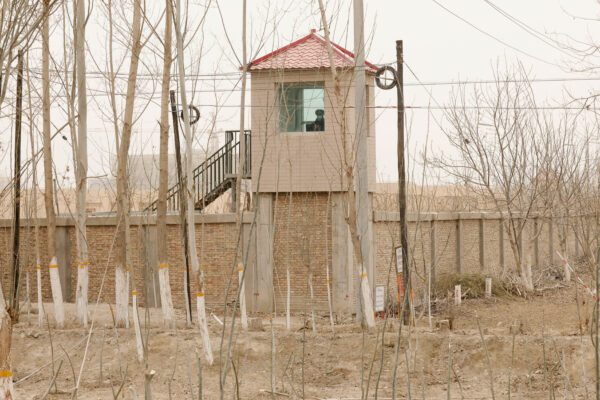 During Wednesday's video call, Xi rejected the criticism and defended the Chinese Communist Party's human rights position, saying it "suits its own national conditions," according to state broadcaster CCTV.
"On the issue of human rights, there is no perfect 'ideal country,'" Xi said.
The readout from Chinese state media didn't mention Xinjiang.
Bachelet was quoted by CCTV as saying she "admired" the regime's efforts and achievements on poverty and human rights.
The Epoch Times has sought comment from her office.
In a tweet from Bachelet's office on Wednesday, she described the meeting with Xi and senior Chinese officials as a valuable opportunity to directly discuss human rights issues and concerns.
"For me, it is a priority to engage with the Government of China directly…on human rights issues, domestic, regional and global," Bachelet said in her opening remarks at the meeting, according to a U.N. statement. "For development, peace and security to be sustainable–locally and across borders–human rights have to be at their core."
The meeting comes a day after thousands of mugshots of Uyghur detainees as well as police documents were published by the Washington-based advocacy group Victims of Communism Memorial Foundation. The extensive data, known as Xinjiang Police Files, were allegedly hacked from police computer servers in Xinjiang, and was widely reported by global media.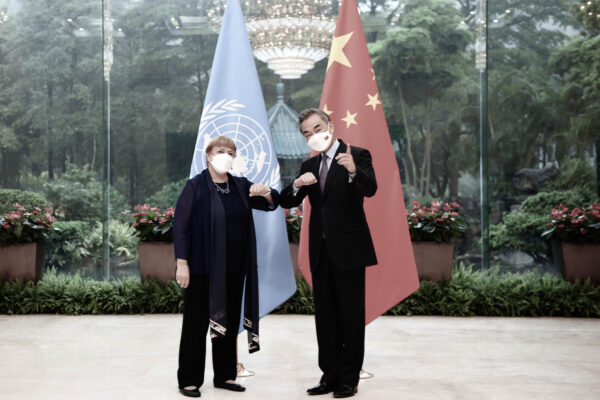 Bachelet started her trip from the southern port city of Guangzhou, where she met China's foreign minister Wang Yi. The statement on the ministry's website includes a photo showing Wang sending Bachelet a book of Chinese leader Xi's quotes about human rights.
The trip was conducted within a "closed loop," a system used during the Beijing Winter Olympics where people in the bubble have no physical contact with the outside world, according to China's foreign ministry. Bachelet also won't be accompanied by any journalists. Her office said she would hold a press conference at the end of the trip.
U.S State Department spokesman Ned Price said on May 20 that the administration didn't expect the regime would grant the necessary access to conduct "a complete, unmanipulated assessment of the human rights environment in Xinjiang."
"We think it was a mistake to agree to a visit under these circumstances where the high commissioner will not be granted the type of unhindered access, free and full access that would be required to do a complete assessment and to come back with a full picture of the atrocities, the crimes against humanity, and the genocide ongoing in Xinjiang," said Price.
The Associated Press contributed to the report.