The Chinese regime blocked people from mourning their loved ones who drowned inside a Zhengzhou subway, and detained at least one photographer and one mourner on July 27.
Later on Tuesday, the photographer of the state-owned media Caixin was released, but the mourner's situation is unknown.
In Chinese culture, the seventh day after death is an important mourning day. July 27 is the seventh day after the deaths of at least 14 victims who died inside the flood-submerged subway. People who lost their loved ones and who sympathized with the victims laid flowers in front of the subway station since early morning. On most of the cards of each bouquet, mourners wrote the deceased's names.
However, the regime hired security staff to install a fence to block the public's view of the flowers, and even dispelled people who wanted to stay there for a while.
"These people died beside us. We, millions of Zhengzhou residents, share the same sorrow … Now, the regime doesn't even allow us to present some flowers," a Zhengzhou resident named Chen said, expressing his anger at the regime in a telephone interview with the Chinese-language Epoch Times.
Chen said that he witnessed a group of primary school students go to place flowers for the victims, but were driven away by security staff. "These pupils cried [because they couldn't mourn the deceased]," Chen added.
Photographer and Mourner Detained
After the flood on July 20, the regime in Zhengzhou didn't allow foreign journalists to take photos or interview residents. On July 27, even a state-owned media photographer was detained.
"My colleague, Caixin's photographer Chen Liang, was detained by Nanyang Road police station [in Zhengzhou] after he shot the following picture," Caixin journalist Wang Heyan posted on Chinese social media platform Weibo on July 27. In her post, Wang posted an aerial photo that showed flowers being placed outside of the subway station.
Late in the night, another Caixin reporter Chen Baocheng posted on Weibo that Chen Liang was released, without giving any details.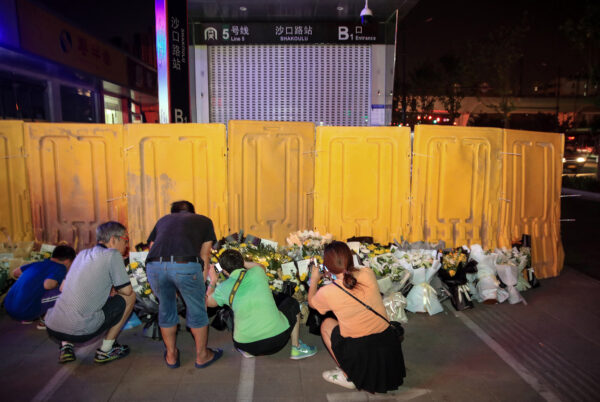 Wang Jinlei, a Zhengzhou resident, went to the subway station to mourn the victims on July 27 and was angered upon seeing the fence. He stated in a post on Chinese social media platform WeChat, "The fence blocked the way of the victims' spirits going home (heaven)."
Soon after, Wang posted that he had removed the fence with the help of other passersby.
However, about half an hour later, Wang was detained. The last message he posted on WeChat was, "I only have one thought, which is lighting the road to help the deceased to go home (heaven)."
The Zhengzhou regime ordered the security staff to rebuild the fence after Wang was detained. Hours later, another group of mourners removed the fence again. This time, the regime didn't rebuild the fence.
The Epoch Times contacted the Zhengzhou police station, but couldn't find out whether Wang was released or not.