Prime Minister Scott Morrison has pushed back against the Labor Party's plan to pay a $300 payment to help speed up the COVID-19 vaccination rate, saying Australians engaged with the program needed to be respected.
Morrison blasted the proposal as a "bankrupt thought bubble" that was an insult to all Australians.
"This is a serious public health crisis, it's not a game show," he told reporters in Canberra. "If they do have hesitancy about the vaccine, I am not going to pay them off."
"I am going to pay for a GP to sit down with them and work through their concerns, which is what I have already done," the prime minister said.
On the weekend, the Australian Labor Party (ALP) issued the proposal saying it would use tax-payer funds to incentivise Australians to get fully vaccinated and help businesses struggling with lockdowns.
"Vaccinations are a race Australians can no longer afford to lose. The Morrison government must make vaccines easily accessible to meet their target to vaccinate 80 percent of adults," the statement read, blaming the government for the slow rollout of vaccines.
"The faster this is achieved, the faster the recovery as we emerge from lockdowns that are bleeding hundreds of millions of dollars a day from the nation's finances," it added. "That's why Labor is proposing a $300 payment to every Australian citizen and resident who is fully vaccinated by Dec. 1."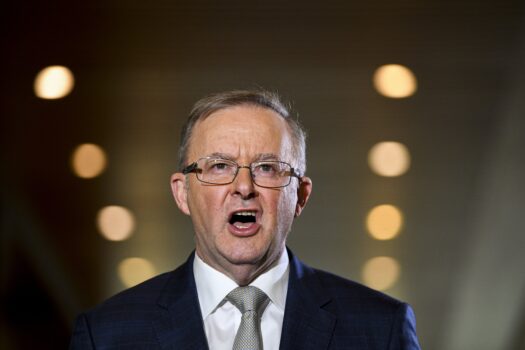 Finance Minister Simon Birmingham echoed the Prime Minister statements saying the proposal was "insulting."
"The evidence says that it's unnecessary and unlikely to work," he told ABC on Aug. 3.
The government is leaning towards offering greater freedoms from restrictions to boost vaccination rates, an approach adopted by developed countries like the United Kingdom and France.
"They used some targeted incentives in careful, targeted ways to help get people over the line, but not this type of broad-brush scatter gun approach," Birmingham said.
Prime Minister Morrison has already earmarked this approach, opening the door to introduce vaccine passports in Australia. Major venue operators could potentially also limit attendance to major events to individuals who are fully vaccinated.
Meanwhile, Mary-Louise McLaws, an epidemiologist at the University of New South Wales, played down Labor's idea saying vaccine hesitancy was not an issue.
"I actually don't think Australians are that hesitant. There is just not enough vaccine available," she told the Nine Network. "I would prefer that money to go to people who are really hurting financially with the lockdown."
Australia currently has one of the lowest vaccination rates among OECD nations.
The ALP's cash payment idea comes a week after the Grattan Institute proposed a series of measures to boost vaccine uptake, including a "Vaxlotto" that would offer a chance to win a $10 million prize each week to fully vaccinated individuals.