Illegal drug cartels and gang activity are taking over small Southern California towns and causing residents to flee their homes, according to a new investigative documentary released by Daily Caller reporter Jorge Ventura.
"Cartelville, USA," released Nov. 4, documents Ventura's investigation into the illegal marijuana growing operations popping up in Los Angeles County, particularly in his native Antelope Valley.
"I really wanted to shine a light on what was happening in my hometown," Ventura said. "I felt that Americans living in these towns needed a voice on this story."
Ventura said the drug cartels typically smuggle drugs from Mexico and distribute them inside the United States through various channels.
However, this operation's marijuana is now openly grown, and the cartels acquire the land for the operations by either squatting on land or buying properties in the rural Antelope Valley area.
"As this continues with these cartels … [they] are actually taking [the communities] over and turning them into ghost towns," Ventura said in the documentary. "We've already seen three or four communities in the Antelope Valley and in San Bernardino County that have been completely taken over by these cartels and pushing families away."
A resident told the Daily Caller that, starting a year ago, the grows began popping up exponentially.
"Within five miles of my house, there are probably 50 grows … blatant, open operations," said the resident, who was unidentified to protect privacy.
The presence of cartels also often leads to violence in communities. In July, an individual was killed and two others were injured at a Mariposa County cartel marijuana grow, according to the Merced Sun-Star.
Los Angeles Sherriff Alex Villanueva said at a June press conference that his department identified 150 illegal marijuana grows in Antelope Valley in 2020; this year, the number had grown to more than 500.
In the same month, a multi-agency law enforcement operation cleared many illegal marijuana operations in what the Los Angeles Sheriff's Department (LASD) deemed "the largest operation ever to take place in the history of LASD."
Over 200 locations were served with search warrants, while 375,000 marijuana plants and 33,000 pounds of harvested marijuana were seized.
The 10-day operation resulted in 22 felony arrests, 109 misdemeanor arrests, and 19 arrests, according to the LASD.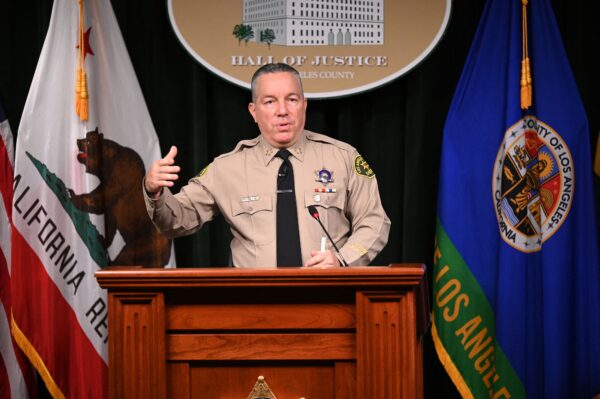 The cartels also smuggle undocumented migrants, often minors, from Mexico to work on the operations.
San Bernadino Sheriff Shannon Dicus told the Daily Caller that the department often sees human trafficking in these grows.
The cartels are "essentially making them work these grows and tend these grows so that they can get their citizenship, or whatever the trade is," Dicus said. "And it's all about the grow, not about people."
Ventura toured the inside of a San Bernadino grow operation that he said was worth $700,000.
The cartels use "grow kits" consisting of plywood, plastic, wire and tarp to construct the tent and an above-ground pool to mix chemicals. The grow kits allow the greenhouses to be built in a matter of days.
The operations also steal water from the communities' water supply using trucks, Ventura said.
Ventura ultimately urged Gov. Gavin Newsom to revisit Proposition 64, which legalized cannabis use in the state and took the penalty for growing marijuana from a felony to a $500 misdemeanor fine.
The grow operations are lucrative, often yielding close to a million dollars, making the reward outweigh the risk for many people.
The investigative reporter also called on President Joe Biden to tighten enforcement at the southern border, which would lower the cartels' source of labor.
Ventura has also been covering immigration at the Texas border for the past several months.