Possible Carcinogenic Protein Found in Chinese Dairy Products
April 28, 2009 3:29 pm Last Updated: October 1, 2015 9:51 pm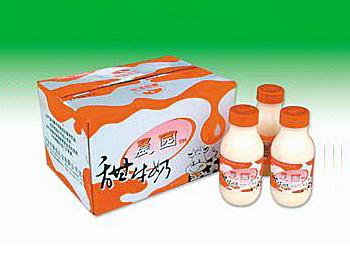 China's dairy industry is hit by another scandal following the melamine-tainted milk incident. a possible carcinogen, hydrolyzed leather protein, was found in many batches of dairy products produced by the Morning Garden dairy company in Jinhua City, Zhejiang Province.
According to City Express's report on April 27, someone sent an anonymous letter exposing the Morning Garden's illegal practice to boost the apparent protein content of its product by adding leather protein.
On March 18, Zhejiang Provincial Bureau of Quality and Technical Supervision tested eight batches of milk products, including both finished and semi-finished products, produced by the Morning Garden, and found hydrolyzed leather protein in five batches.
On April 2, the bureau tested another six batches of milk products sold by the Morning Garden to markets in various local supermarket, and found hydrolyzed leather protein in all batches.
Morning Garden is a big food manufacturing plant based in Lanxi City with 100 employees, 70 tons of daily production, and 18.2 million yuan of annual sales revenue. So far, the local authorities have detained three persons, including the company's legal representative, Mao Jianhua.
Food experts said that when used as a food additive, hydrolyzed leather powder is mainly added to milk powder or milk beverage to boost protein content and to lower the cost.
Produced from leather scraps, hydrolyzed leather powder contains potassium dichromate and sodium dichromate, both of which cannot be broken down by the human digestive system, and will therefore be accumulated as toxins in the human body and eventually lead to swollen joints or even death in children.
Experts also said that leather protein is similar to melamine but different in that leather protein is harder to detect because it is a real protein that is also toxic.