A police officer who was killed after a car rammed into a barrier at the U.S. Capitol died from multiple blunt force injuries, a medical examiner said April 8.
Officer William "Billy" Evans died from injuries he sustained after 25-year-old Noah Green drove a blue car into him and another officer at a barricade outside the U.S. Capitol just after 1 p.m on April 2.
That officer left the hospital Saturday. Authorities identified him as Ken Shaver.
Dr. Francisco Diaz determined the death of Officer Evans was a homicide, noting the 18-year USCP veteran had multiple blunt force injuries to the head, WJLA-TV reported.
Evans was a member of the department's first responders unit. The 41-year-old died last Friday, shortly after the attack.
Green was shot and killed by police after he crashed the car before emerging from the vehicle and allegedly lunging at police with a knife.
Officers were guarding the Capitol grounds at the time the incident occurred.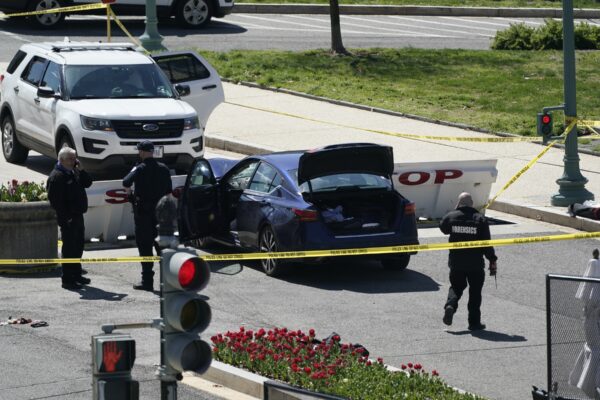 Multiple outlets reported that social media accounts belonging to Green suggested he was a follower of the Nation of Islam and its leader, Louis Farrakhan.
Investigators were digging into Green's background and examining whether he had any history of mental health problems as they tried to discern a motive. They were working to obtain warrants to access his online accounts
Evans's family released a statement on Tuesday honoring him.
"Billy was the best father, son, brother, and friend anyone could ever hope for," his family said. "Billy was proud to be a United States Capitol Police Officer. His colleagues from the North Barricade were the people he spent so many hours with, and their friendship was one of the best parts of his job."
Earlier this week, House Speaker Nancy Pelosi (D-Calif.) and Senate Majority Leader Chuck Schumer (D-N.Y.) announced that Evans will lie in honor in the Capitol Rotunda on April 13.
"In giving his life to protect our Capitol and our Country, Officer Evans became a martyr for our democracy. On behalf of the entire Congress, we are profoundly grateful," the Democrat leaders said in a statement.
"It is now the great and solemn privilege of the House of Representatives and the Senate to convey the appreciation and the sadness of the Congress and Country for the heroic sacrifice of Officer Evans with a lying-in-honor ceremony in the U.S. Capitol.
"May this tribute also be a source of comfort and an expression of gratitude to the U.S. Capitol Police force, which has awed our nation with their courage and resilience during this devastating time."
A ceremony will begin on the East Front of the U.S. Capitol at 10:30 a.m. and a congressional tribute will be held at 11:00 a.m.  Due to the COVID-19 pandemic, the ceremony will be open to invited guests only.
It will be the second time this year that a Capitol Police officer will be recognized in the Rotunda.
Six people have been laid to rest in the Rotunda who were not a public official or military leader.