The Quebec government's decision to cancel mandatory COVDID-19 vaccination for health-care workers on Nov. 3 was met with mixed reactions, with the official opposition going on the offensive and a large union breathing a sigh of relief.
Quebec Liberal Party (PLQ), the official opposition, attacked the move as "political" and said the government retreated when confronted with "stubborn and conspiracy theorists." The PLQ said the ruling Coalition Avenir Québec party has been "incapable of imposing strong measures to allow the vaccination of more employees."
"Once again, [Quebec Premier] François Legault proves he can't face the music," said PLQ Leader Dominique Anglade. "How should we believe him after this?"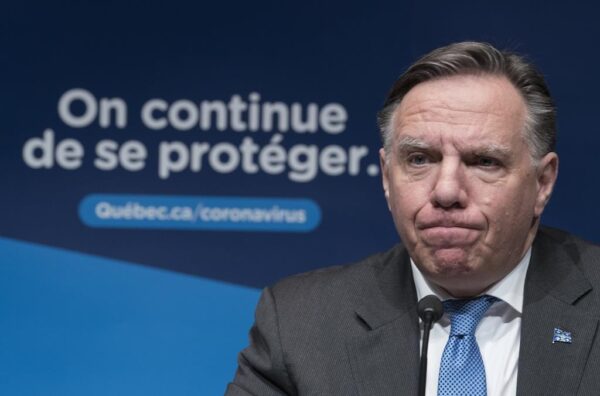 For a large union representing health-care workers, however, the development was welcome news.
"The government is realizing what we've been saying for weeks," says Isabelle Groulx, vice-president of the Fédération interprofessionnelle de la santé du Québec, a labour union representing close to 76,000 nurses and other health-care workers.
"There's absolutely no room to manoeuvre in the health-care system right now. The removal of hundreds of health-care workers was to be avoided at all costs in order to not deprive even more members of the public from access to essential care and services," she said.
The Quebec government said about 14,000 health-care workers are still unvaccinated and despite efforts to tackle personnel shortages, the fallout if they were banned from working would have been severe, with key services such as ER departments being impacted.
Questions remain however whether previously announced policies to ban unvaccinated health-care practitioners by colleges regulating physicians and nurses in the province still stand.
Quebec's college of physicians, CMQ, stated that its position hasn't changed.
"We continue to say that vaccination is an ethical duty and a social obligation for our physicians," the CMQ said.
However, the college's statement didn't make it clear whether non-complying doctors will still be suspended.
The CMQ did not respond to a request for comment on the issue, but a post on its Twitter account says the government's previous "decree provided powers to accelerate the usual process to suspend the right to practice. We'll have to see what the next version says."
The Ordre des infirmières et infirmiers du Québec, the organization that regulates the nursing profession in Quebec, which had previously said it would not allow unvaccinated nurses to work in the profession, said "employers and not the Ordre will be responsible to suspend without salary the nurses who are not properly protected and who don't conform to the obligation to get tested."
Quebec Health Minister Christian Dubé said in a radio interview on Nov. 4 that the professional orders might need to be the ones deciding whether to impose vaccine mandates.
"I'm expecting in the next few days that the professional orders will announce that their professionals are required to be vaccinated," he said, according to TVA Nouvelles.
Robert Béliveau, a retired physician and spokesperson of the advocacy group Réinfo Covid Québec, told The Epoch Times he doubts the professional colleges will go down that route and decide to bear the legal responsibility of a mandate.
"If some people suffer injuries, there's going to be lawsuits, that's for sure. If I were the president of the order, I would think twice about it," says Béliveau, whose organization raises awareness about what it says are contradictions and overreach by the government in imposing COVID-19 measures.
Béliveau says his group isn't anti-vaccine, but is against mandatory vaccination. He says he doesn't understand how the college of physicians can reconcile mandatory vaccination for doctors with their ethical duty to respect free and informed consent when treating patients.
A small organization taking the province to court on a variety of its COVID-19 measures saw the government's retreat as a "huge victory, not only for healthcare workers, but for society as a whole."
The Fondation pour la défense des droits et libertés du peuple (Foundation for defending people's rights and freedoms) says it will be hard for any employer to mandate vaccination when even the health-care workers who are in close contact with patients aren't mandated.
"We firmly believe this step will have a domino effect unless professional associations decide to do the dirty work themselves, as was asked by Health Minister Christian Dubé. If they do so, we'll take them to court," says spokesperson Julie Lévesque.