News Analysis
Inflation appears to be a bigger worry for consumers than it is for the Bank of Canada. It could even be a ticking time bomb given Canadians' elevated savings and fewer opportunities to spend due to pandemic measures.
Based on conventional economic data and analysis, official inflation is hardly at problematic levels, but inflation expectations, which are harder to quantify, may be the canary in the coal mine.
Google searches for "inflation" in Canada are at the highest they've ever been since the tech giant started keeping track in 2004. A similar phenomenon is taking place in the United States, even as the U.S. Federal Reserve projects inflation hovering around its 2 percent target—aside from temporary spikes—for the foreseeable future.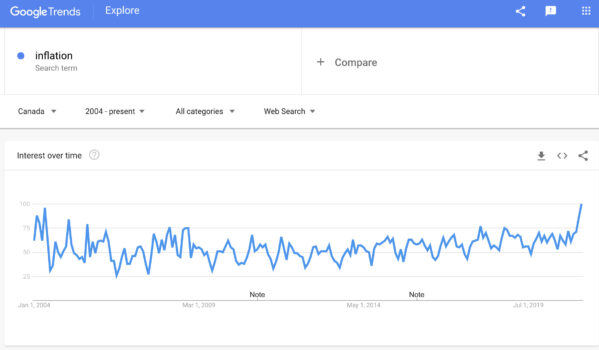 This public curiosity about inflation could indicate that people are becoming more worried about prices going up, which means they may start making some purchases earlier than planned. That could lead to a self-fulfilling prophecy—with prices rising even faster or higher inflation, according to economic theory.
Inflation has not yet returned to pre-pandemic levels, unlike some other economic and financial variables. It was 1.1 percent in February, compared to 2 percent a year ago.
But Steve Ambler, economics professor at Université du Québec à Montréal, says it is very difficult to calculate a price index to measure inflation during the pandemic because people's consumption patterns have been changing radically. For example, people can't spend as much on restaurants and vacations and are spending more on groceries.
"There are reasons to think that actually the inflation numbers are underestimating the true rise in the cost of living," Ambler told The Epoch Times.
To measure the rate of inflation, the Bank of Canada and Statistics Canada use the Consumer Price Index (CPI)—an indicator that's based on the general change in prices experienced by consumers over time. Ambler explained that, to get a better handle on changing consumer spending patterns, the bank and agency have created an adjusted CPI.
Based on the adjusted index, the inflation rate was higher than the conventional CPI reading by nearly 0.3 percentage points on average from March through November 2020, according to a C.D. Howe Institute op-ed co-authored by Ambler.
"So people's household perceptions might actually reflect that … the things that they're buying are going up more than the overall headline inflation rate would suggest," he said.
As a result, the Bank of Canada faces a credibility problem if it continues to tell Canadians that the economy will be operating below full capacity into 2023 and that inflation is well contained, said Ambler.
Test for the Bank of Canada
The BoC acknowledged in its March interest rate decision that the economy is proving more resilient than anticipated. Canada's economy grew 2.3 percent in the fourth quarter of 2020, exceeding the bank's expectations.
But given the central bank's assessment that the economy still has excess capacity—or slack—as evident from February's 8.2 percent unemployment rate, the bank sees continuing downward pressure on prices. It doesn't forecast inflation to hit 2 percent until 2023.
Former BoC governor Stephen Poloz told BNN Bloomberg that he feels very good about the trajectory the economy is on and said that central banks have to let the economy run and "not be over-anxious about inflation."
"I don't really see what's going on in the bond market today as inflation fears. Rather it's a symptom of success that the economy is actually on track," he said.
Inflation readings for March and April could spike higher since they'd be compared with those of March and April 2020, when prices plunged during the first lockdown. This is known as a "base-year effect" and central banks consider it temporary in nature.
"There is reasonable concern the recent rise in inflation is more than just a one-off rebound from depressed prices a year ago. The bank's challenge now is to manage, not just inflation, but inflation expectations," wrote Ambler and Jeremy Kronick in their C.D. Howe Institute op-ed.
Ambler added that academics have examined the phenomenon of people paying too much attention to certain prices—such as those of U.S. gasoline—noting that this can affect their inflation expectations more than it should. 
Thus average Canadians may think they have more reason to be worried about inflation and are therefore googling it more than ever before.
Savings Boom
Another phenomenon of the pandemic has been the significant increase in the household savings rate, as governments extend benefits while people have fewer spending outlets.
The Canadian household savings rate in the fourth quarter of 2020 was 12.7 percent—still at elevated pandemic levels and much higher than any rate in at least the last 20 years.
"When the economy starts to open up again, there's all this pent-up extra savings which people may decide to suddenly splurge," Ambler said. "And that would lead to inflationary pressures picking up sooner than expected." 
Statistics Canada's monthly inflation readings aren't meant to capture or quantify impending spending surges.
In Quebec for example, restaurants in regions with lower restrictions are seeing customers coming from pandemic "red zones" such as Montreal and parts of Ontario, and are turning them away, but it's a sign that there are folks desperate to go out and spend, Ambler said.