OTTAWA—Canadian tech entrepreneurs see encouraging signs working with the government to build a more innovative economy. But more work needs to be done, including better understanding the trickle-down effects of wealth creation by today's tech entrepreneurs.
A lively panel discussion dubbed "Canada's Time—Building a Global Tech Hub North of 49" hosted by the Carleton Initiative for Parliamentary and Diplomatic Engagement at Shopify's Elgin Street Office in Ottawa on May 15 also highlighted that perceptions about entrepreneurs need to change.
Shopify is the darling of Canada's tech scene—charting new waters beyond the wreckages of Nortel and Blackberry. Since its IPO on May 21, 2015 at a stock price of US$17, the company is now worth over $10 billion.
Harley Finkelstein, Shopify's chief operating officer, is proud that the company is achieving all they have from Ottawa.
Helping entrepreneurs is in Shopify's DNA and Finkelstein is well positioned to speak about how Canada can compete globally in tech—a key area for economic growth going forward.
"We're the most popular e-commerce platform for entrepreneurs and we're doing all of that from here in Ottawa," Finkelstein, the 2017 Canadian angel investor of the year, said.
He said there is a "switch in mentality" between the "old tech" millionaires and today's new tech millionaires as it relates to "paying it forward."
A successful innovative economy creates wealth—concentrated wealth. Shopify's success has spawned over 75 millionaires. The perception that this is a bad thing fails to see the positive side effects of these "nouveau riche" paying it forward.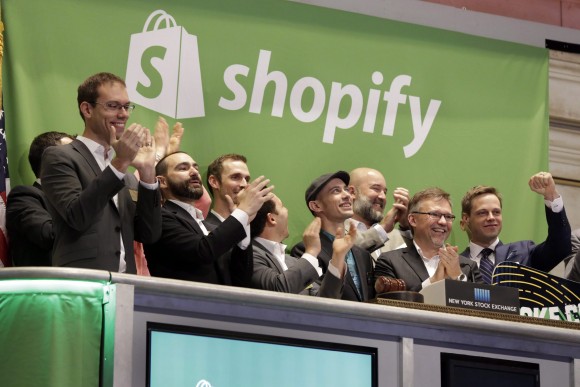 Finkelstein and Daniel Debow, co-founder of Helpful.com, Rypple, Workbrain, and 2015 Canadian angel investor of the year, tell the story of the old tech millionaires diversifying out of tech, whereas the new tech millionaires stay loyal to tech and become angel investors in new startups—a different brand of philanthropy.
"In Boston, you made a lot of money and you competed to get your name on a hospital, and then you were done with tech," Debow said. "Whereas in Silicon Valley, you compete on which hot startup you invest in—which is a more productive thing.
"If you create a public policy context where their success is viewed as failure for everyone else, I don't think that's a positive outcome for our economy," Debow said.
Don't Say 'Glamorous'
"Entrepreneurs work incredibly hard under very hard, stressful conditions and most of them don't make it," said Janet Bannister, Kijiji's founder and Real Ventures general partner. "Generally it's lonely, stressful."
The perception that being an entrepreneur is glamorous could not be further from the truth. Entrepreneurs have to take care of all aspects of running a company—payroll, HR, housekeeping—not just writing code and making sales calls. It's clearly not a career for everybody. It's a case of high risk for a high reward.
That reward often comes via stock options, which were critical in allowing Shopify to get to where it is today, Finkelstein said.
In Silicon Valley, you compete on which hot startup you invest in—which is a more productive thing.
, serial entrepreneur and angel investor
Shopify was not able to offer salaries comparable with big, established companies, but showed how potential employees could earn more money with stock options, even under conservative scenarios for the company's growth. "That type of return is a game-changer," Finkelstein said.
"Where we can do a better job as entrepreneurs or tech community is by spending the time with government and policy makers to explain to them the 'why'," Finkelstein said.
He added that the government now seems more open to suggestion as opposed to being prescriptive in how it drives innovation.
Funding, Regulation, Marketing
Bannister said the government's venture capital programs have provided much needed funding, however she expressed concerns about how some of the money is being spent.
"I see a lot of entrepreneurs who are getting these government handouts and frankly I don't see a long term path to viability for these companies," she said, adding that the government is not best qualified to make decisions on which companies get funding.
Tony Bailetti, director of the Technology Innovation Management Program at Carleton University, hopes government money is not getting spread too thinly. What is key is having customers and a viable business, not just an idea and a dream.
"The moment I start thinking all I need to do is to start filling out forms … and I don't have to worry about customers, I think that is a real bad thing," he said.
What is a good thing, though, is the effort the government is making to promote innovation domestically and Canadian entrepreneurship abroad.
Finkelstein said the onus is on the tech community to provide the government with the right sound bites.
Prime Minister Justin Trudeau took part in Microsoft's CEO Summit in Redmond, Washington on May 17 to promote Canadian tech and potentially draw global talent to Canada.
He also visited fintech firm Wealthsimple in Toronto earlier in May to promote Canadian innovation. The visit marked a milestone for the two-year-old company, which reached $1 billion under management from its more than 30,000 clients.
We're the most popular e-commerce platform for entrepreneurs and we're doing all of that from here in Ottawa.
, Chief Operating Officer, Shopify
Innovation minister Navdeep Bains and finance minister Bill Morneau have also been active traveling to sell the Canadian innovation story. Finkelstein said that having these ministers put themselves out there is "hugely important."
In the particular case for fintech firms, regulation is a critical area that government needs to address to help the sector compete globally, according to a May 15 report by the Toronto Financial Services Alliance.
"We have a lot to learn from other fintech centres such as the U.K., Australia, and Singapore, which are experimenting with such tools as regulatory sandboxes, which Canada is only just beginning to try out," said Robert Scavone, a partner at business law firm McMillan, in a press release. Scavone is the lead author of the regulatory section of the report.
While Canada's regulation of the big banks has contributed to a stable and safe financial system, the regulatory burden for startups is overwhelming. The concept of a "regulatory sandbox" envisions reduced regulation on startups as they scale up.
Debow believes a more innovative Canadian economy is a more competitive and dynamic one. He pointed to a significant portion of the Canadian economy—agriculture, TV and cable, banking—being protected from international competitive forces, which, at the margin, leads to less innovation.
"You're going to see ideas that make people uncomfortable. And there's going to be a lot more failure," Debow said.
"Failure is a hallmark of a society that can adapt and try new things and figure out which ones win," he added.
Historically, Canada has been good at invention. Entrepreneurs and government are making strides to ensure Canada becomes good at innovation—turning inventions into viable businesses.
Follow Rahul on Twitter @RV_ETBiz