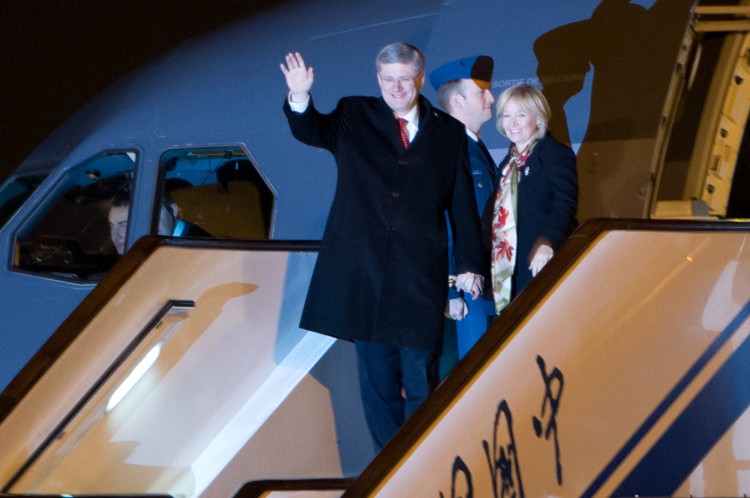 PARLIAMENT HILL, Ottawa—Canadian Prime Minister Stephen Harper's meetings with Chinese officials runs the gamut of potential leaders in the Chinese Communist Party, but his final stop in Chongqing will bring him face-to-face with a disgraced former minister whose persecution of Falun Gong cost him a promotion, according to leaked U.S. diplomatic cables.
Former Commerce Minister Bo Xilai was angling for Vice Premier when he got shot down by Wen Jiabao at the 17th Party Congress because of international lawsuits filed against Bo by Falun Gong practitioners around the world.
Classified cables in late 2007 from Simon Schuchat, deputy principal officer at the U.S. Consulate General in Shanghai, discuss Bo's demotion from Minister of Commerce to Party Secretary of Chongqing City, where the source cited in the cable predicted Bo would serve two terms and then end his political career.
The cable referred to a professor who said: "Bo's move to Chongqing puts an ambitious, arrogant, and widely disliked competitor for a top position in a trouble-filled position far from Beijing."
"Premier Wen had argued against the promotion, citing the numerous lawsuits brought against Bo in Australia, Spain, Canada, England, the United States, and elsewhere by Falun Gong members," the professor continued.
"Wen successfully argued that Bo's significant negative international exposure made him an inappropriate candidate to represent China at an even higher international level."
Harper will meet with Bo on the final day of his trip to China. The Prime Minister's Office said they would not comment on internal Chinese politics nor confirm whether they know about Bo's role in China.
But with Harper scheduled to have face time with prominent Party secretaries from opposing factions within the CCP, it looks like he is trying to cover all his bases, notes human rights lawyer David Matas, who is involved in a lawsuit against Bo winding through the Canadian courts.
But Harper's meeting with Bo is a "big mistake," he said.
"Bo Xilai represents the worst elements of China and the Communist Party system—ambitious and brutal—and he has been marginalized and demoted because of it, and because of the international storm his brutality has caused, and the fact that he is so ill-reputed abroad that they can't send him abroad. And so they sent him away."
Matas said Bo's efforts to return to power would be "bad news for anybody who believes in human rights."
"Harper, by visiting him, is helping Bo Xilai in his campaign to rehabilitate himself, and to resuscitate the reputation he has lost by his own activity in abusing human rights."
Bo's 'Backward' Faction
Few know Bo better than Jiang Weiping, a Chinese journalist who rose to international attention when his hard-hitting stories of corruption in China landed him in jail for five years.
While Jiang's stories about some corrupt officials brought him acclaim in China, when he tackled Bo, who was allegedly using his position to protect corrupt officials, Jiang's career came to an abrupt halt.
"Bo Xilai is a representative of the non-reformed faction and he is currently in a very dangerous position," Jiang said.
"Mr. Harper should be very clear that for me, a Chinese from China … that Bo Xilai represents the faction in China that goes backward in the development in China."
That faction represents the portion of the Party that harks back to the days of Mao Zedong's absolute control of China. Bo is considered a possible leader within that faction.
Since his demotion, Bo has attempted a Hail Mary of sorts in Chongqing by trying to turn lemons into a red tea.
Continued: Bo's campaigns, "promoting red culture" and "hitting the black."