TOKYO— The Canadian dollar and the Mexican peso rose and Japanese shares hit 27-year highs on Oct. 1 after the United States and Canada reached a framework deal to update the North American Free Trade Agreement.
A Canadian source confirmed the two countries reached a deal, with Canada agreeing to a side-letter arrangement effectively capping automobile exports to the United States.
Japan's Nikkei rose as much as 0.8 percent to climb a tad above the 27-year high reached on Sept. 28, and it ended the morning session 0.6 percent ahead.
U.S. stock futures also gained 0.5 percent.
Norihiro Fujito, chief investment strategist at Mitsubishi UFJ Morgan Stanley Securities, said NAFTA is the second largest trade issue Washington has, after China.
"Investors will likely view the latest agreement positively, a sign that trade disputes are easing outside China-U.S. talks," he said.
MSCI's broadest index of Asia-Pacific shares outside Japan was softer, falling 0.15 percent. Regional volumes are likely to be light, due to holidays in China including Hong Kong.
Casting a shadow in Asia, two surveys showed on Sept. 30 that growth in China's manufacturing sector sputtered in September as domestic and export demand softened.
The private Caixin/Markit factory Purchasing Managers' Index (PMI) fell to 50.0, the lowest reading since May 2017, in a stark reminder that the trade disputes are starting to have real consequences on the economy.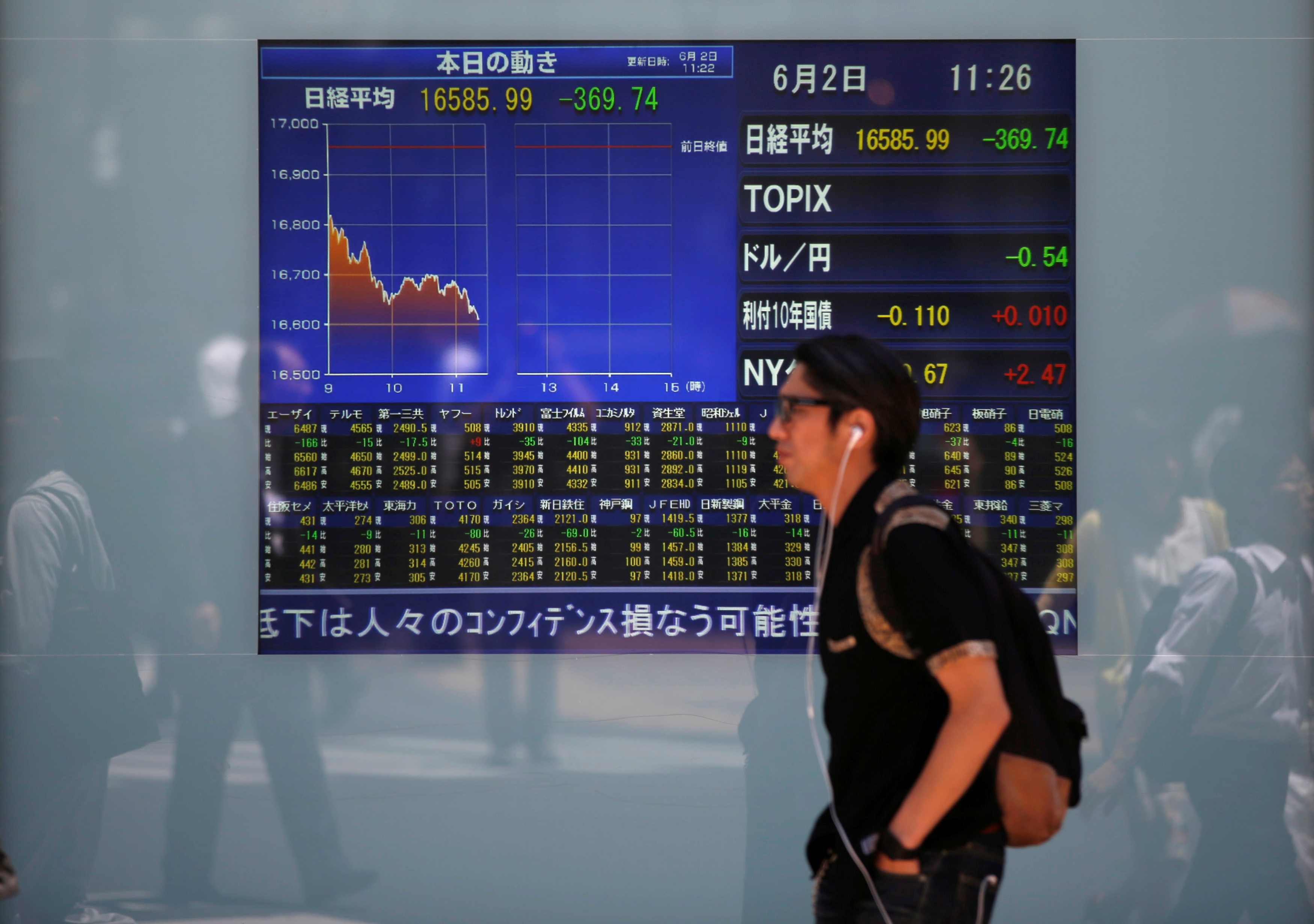 "The escalation of trade tensions between the U.S. and China recently has likely weighed on purchasing managers' sentiment as reflected by softer readings in trade-related sub-indices," wrote economists at Bank of America Merrill Lynch.
"Deterioration of PMI in September is in line with our expectation that coincident growth indicators will get worse before getting better. As U.S.-China trade conflict intensifies, we expect China's policymakers to step up monetary and fiscal easing to soften the blow from higher tariffs," they added.
In Japan, the Bank of Japan's tankan survey showed business confidence among Japan's big manufacturers has worsened in the September for three quarters in a row–for the first time since 2008-2009.
The world's share markets had rallied in September on hopes that China and the United States will eventually work out a deal on trade, but plans for talks around the end of the month collapsed after the two sides launched more tit-for-tat tariffs.
MSCI's broadest gauge of the world's shares covering 47 markets rose for the third straight month in September.
In the currency market, the Canadian dollar rose more than 0.5 percent to a four-month high of C$1.2814 to the U.S. dollar.
The Mexican peso also gained more than 0.6 percent to 18.54 per dollar, its highest since early August.
As risk appetites improved, the Japanese yen softened 0.2 percent to 113.96 per dollar, its lowest since mid-November last year.
The euro was hit by worries about a rise in Italy's fiscal deficit after the Italian government agreed to set a higher than expected budget deficit target that could put Rome on a collision course with Brussels.
The common currency traded at $1.1608, having lost 1.2 percent last week and off three-month high of $1.18155 touched a week ago.
Oil prices gained, with international benchmark Brent hitting a four-year high, as U.S. sanctions on Tehran squeezed Iranian crude exports, tightening supply even as other key exporters increased production.
Brent crude futures rose 0.6 percent to as high as $83.25 per barrel, the strongest level since November 2014.
By Hideyuki Sano
Watch Next:
UraniumOne: How Clinton Sold Out the U.S. to Russia
The Uranium One scandal saw major U.S. and foreign uranium mines passed to Russia. Millions of dollars made their way to the Clinton Foundation from individuals tied to the deal.