Sun Qian, a Canadian citizen detained in China, has been held in handcuffs and leg shackles continuously, day and night, since May 5, her sister says.
Sun, a Vancouver resident and Canadian citizen, was arrested in Beijing on Feb. 19 for her practice of Falun Gong and detained at Beijing First Detention Centre.
According to Sun's sister, Sun Zan, the handcuffs and shackles were removed prior to a visit with Sun by officials from the Canadian embassy in Beijing on May 18. It's unknown whether they were put back on after the visit.
As vice-president of Beijing Leadman Biochemistry Co., Ltd., Sun often travelled between Vancouver and China. But on Feb. 19, about 20 police officers arrested her at her residence in Beijing and confiscated her Falun Gong books and other personal belongings.
Sun Zan told NTD Television that after Sun met with her lawyer on May 5 at the detention centre, the guards who took her back to her cell pushed her and told her to stop practising Falun Gong, a traditional Chinese spiritual discipline that has been subjected to a wide-ranging campaign of persecution since 1999.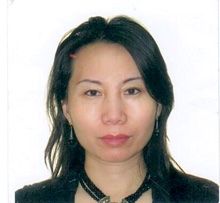 When Sun refused, the guards threw her to the ground, sprayed a pepper water-like liquid in her face, and handcuffed and shackled her. According to Sun's sister, the handcuffs are the kind with no chain between the cuffs, so there's no room for any movement. When Sun sleeps at night, the guards have to be able to see the handcuffs and shackles, adding to her discomfort.
When Sun was first arrested, she was brought to a police station where she was handcuffed to a chair for about 36 hours; she was given no food or water during that time.
Sun Qian is now being held in a crowded cell with 11 other inmates.
The May 18 consular visit was the second to the detention centre and it came after Sun's case was raised in the House of Commons. On May 17, Conservative foreign affairs critic Peter Kent raised the cases of four Canadian citizens currently detained in China: Sun Qian, John and Alison Chang, and Xiao Jianhua.
He asked Foreign Affairs Minister Chrystia Freeland about Canada's failure to take the Chinese regime to task for unjustly imprisoning Canadian citizens.
"We are accustomed to Global Affairs and the parliamentary secretary using privacy, and the interests of the prisoners as a justification for no comment," said Kent.
 "However, in the recent release of unjustly held and tortured prisoners in China and in Iran, and I am talking about the Garretts in one case and Professor Hoodfar in another, while Canada welcomed these unjustly held and persecuted individuals back to Canada, there was not a single word of criticism for the absolutely unacceptable behaviour of their Chinese jailers and the government," he said.
Freeland replied that she takes her duty toward Canadian citizens imprisoned abroad "extremely seriously."
"On the specific Chinese cases the member opposite mentioned, I am very personally seized of them. Ms. Sun, Mr. John Chang, and a number of other cases in China, and very much in Iran, are cases of which the department is seized. I am personally engaged in them, as is my outstanding parliamentary secretary," said Freeland.

Meanwhile, several other MPs have called for the release of Sun, including Conservative MP Michael Cooper.
"I was proud to speak at a press conference along with a number of my colleagues from various different political parties to stand in solidarity, to call upon the Chinese communist regime to see the immediate release of Sun Qian," Cooper said at a Falun Gong 25th anniversary celebration on Parliament Hill on May 8.
"It must not be under-emphasized that Sun Qian is a Canadian citizen and she is being detained by the communist regime without charge for no other reason than she adheres to the principles of Falun Gong."
Former Liberal justice minister and renowned human rights advocate Irwin Cotler has also called for Sun's release.