Another pharmaceutical firm said it is recalling blood pressure and heart medication after traces of a cancer-causing chemical were discovered.
Camber Pharmaceuticals said it is recalling 87 lots of losartan tablets, including 25-milligram, 50-milligram, and 100-milligram dosages, according to a notice posted on the U.S. Food and Drug Administration's (FDA) website.
A trace amount of N-Nitroso N-Methyl 4-aminobutyric acid (NMBA) was found in the lots. NMBA is described by health officials as a potential human carcinogen.
The FDA said the chemical got into the lots via a process impurity or through an ingredient made by a third-party manufacturer.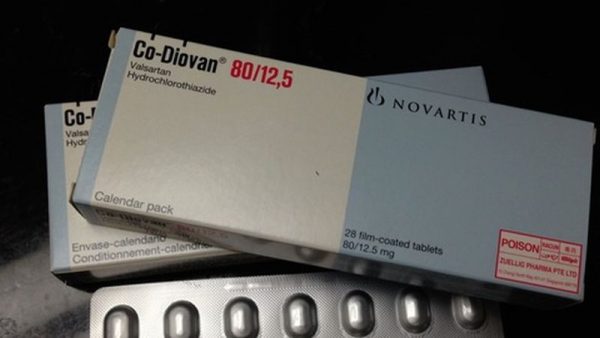 Losartan is used to treat high blood pressure or congestive heart failure. It comes in 30, 90, 500, and 1,000 pill bottles, said the FDA.
"To date, Camber has not received any reports of adverse events related to this recall," said the FDA on its website.
According to NBC Washington, about 56,000 bottles of losartan pills are included in the recall.
The agency also called on consumers not to stop taking their medication due to the recall.
"Consumers should contact their doctor for further guidance and potential change of treatment before they stop taking the product. Pharmacies and health care facilities that have the product being recalled should stop using and dispensing the product immediately," said the agency.
Meanwhile, patients should "contact their physician or health care provider if they have experienced any problems that may be related to taking or using this drug product," the agency also noted.
Recall alert: Camber Pharmaceuticals recalls 87 Losartan lots https://t.co/cHgs4ZWyPa

— CMG National News (@CMGNationalNews) March 1, 2019
The list of recalled drugs are:
Losartan 25 mg:
31722-700-90.
31722-700-05.
31722-700-10.
Losartan 50 mg:
31722-701-30.
31722-701-90.
31722-70-10.
Losartan 100 mg:
31722-702-30.
31722-702-90.
31722-702-10.
The FDA also included photos of the labels on its website.
In recent months, other drug manufacturers have recalled blood pressure and heart drugs due to the presence of cancer-causing ingredients, including valsartan, losartan, and irbesartan.
FDA Warning on Shortage
The FDA last month issued a warning about a blood pressure drug shortage caused by recalls.
"Valsartan products are in shortage, and we know that other types of products may fall into shortage soon," FDA Commissioner Dr. Scott Gottlieb and FDA director of drug evaluation and research Dr. Janet Woodcock said in the joint statement.
In July, the FDA carried out lab tests on valsartan-containing medications manufactured by a company in China, and the agency discovered the presence of NDMA and NDEA. According to the Environmental Protection Agency, NDMA is found in rocket fuel, lubricants, and other additives.
"These two substances are known environmental contaminants and found in water and foods, including meats, dairy products, and vegetables. But their presence in drug products is not acceptable," the FDA statement said at the time.
The issue surfaced in the summer of 2018 after the FDA was informed that an active ingredient manufactured by Zhejiang Huahai Pharmaceutical Co. Ltd. in Linhai, China, had NDMA inside.
RECALL ALERT : Another pharmaceutical company has recalled its Losartan tablets because of the detection of a trace amount of a potential cancer-causing contaminant. >>

Posted by WHIO Radio on Friday, 1 March 2019
"We also issued them a warning letter outlining several manufacturing violations, including impurity control, change control, and cross-contamination from one manufacturing process line to another," the FDA statement last month said.
After an investigation into Zhejiang's manufacturing process, the FDA discovered a change that likely led to the cancer-causing chemicals being introduced. The impurity was also not detected by global health agencies, including the FDA, for some time until last summer.