Falun Gong adherents are calling on the federal government to demand the release of Canadian citizen Sun Qian and 13 family members of Canadians jailed in China for their practise of Falun Gong as the world observes International Human Rights Day on Dec. 10.
In an online press conference Friday, Joel Chipkar, spokesperson for the Falun Dafa Association of Canada, said Falun Gong remains "one of the most largely and most violently persecuted groups in China."
"Twenty-two years ago, the Communist Party of China waged an illegal and deadly persecution against Falun Gong," he said.
"Human rights organizations, the United Nations, and the U.S. State Department have reported on the nationwide horrific abuses happening to Falun Gong practitioners, including rape, torture, murder, and a massive propaganda campaign to paint Falun Gong as the enemy of the state."
Sun, a Vancouver-based businesswoman, was arrested by Chinese authorities while on a visit to Beijing in February 2017.
"On June 30, 2020, the 54-year-old Canadian citizen Ms. Sun Qian was illegally sentenced to eight years in prison for simply standing up for her fundamental freedom to believe," Chipkar said.
While in detention, Sun renounced her Canadian citizenship, a move that her supporters believe was made under duress.
Chipkar said the press conference seeks to bring attention to the persecution campaign against Falun Gong adherents launched by the Chinese Communist Party (CCP) in July 1999 that has been largely ignored by the West.

Li Xun, president of the Falun Dafa Association of Canada, said the CCP's tactic of defaming Falun Gong has prevented some people from knowing the truth about the persecution.
"This persecution also aims at destroying every individual's conscience and morality by using demonization and coercion to distort people's sense of right and wrong, thus becoming complicit to crimes against humanity for over two decades," Li said at the press conference.
He called on the Canadian government to use the Magnitsky Act to sanction over 150 Chinese officials "who are perpetrators for the crimes they committed in the persecution of Falun Gong."
Li added that 12 UN Special Rapporteurs issued a statement in June saying they were "extremely alarmed" by what they consider to be credible allegations of forced organ harvesting of Falun Gong practitioners at the hands of the Chinese communist regime, targeting religious and ethnic minorities.
He urged Canada to also strongly and publicly condemn the CCP for the persecution of Falun Gong.
Present at the press conference were Liu Mingyuan from Toronto, Jack Liu from Ottawa, and Alice Zhang from Vancouver, all of whose parents are currently either detained or imprisoned in China for practising Falun Gong.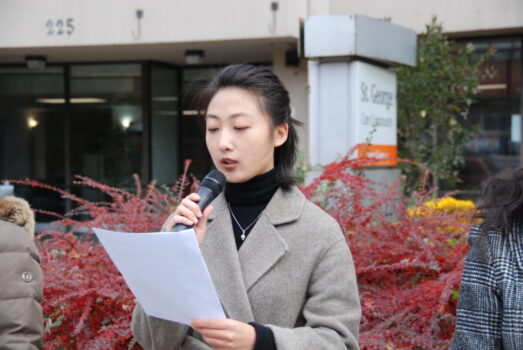 Liu Mingyuan, 24, moved to Canada in August to study computer animation at Sheridan College.
"I hope all the righteous Canadians, our governments can help me to voice up for my mom and for all the victims living under the Beijing communist regime," she said in a statement.
Liu's mother, Liu Yan, was arrested by Chinese authorities on Sept. 30 in Kunming, the capital city of Yunnan Province in southwest China, and has been detained there ever since.
Prior to her arrest, Liu Yan had already been detained and imprisoned for her belief. In 1999, the Chinese regime detained her along with her daughter, who was then just 2 years old, for refusing to give up Falun Gong.
Liu Yan was detained again in 2015 while her husband, Liu Yong, a renowned artist and one of the top painters in China, was detained in 2012. Both were sentenced to several years in prison where they were "tortured, brainwashed, and forced into slave labour," said Liu Mingyuan.
"My paternal grandma passed away because of the unspeakable stress, fear, and heartbreak that the communist regime brought upon our family. My maternal grandma suffered such shock and trauma that she has become paralyzed."
Jack Liu, an undergraduate student at Carleton University, said the persecution has destroyed the lives of Falun Gong practitioners and their families.
His father, Liu Zhoubo, and mother, Cao Wen, were both "kidnapped from home" on Nov. 19.
"Police ransacked their home and confiscated their cellphones, Falun Gong books, and other materials about Falun Gong and the persecution," he said.
"My father was accused of sending text messages regarding Falun Gong using Bluetooth on subways in Beijing. He is currently detained in Beijing No. 3 Detention Center while my mother is detained in Beijing No. 2 Detention Center."
"What has been happening to my family is just one out of the tens of thousands," he added.
Alice Zhang, whose mother, Tang Huafeng, was "kidnapped by the police" on June 12 for distributing clarification materials about Falun Gong, urged the government to "take actions to defend Canadian values of democracy, freedom and human rights, and safeguarding human dignity."
Tang is currently detained in Jinzhou Detention Center in Shanxi Province. She was previously detained in a forced labour camp for two years from 2006 to 2008, followed by a sentence of three years and six months imprisonment in 2015.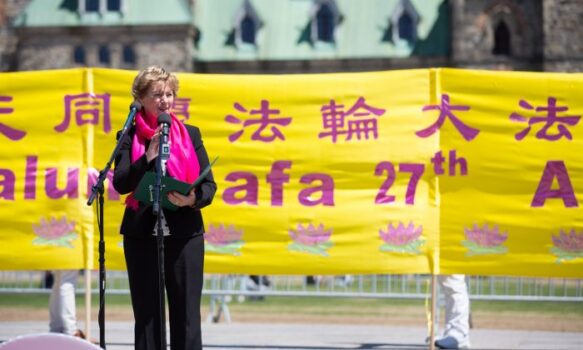 In a letter to Foreign Affairs Minister Melanie Joly, Liberal MP and co-chair of Parliamentary Friends of Falun Gong Judy Sgro asked for the minister's "immediate condemnation of these illegal detentions" and called for the release of Liu Yan, Jack Liu's parents, and Falun Gong practitioners still detained.
"As you, and many others around the world, are aware the Chinese government have for decades been harassing, detaining, torturing, and killing practitioners of this peaceful belief," the letter reads.
"It is important that we not only continue to stand up to China on their human rights abuses, but to push back. These types of atrocities cannot continue."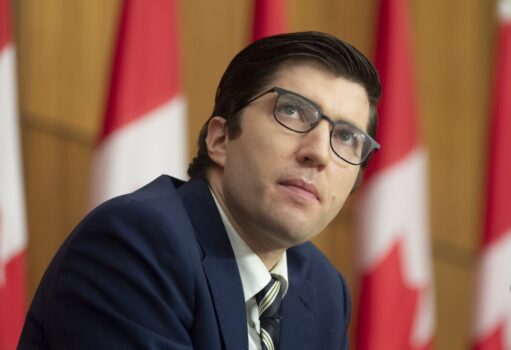 Conservative MP Garnett Genuis, also co-chair of Parliamentary Friends of Falun Gong, said in a video clip played during the press conference that it is essential for Canada to stand up for the fundamental human rights of freedom of religion and conscience.
"Religious freedom is a fundamental human right. The Universal Declaration of Human Rights states that all human beings are born free and equal in dignity and rights, and that everyone has the right to freedom of conscience, thought, and religion," Genuis said.
"Canada must continue to advocate for this fundamental human right that is being denied to Falun Gong practitioners and many others in China."