Rep. Ilhan Omar (D-Minn.) has dismissed questions about her alleged affair with a married man and potential campaign finance violations.
Omar had an affair with political consultant Tim Mynett, according to divorce documents filed in Washington court by Dr. Beth Mynett. Her campaign paid his company over $200,000 over the past year.
During an official appearance at a north Minneapolis grocery store on Aug. 29, a reporter asked Omar: "Congresswoman, why are you dodging these questions?"
"Because they're stupid questions," Ilhan replied, according to Fox9. "Do you understand what 'no comment' means?"
Ilhan Omar dismisses 'stupid questions' about alleged affair, use of campaign funds https://t.co/uNSal2SJDX

— FOX 9 (@FOX9) August 28, 2019
The Congresswoman's aides then physically kept the reporters away from her.
Washington-based lawyer David Mitrani, who represents Ilhan's campaign and E Street Group, called the complaint "a political ploy to harm Congresswoman Omar's standing."
"E Street Group provides multiple different services to Ilhan for Congress under an arms-length contract—fundraising, digital advertising and the like," Mitrani said in an emailed statement to Fox9.
"As a part of those services, the principals of E Street Group travel around the country fundraising for the Congresswoman. There is nothing untoward about this, nor anything illegal about it."
The Epoch Times reached out to Omar's communication team for a response on the alleged fraud but did not receive a reply by the time of publication.
Omar previously said that she is not separated from her husband or having an affair.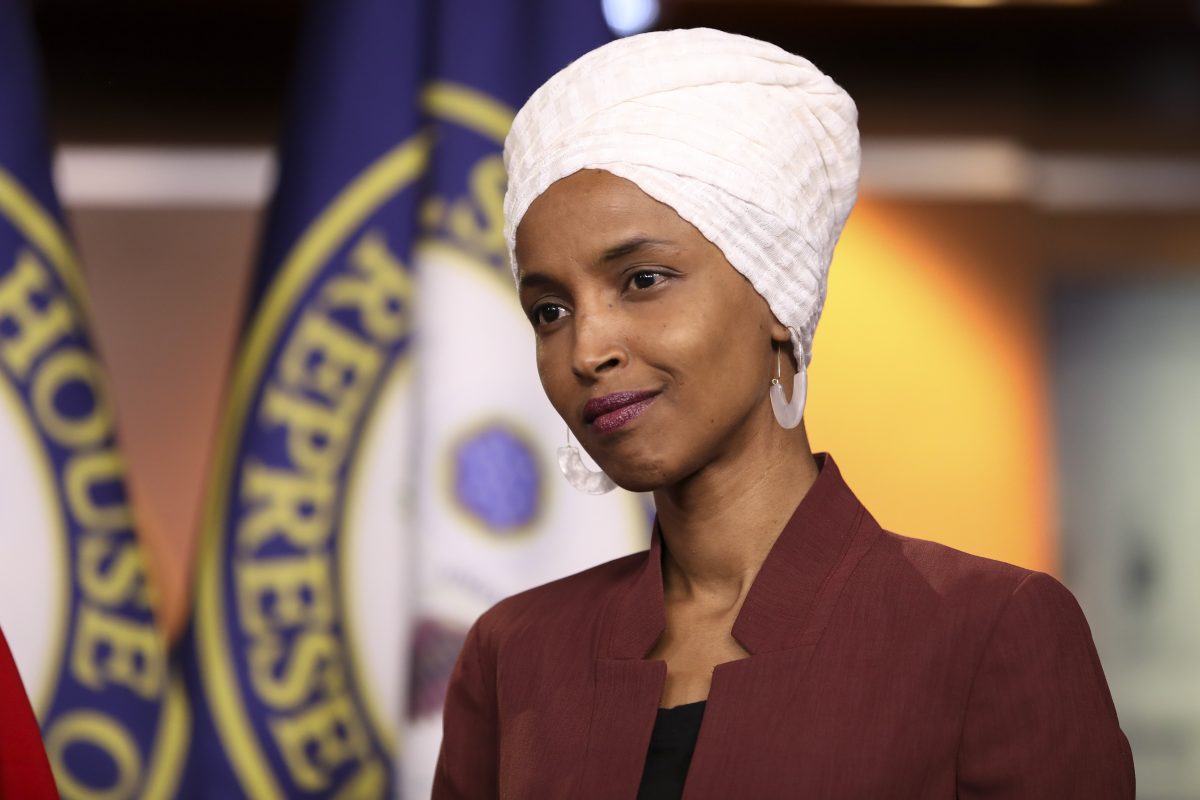 Ethics Complaint
Conservative watchdog groups have called for an ethics probe into Rep. Ilhan Omar, D-Minn. alleged affair with a political consultant and her alleged misuse of campaign funds.
The National Legal and Policy Center (NLPC), a charity that promotes ethics in government and public life filed a complaint on Aug. 28 with the Federal Election Commission (FEC) against Omar "alleging that she and her campaign violated the prohibition on the personal use of campaign funds by reimbursing political consultant Tim Mynett for his travel in 2019."
A copy of the complaint provided by the NLPC said: "Ilhan for Congress reported disbursements totally $222,838.38 to E Street Group, LLC. Another $7000 was reported as disbursed to Tim Mynett on July 11, 2018."
The complaint alleged that Omar and her campaign did not itemize the travel reimbursements as required. It said Omar did not report Mynett as the payee but reported his consulting firm, E Street Group.
The complaint mentioned that Mynett's wife filed for divorce on Aug. 19.
"Defendant's more recent travel and long work hours now appear to be more related to his affair with Rep. Omar than his actual work commitments," the complaint quotes from the divorce filing.
Beth Mynett mentioned in the filing that her husband made a "shocking declaration of love" for Omar.
Another oversight group, Judicial Watch, has called for an ethics probe against Omar. "It looks like on the surface that she used campaign finance funds to benefit her paramour," said Tom Fitton, the head of the group, according to the New York Post.
Judicial Watch had earlier hand-delivered an ethics complaint to Chairman of the U.S. House of Representatives Office of Congressional Ethics David Skaggs, according to a press release on July 23.
The complaint is based on a three-year investigation carried out in the United States and the United Kingdom by an investigative reporter and his team and alleges Omar married her biological brother, Ahmed Elmi, "presumably as part of an immigration fraud scheme."
"Rep. Omar's conduct may include immigration fraud," Judicial Watch said in its release. "It appears that Rep. Omar married her brother in order to assist his emigration to the United States from the United Kingdom."
"The same immigration fraud scheme may have aided Mr. Elmi in obtaining federally-backed student loans for his attendance at North Dakota State University," the release continues. "Mr. Elmi and Rep. Omar simultaneously attended North Dakota State University and may have derived illicit benefits predicated on the immigration fraud scheme."
Zachary Stieber contributed to t his report