As cautious consumers continue to leave grocery store shelves bare, California's ranchers and farmers have been rising to the challenge of feeding the nation.
For many food producers, working on their ranches and farms during the COVID-19 pandemic has been business as usual—but getting their products to consumers has become challenging.
"People don't have to worry that there's not going to be enough produce or that there's not going to be enough protein," cattle rancher Celeste Settrini told The Epoch Times.
"They need to just realize that ranchers, we have been doing this for a long time."
Since President Donald Trump's national emergency declaration on March 13, grocery stores have found many of their shelves stripped bare of vital items—making it appear as though certain products, including meat, are scarce.
But livestock production is continuing at a record pace, and cattle ranchers aren't worried. People shouldn't be either, they feel.
"Farmers and ranchers have been producing food for hundreds of years, and we're going to continue to do that," Settrini said.
Settrini—along with other crop farmers, egg ranchers, and food producers—has been enduring different challenges for decades, yet has continued producing throughout all of them.
"People in ranching are very resilient, and it seems like we've always got something to worry about," Settrini said.
"Whether it's a drought and there's not enough to eat for the cattle, or competitive markets with other proteins, it seems like we have always got something that we're up against."
Still, the global pandemic caused by the CCP virus, commonly known as the novel coronavirus, has presented new challenges.
Those include shifting demand as well as supply-chain bottlenecks.
But they've weathered the storm before, and California's food producers are rising to the occasion in unexpected, inspiring ways.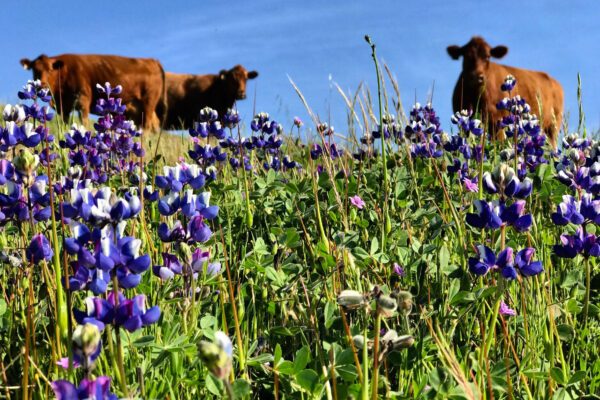 A Volatile Beef Market
Settrini's Salinas Valley cattle ranch has been in the family for 105 years. She runs the ranch with her brother; they have no employees.
Her day starts at 8 a.m. when she begins making rounds to check on her 200 mother cows and their water troughs. By noon, she's back in her home office, tending to the logistical side of the business.
In a normal April and May, ranches begin marketing and selling their 8-month-old calves, which weigh about 750 pounds.
But Settrini said that this year, she hasn't seen many calves on the market—because the "market itself has come down just like the stock market."
Small family-owned ranches like hers only see one paycheck for the entire year, she said.
"Family ranches like myself, those calves, they're raised on the mama cow and then eventually, those calves must be sold," Settrini said.
"And so, at that time, that's our one paycheck for the year. So that's coming upon us now here, in the next couple months."
But volatile stock markets have created uncertainty regarding beef futures contracts as well.
Normally, restaurants control the retail market for meat. But with dine-in revenue blocked due to business restrictions Gov. Gavin Newsom implemented on March 19, there's been a surge in at-home food demand.
"The problem that retailers face today is getting enough in the store as consumers stock up not for a week or two, but possibly a month's worth of beef," cattle analyst Paul Dykstra wrote in Feed Lot Magazine. "The beef industry infrastructure is simply struggling to keep up with the 'right now' demand at grocery stores."
The cost of packaged meat—which customers find on grocery store shelves—has increased, while prices for fine-cut meat, normally used by restaurants, have fallen.
The longer restaurants are not fully operational, the more privately owned farms that aren't backed by conglomerate agricultural companies will suffer, Settrini said.
"Who knows how long we're going to be in 'shelter-in-place' and won't be able to move around freely like we used to," Settrini said. "And so I do worry about that a little bit, in what is going to happen.
"Are people going to continue to purchase our product in the grocery store the longer that restaurants are out of business?"
Derrell S. Peel, a livestock marketing specialist based at Oklahoma State University, wrote in Feed Lot Magazine that "COVID-19 is changing how and where meat consumption happens and is temporarily overwhelming certain supply chains."
Peel cited recent reports that "indicate a 77 percent year-over-year increase in grocery meat sales in mid-March" and reiterated that there is "no shortage of meat in the U.S." He added that "production of beef, pork, and poultry are projected at record levels in 2020."
Jill Scofield, director of producer relations for the California Beef Council, told The Epoch Times, "It's just a matter of getting the meat back into the stores."
Scofield believes it's only a matter of "distribution catching up with a surge in demand." Overall, she said, there have not been significant negative impacts or closures of processing plants due to the virus.
The problem lies not in a lack of availability, but in transporting goods quickly from ranches in central and northern California to grocery chains across the state. Once these distribution channels catch up, she said, "you should not see quite as much clearing of the meat cases as you are right now."
"For those in production, it really has not—to this point—impacted how they go about doing their business," she added. "A lot of stock auction markets are still open."
But in accordance with the Centers for Disease Control and Prevention's social distancing measures, stock auction markets have also limited how many people are permitted to enter.
Meanwhile, Settrini—who describes herself as a "glass half-full kind of gal"—waits anxiously to see how many calves she'll sell and how much her yearly paycheck will be.
An Egg Rancher Adjusts
"It's interesting how all of a sudden you are called a blessing by the folks who are buying eggs," Frank Hilliker, owner of Hilliker's Ranch Fresh Eggs, told The Epoch Times.
San Diego-based Hilliker and his sister, Lara, own a family egg ranch that's been around since 1941. The siblings wholesale eggs to grocery and produce markets throughout the county. In addition, they also do on-farm sales to the public.
Normally, when folks come to Hilliker's to buy eggs, they drive onto the ranch, get out of their cars, and enter the ranch's "egg room," where the eggs are processed, packaged, and sold.
But since the stay-at-home order restrictions, the Hillikers are now operating only drive-through services to limit exposure—and business is booming.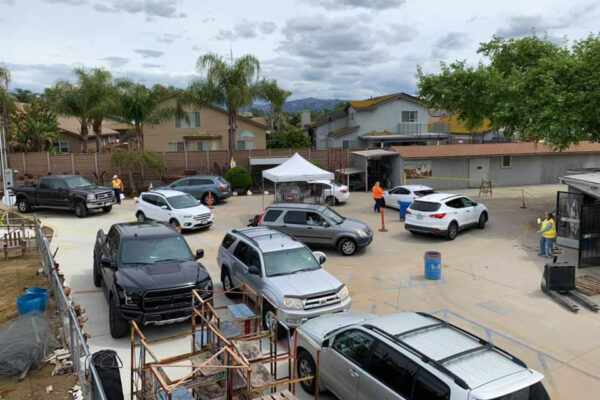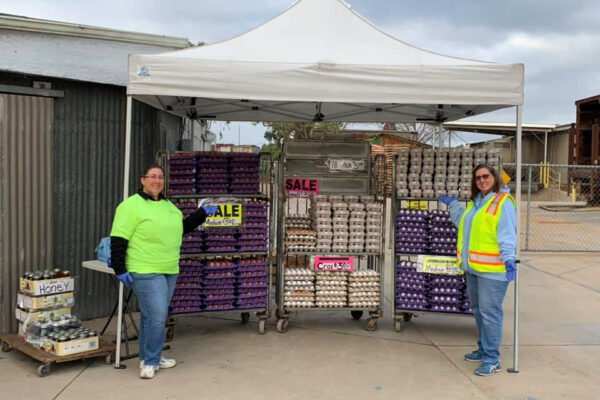 Since the outbreak, they have been selling up to 75,000 eggs per day, averaging anywhere from 400,000 to 500,000 eggs every week.
"When the grocery store shelves were empty and had no eggs, we became one of the most popular places around," said Hilliker. "We had to hire traffic control folks as well to sell the product."
Now, customers enter the driveway, pull around in a circle, and stay in their cars. Then a Hilliker's team member—wearing personal protective equipment—takes the order and collects payment.
A staff member then retrieves the eggs, "which conveniently are located in the middle of the circle" under a pop-up tent.
"I would ask people how far they drove," Hilliker said."Most were 15 to 30 minutes away, but several folks drove an hour to come to us. Some came from as far as Los Angeles just to get the chance to buy two flats of eggs."
Yet Hilliker still worries about the future: 60 percent of his regular business comes from the food service industry, so he is concerned about his customers who are restaurant owners. Many will have to face the brutal reality of reopening or being forced to close.
"Are they going to be able to open, or be able to afford all these people out of work?" he said.
"You know, right now, people haven't been out of work that long—they can still afford to buy food supplies," he said. "But in two to three months, it's gonna be bad."
A 'Worried' Alfalfa Farmer
Erik Wilson is a cotton and alfalfa farmer who also runs his own crop-spraying business.
"There are a lot of unknowns yet to materialize that have me worried," Wilson told The Epoch Times.
Wilson, who grew up in Madera, doesn't come from a farming family—so he had to learn everything on his own. He now owns a crop farm in Dos Palos, a small town about an hour northwest of Fresno.
"Farming in many ways is like gambling," Wilson said.
"We compete against the world in terms of price for our products. The world economy is suffering like ours, and it will be interesting, to say the least, how this all plays out.
"But as I talk to my local farmers, we just don't know anything else but to keep farming and working to grow our crops."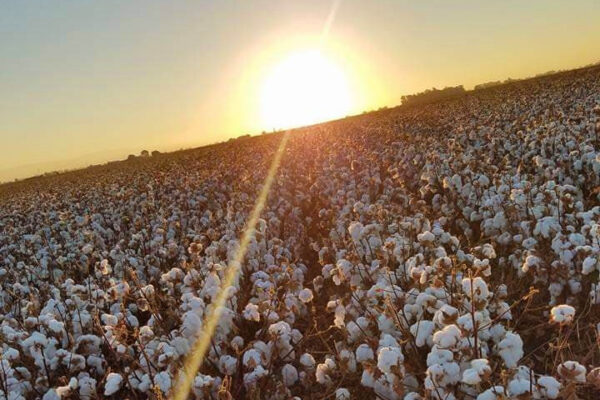 He said it's too early to know what will happen with agricultural commodities and prices.
When Wilson is not actively tending the fields, he works on his crop-spraying business. But this too has suffered during the pandemic—especially his two full-time employees.
"Usually when we have no spraying jobs, we work on servicing equipment and routine maintenance," said Wilson. "Right now, I'm not having my employees come out unless we have an actual spraying job. I still pay them, however, to stay at home at this time."
When they do work, Wilson has handed out Clorox wipes to his employees and instructed them to drive only one vehicle. Because they work together all the time, they "just do the best at not getting close to each other."
Wilson reiterated that he would continue to pay his employees, even if they got sick.
Recent phone conversations with other farmers have revolved around "the health of our employees and their families and how we can find ways to keep paying them through these difficult times."
"We got a lot of mouths to feed," he said. "We really don't have any other choice but to overcome this."
Wilson had intended to plant honeydew melons and cantaloupes in June—but due to the uncertainty created by the virus, this may not be feasible.
He had been in escrow on a parcel of land for some time—but withdrew his money "just in case I have no other way to pay my guys and my own bills."
"I hope it doesn't come to that," Wilson said. "But we will persevere."
Looking to the Future
California is the leading U.S. state for cash farm receipts, accounting for over 13 percent of the nation's total agricultural value in 2018, according to the California Department of Food and Agriculture.
Over a third of the country's vegetables and two-thirds of the country's fruits and nuts are grown in the state. In addition, California remains the country's leading dairy state, and ranked fourth in total livestock receipts for 2017, behind Texas, Iowa, and Nebraska.
Cattle and calves accounted for $3.19 billion of the state's economy in 2018, with dairy products and milk at $6.37 billion. Almonds and pistachios combined to equal around $8 billion.
"Without our consumers, we couldn't do what we do," said Settrini. "We need to work together in getting through all of this."
Wilson said, "I just can't wait for the day when we all can look back on this historic event and it will be just that—history."