OAKLAND, Calif.—Blackened metal frames of torched cars lie upside down, charred skeletal support beams of burned buildings stand under the overcast sky, and a light haze of soot and dust permeate the air and powder all available surfaces.
What sounds like a war zone in a third-world country is instead a stretch of road near both one of the largest ports in the United States and one of the most famous bridges on the West Coast.
Overshadowed by the often traffic-congested Interstate 880 in the San Francisco Bay Area, homeless encampments fill a mile-long stretch of Wood Street in West Oakland. As the street's homeless population has increased over the years, so has the number of fires.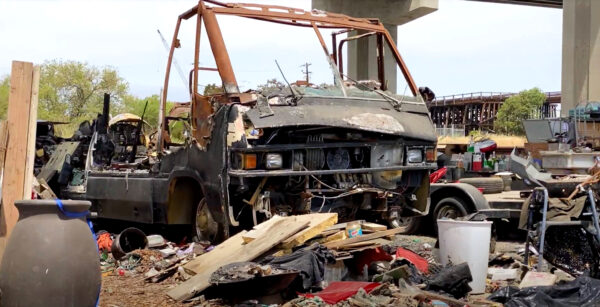 However, according to an expert and activist who is intimately involved in resolving the homeless situation, the causes of the fires range from complex, systemic issues down to simple demographic reasons. And the situation is happening throughout the state.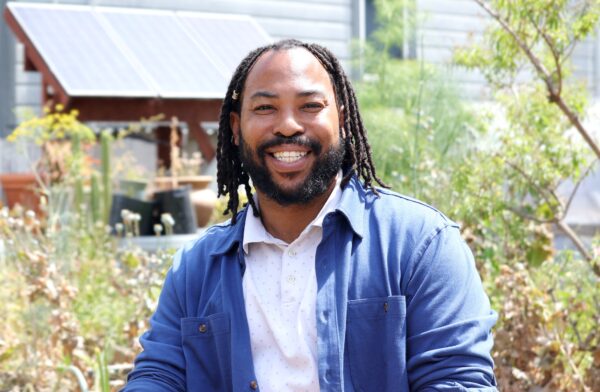 "We've had a threefold increase in our homeless population," said Seneca Scott, founder of the Bay Area-based organization Neighbors Together Oakland. According to Oakland's biannual Point-In-Time Count, the city recorded 5,055 homeless individuals this year.
"Conventional wisdom would suggest that the fires would increase proportionately, and they have," Scott said.
Oakland firefighters responded to 53 fires in April 2022 and 61 in March. According to a 2021 city audit report, "the Oakland Fire Department responded to nearly 1,000 fires at encampments" from 2017 to 2021, averaging about 21 fires per month.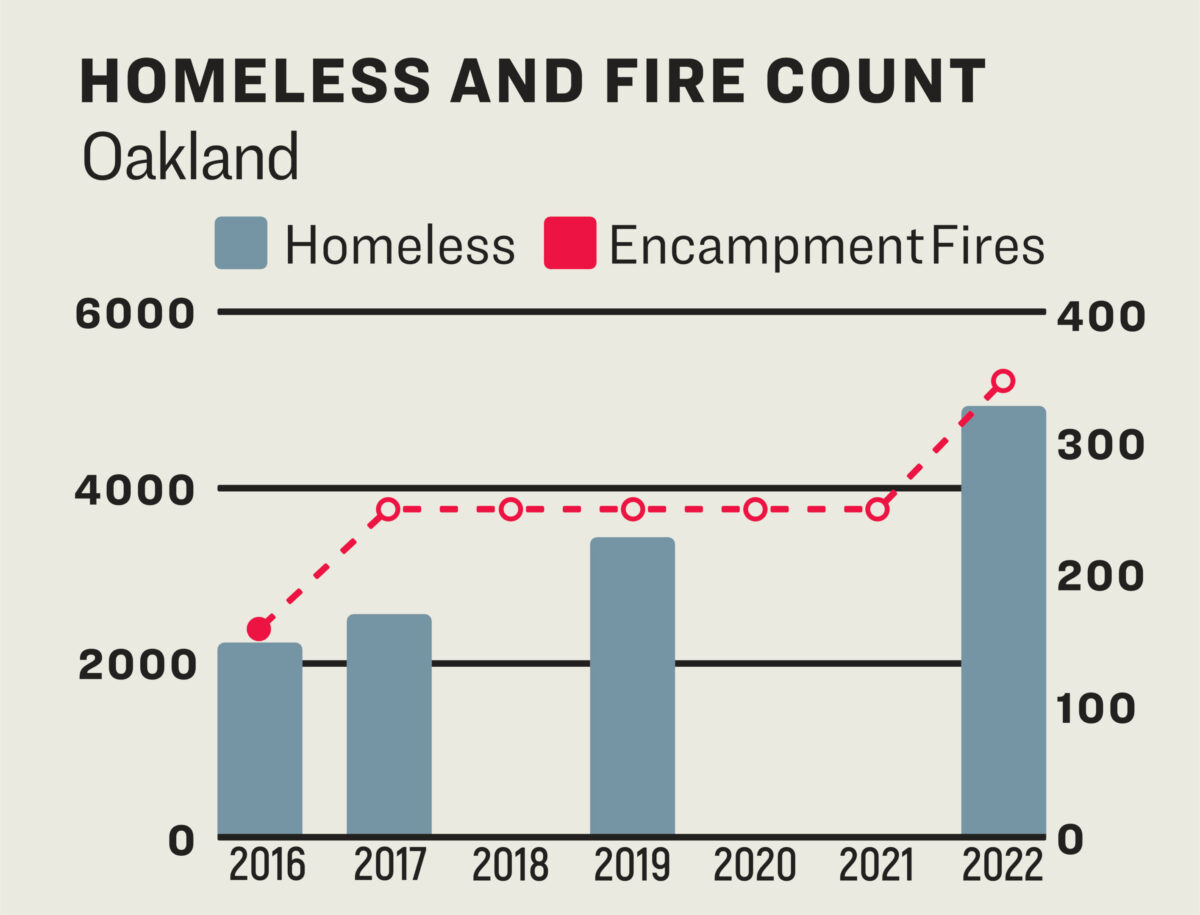 Scott offered a tour of one of the largest gatherings of Oakland's homeless population.
Touring the Bad Part of Town
Scott is familiar with local homelessness, as he and his organization work to hold the City of Oakland accountable for addressing the homeless crisis. His grassroots efforts revived part of the local Oakland community through an open gardening project.
Scott guided a tour down the poorer parts of Wood Street on May 26.
"You don't want a flat tire here," he warned, pointing the driver away from potholes and fragmented asphalt.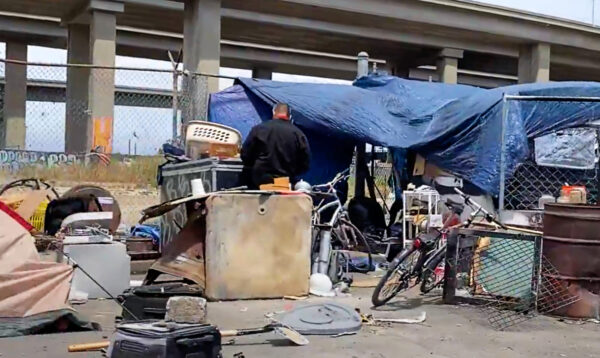 Piles of unidentifiable trash lined the road, marked occasionally by vandalized furniture, broken office chairs, and stray shopping carts. The street sat eerily quiet with only a few people walking within the encampment area—a large vacant lot stretching between the street and the elevated highway.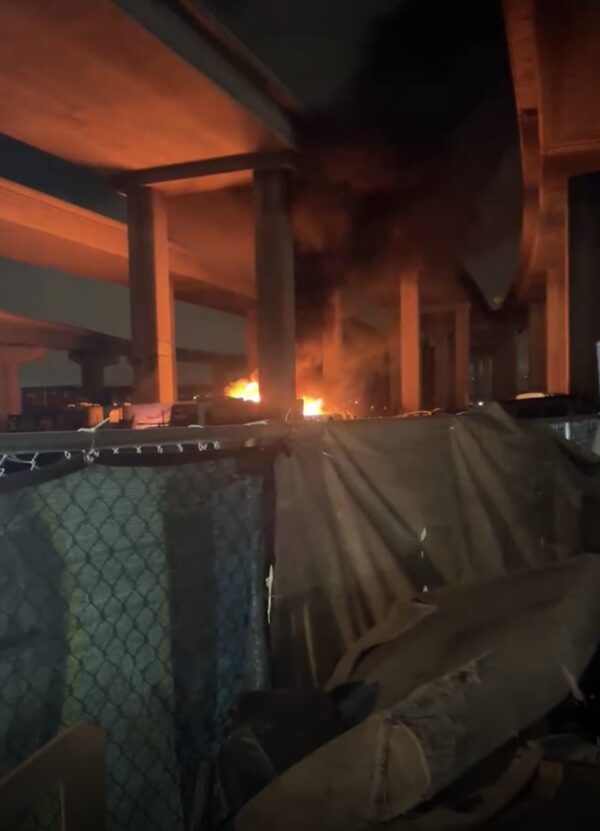 When the driver slowed down to capture footage, Scott interrupted, "Hurry up; you don't want to get shot."
The urgency in his order came from the widespread crime and drug use in the area, which are two of the four main reasons he listed for an increase in local fires.
"People [are] blowing up and destroying cars that have been used in crimes or robbery," Scott said. "People steal cars; then after they're done with what they're doing, they'll torch the car. … Happens all the time."
Video footage has caught cars and RVs burning in encampment areas underneath I-880. In one incident, two people were seen setting a car on fire by shooting a tank of propane.
The scorched, discarded vehicles contrasted sharply with a rare sighting of new cars parked throughout the encampments. Scott said those belong to the drug dealers.
Some encampments have also become open-air drug zones, and fires have become routine in these areas, according to Scott, though other causes of fire aren't necessarily as nefarious. He said people heating up those drugs with open flames, such as candles, is another cause of fires.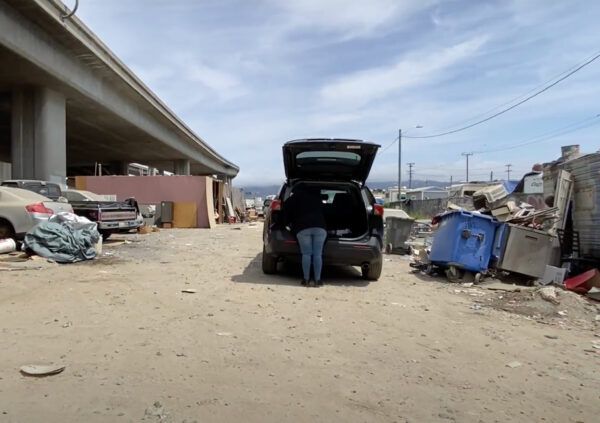 "What I can say from experience is that these fires happen for a variety of reasons," he said.
Policy and Follow-Through
Scott also said arson can be used to abuse a loophole in homeless aid programs.
"People set their stuff on fire on purpose, because you get a check and another tent from Red Cross or another nonprofit," Scott said, adding that some people will intentionally burn down their tents (pdf) when they need money.
In addition to nonprofits, the Oakland City Council has also offered solutions to the homeless problem, but Scott says a lack of accountability has led to no real assistance for those in need.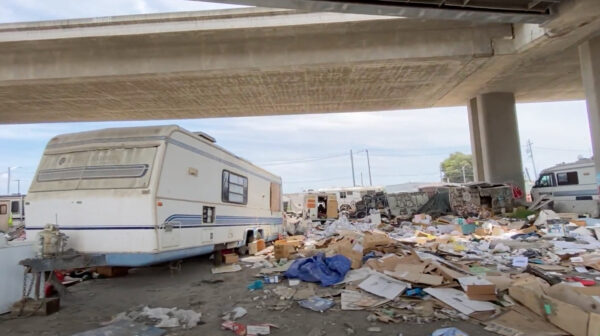 Oakland created and passed a plan to address the rising homelessness and encampment fires in October 2020. The plan, which the City Council adopted the same month, is the Encampment Management Policy. However, after the city set up the infrastructure for helping its homeless population, Scott's organization sued the city in April for not fulfilling the plan.
"The work's already been done; we just need some follow-through," Scott said.
He listed some of the existing policy, such as "You cannot have any encampments within 50 feet from businesses, schools, residences, or critical infrastructure."
Scott hopes to use existing policy to help the homeless individuals looking to get out of the situation.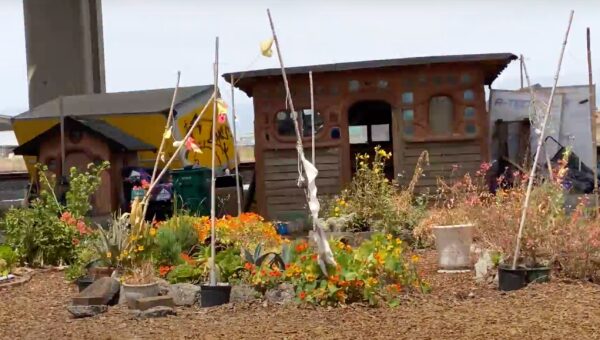 The humanity of the residents was seen through sections having a shanty-town appearance. Some of the people living there were growing flowers outside the makeshift structures as tents swayed gently in the bay breeze.
The other reason for the fires, according to Scott, is an unfortunate consequence of the lifestyle that goes along with living on the street.
"People [are] trying to stay warm, and they fall asleep with a candle," he said. "Candles are what people primarily use to heat their tents."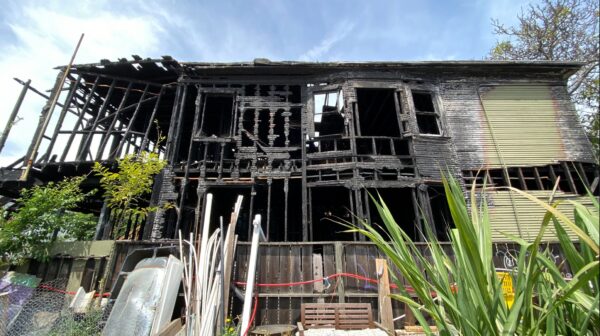 The evidence of that showed up several streets south of Wood, in a quiet neighborhood, where a number of burned structures stood between neighboring houses.
Scott said these houses burned down as a result of a homeless person camping in or outside the house to keep warm and accidentally setting the building on fire.
He added that while the city lacks follow-through in providing support to homeless people, it has also fallen behind on helping those who have lost their homes to these fires.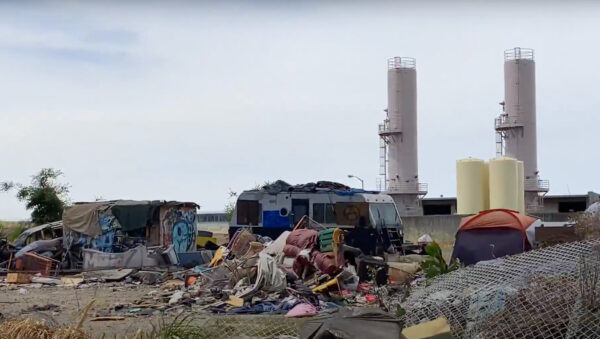 Scott, who is running for mayor in November, says both city and state policies are not solving homeless issues. He said that what will solve problems is addressing mental health issues and offering drug rehabilitation services. Instead, officials assume that handing a homeless person a key to an apartment, as done in the statewide pandemic-lockdown-era program known as Project Roomkey, will solve their problems.
Statistics from cities throughout the state suggest that current policy is not helping the situation.
A New Wildfire Season
While California has made headlines with its massive wildfires in recent years, an increase in homelessness-related fires has not received the same attention. The increase in encampment fires is not just happening in Oakland, as there is a correlation across the state between increasing homelessness and reported fires.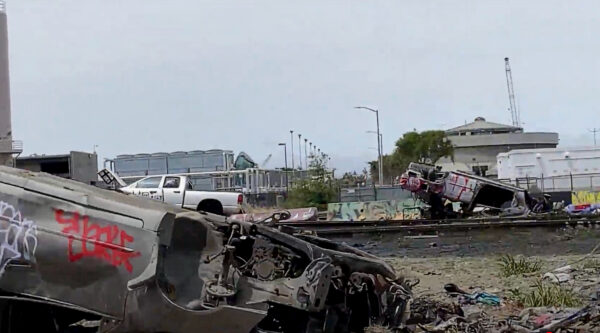 The city of Los Angeles reported a similar three-fold increase in encampment fires in 2021, according to a Los Angeles Times article published in May that year.
Though Los Angeles County's recent point-in-time homeless count results have not been released by the time of publishing, Los Angeles Sheriff Alex Villanueva estimated in a June 2021 letter to county supervisors that the county could see over 80,000 homeless people by the end of the year. That would be double the homeless population of 41,290 recorded in 2020.
According to the Los Angeles Times article, the Los Angeles Fire Department responded to homeless-related fires at a rate of 24 per day during the first quarter of that year. This made up 54 percent of all fire cases in the area.
The Oakland Fire Department did not respond to a request for comment by The Epoch Times; the Los Angeles Fire Department declined to comment.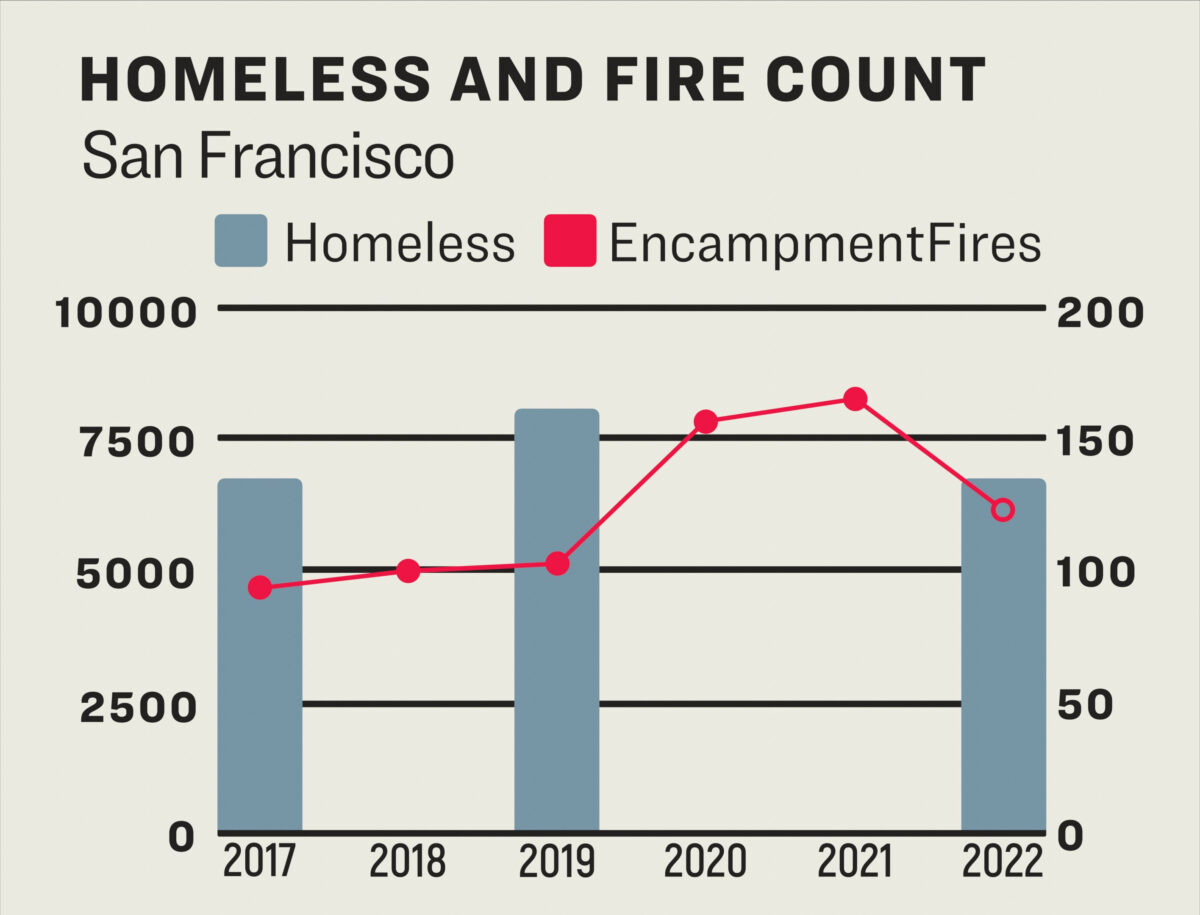 San Francisco also reported a similar rise in encampment fires, according to Mission Local. According to data from the San Francisco Fire Department, the city saw 168 homeless-related fires in 2021, a slight increase from the 158 recorded in 2020. As of June 2022, the fire department has already recorded 127 fires either started or related to homeless persons. The number of fires was given a conservative estimate compared to other outlets.
Contrary to what happened in other major cities, the homeless population in San Francisco dropped to 7,754 people recorded in 2022 from the 8,035 recorded in 2019.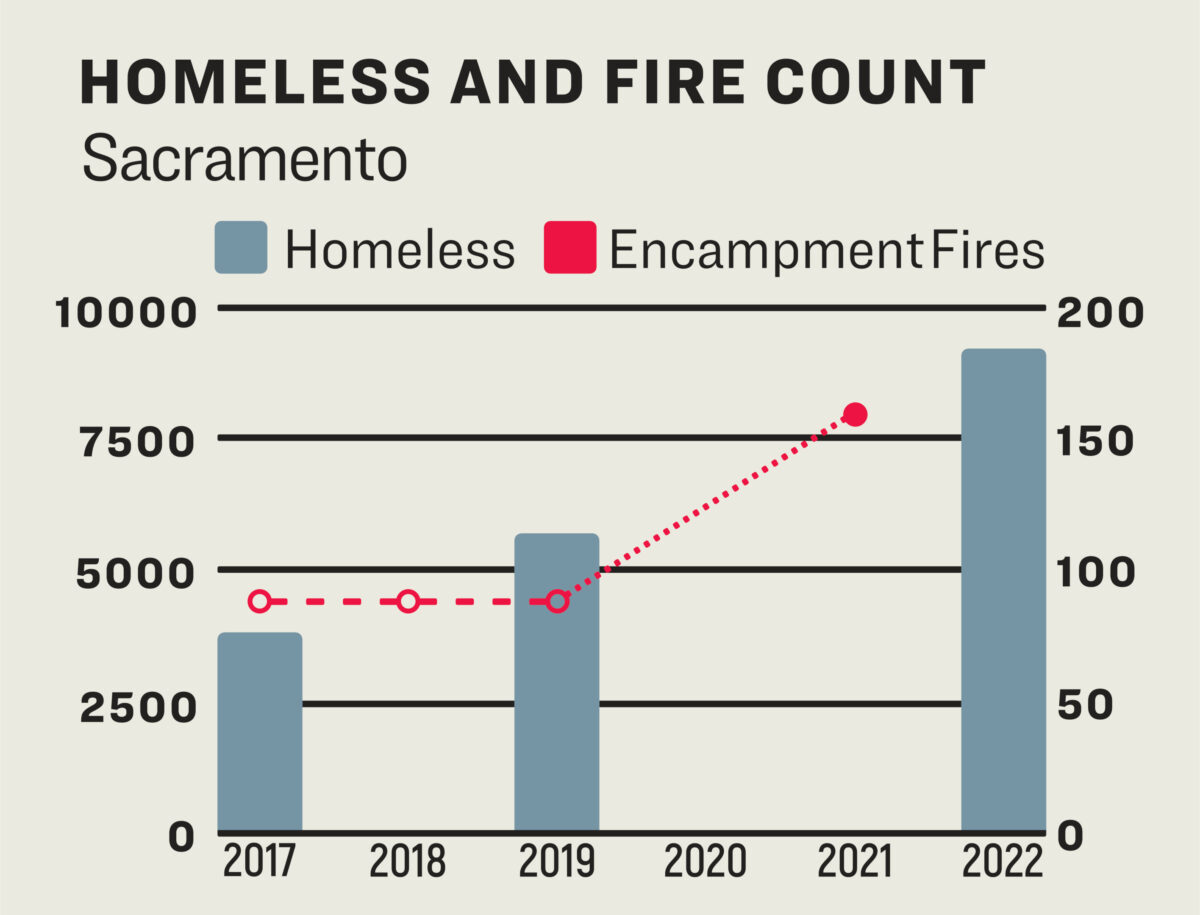 In other large cities, such as Sacramento, encampment-related fires have also reportedly tripled. An April 2022 report by the Sacramento Sierra Club found that the Sacramento Fire Department responded to 536 encampment fires between 2013 and 2019, which averages out to 89 fires every year. The club reported 156 recorded fires in 2021.
Sacramento's 2022 point-in-time count found 9,278 homeless people living in the county (pdf). This is a sharp increase from the 5,570 homeless found in 2019, more than doubling since the 2013 count of 2,538 people (pdf).
San Diego reported a similar situation. While the city does not have publicly available data on fires related to homeless encampments, a public records request obtained by NBC 7 Investigates in 2020 found a sharp increase in calls that included keywords such as "homeless," "transient,"  or "encampment." The fire department received 1,018 calls during that year compared to the 739 calls in 2018.
The city saw wavering changes in its homeless population. In 2022, the city recorded 8,427 homeless individuals. This is a slight increase from the 7,619 counted in 2020, but similar to the 8,576 tallied (pdf) in 2018.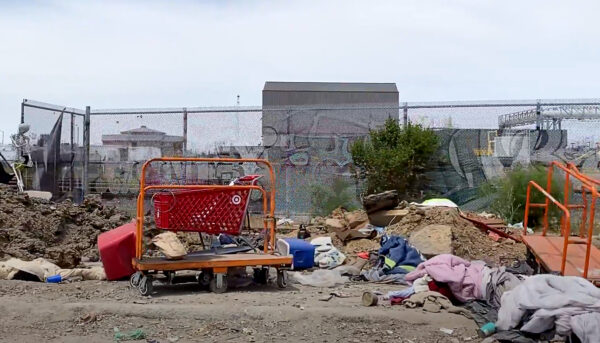 Similar to San Diego, the city of San Jose also does not publicly publish data on encampment-related fires. However, the U.S. Department of Housing and Urban Development released a study in 2020 that found that the San Jose Fire Department responded (pdf) to 8,009 calls related to homelessness between 2018 and 2019, and 63 percent of those calls were requests for medical support.
The overall number of homeless individuals counted in 2022 in Santa Clara County increased to 10,028 from 9,706 in 2019. In the city limits of San Jose, the homeless population increased to 6,739 from 6,097 in 2019.