LOS ANGELES—The annual Greater Los Angeles Homeless Count has concluded following a year-long hiatus, after officials suspended the count during the height of the COVID-19 pandemic in 2021.
Data—which is expected in May or June—on how many homeless individuals are counted translates into funding from the federal government for more services and programs.
The 2022 point-in-time count, which took place Feb. 22 through Feb. 24 was a "visual count," according to Los Angeles Housing Services Authority (LAHSA) spokesperson Christopher Yee.
Individuals were counted on sidewalks, tents, and cars.
A combination of LAHSA staff and volunteers participated in the count.
"The way that we use volunteers is that they count the number of people they see, first and foremost, then the number of tents and the number of vehicles that look like they're inhabited," Yee told The Epoch Times.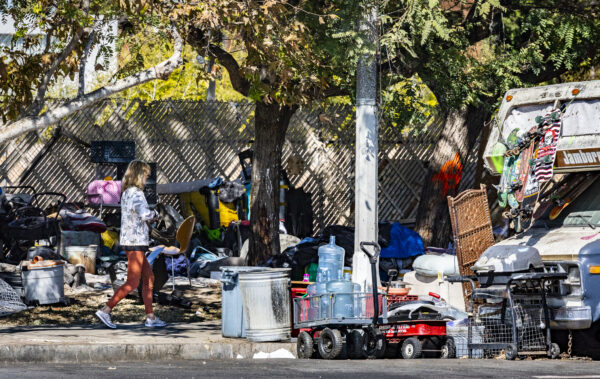 According to the last point-in-time count, there was about a 13 percent increase in homelessness from 2019 to 2020, with more than 66,000 homeless individuals living on the streets countywide and 41,000 in the city.
The U.S. Department of Housing and Urban Development (HUD) requires each local homeless authority homeless hub—the central provider for each county—to conduct annual counts, which then determines funding for programs.
In 2020, HUD gave just over $150 million to the so-called Los Angeles Continuum of Care, which was $17.3 million more compared to 2019.
The continuum that's overseen by LAHSA includes all cities in LA County except Glendale, Long Beach, and Pasadena.
"The data from this year's count will help us understand who our unhoused neighbors are, their needs, and the programs we need to continue to build to support them getting rehoused," LAHSA Executive Director Heidi Marston said in a statement on Feb. 22.
Homeless encampments have become a major point of contention among residents and activists alike, especially during the pandemic as local officials rolled back city codes to permit tents to allow homeless people to shelter in place as COVID-19 spread.
Now, many are holding their breath waiting to see the numbers after the past two years, along with the virus, an economic downturn, and reports of rising crime and encampment fires.

Los Angeles County Sheriff Alex Villaneuva—who took matters into his own hands last summer and deployed a team of deputies to clean up the Venice Boardwalk and provide services to the homeless—said he believes this year's count will reveal up to 80,000 homeless in the county.
And a forecast by the Economic Roundtable, an LA-based nonprofit research center, estimates that the countywide number could reach nearly 90,000 by the year 2023.
"Over the next four years the current Pandemic Recession is projected to cause chronic homelessness to increase 49 percent in the United States, 68 percent in California and 86 percent in Los Angeles County," the report found.
The city earmarked $1 billion from its budget to address homelessness this fiscal year—from July 2021 through June 2022.
This comes after LA voters passed Proposition HHH, a $1.2 billion bond to create 10,000 supportive housing units for the homeless within a decade.
LA's City Controller Ron Galperin released an audit on the program this week that, since its passage five years ago, "the homelessness crisis in Los Angeles has grown in magnitude and severity."
Galperin's report found that the cost to build housing for the homeless continues to climb, with the city spending over $800,000 in one instance of a single housing unit.
Roughly 1,200 units have been built since 2016, and over 4,000, according to Galperin's audit, are in the pipeline, which Galperin called "wholly inadequate."
In a December 2021 poll conducted by the Los Angeles Business Council, 94 percent of residents said that homelessness is a "very serious" issue, with 39 percent reporting that homelessness contributes to them feeling unsafe in their community.