A sheriff's department in California is ending its agreement with Immigration and Customs Enforcement (ICE) in order to free up space to meet demands for mental health services, according to a press release.
The Orange County Sheriff's Department said in a statement on March 27 that it has developed a plan to fund and increase staffing ratios for inmates with mental health and substance use disorders, which includes temporarily suspending operations at the James A. Musick Facility and ending their contract with ICE.
#OCSDPIO: OCSD announces changes to jail operations to increase custody mental health services pic.twitter.com/BCKGLAJ6Cl

— OC Sheriff, CA (@OCSheriff) March 27, 2019
The department has been leasing bed spaces to the federal agency since 2010. The contract, which ends in July 2020, allows for early termination. The department said they had already informed ICE of their intention to terminate their agreement.
After the contract has ended, ICE will have 120 days to relocate their detainees to other facilities. He added that it is likely that these detainees would be moved to facilities out of state.
"Ending the contract early is necessary to ensure that we are utilizing our resources to meet our local responsibilities," Orange County Sheriff Don Barnes said during a video posted on his Twitter.
"Since 2015, we have seen a 40 percent increase in open mental health cases in our jails. The number of mental health cases now exceed 1,800 on any given day."
I am announcing major changes to @OCSheriff's jail operations to efficiently use department resources and address the increasing need for inmates requiring mental health services. See video for more information on upcoming changes. pic.twitter.com/zrimngUkn4

— OC Sheriff Don Barnes (@OCSheriffBarnes) March 27, 2019
He added that these decisions were made to mitigate the risk of litigation from the state, while potentially minimize costs to Orange County taxpayers.
"I want to make clear that the decision to end the ICE agreement is not a result of the recent political rhetoric surrounding immigration," Barnes said. "Our 9-year leasing agreement has been mutually beneficial and a benefit to Orange County taxpayers."
Barnes also said the end of the agreement would not impact public safety as the department will continue alert ICE about the release of serious and violent offenders in their custody with ICE detainers "within the confines of" Senate Bill 54—legislation that makes California a sanctuary state.
According to the Los Angeles Times, Orange County is one of the few large counties in the state that continue to work ICE.
Moreover, the Musick facility will be reopened after the construction of two new state-funded housing facilities, which is estimated to be completed in fall 2022.
The department said at present about 30 percent of the current inmate population require some level of mental health service, a number that had jumped within five years.
These mental health services include things like counseling, medication management, discharge planning, and psychiatric inpatient care.
Overcrowding at Detention Facilities
ICE and Border Patrol is currently facing major issues with overcrowding at their detention facilities.
Homeland Security Secretary Kirstjen Nielsen warned lawmakers earlier this month that "illegal immigration is simply spiraling out of control and threatening public safety and national security."
"In February, we saw a 30 percent jump over the previous month, with agents apprehending or encountering nearly 75,000 aliens," Nielsen told the House Committee on Homeland Security. "This is an 80 percent increase over the same time last year. And I can report today that CBP is forecasting the problem will get even worse this spring as the weather warms up."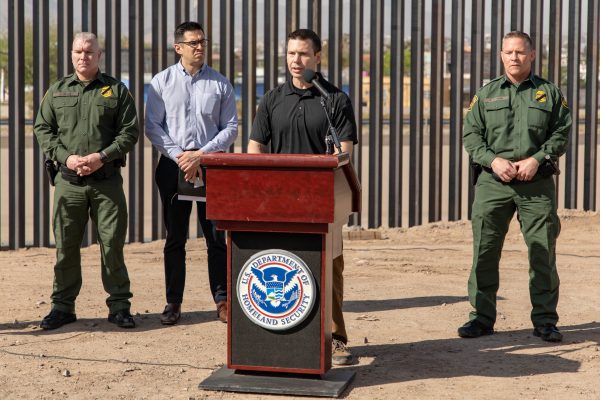 Meanwhile, Customs and Border Protection Commissioner Kevin McAleenan said on March 27 that an estimated 100,000 illegal aliens are expected to enter the country this month. Border Patrol agents arrested 3,974 illegal aliens along the southwest border on March 19 alone.
"With 55,000 families, including 40,000 children, expected to enter the process this month, we are doing everything we can to simply avoid a tragedy in a CBP facility," McAleenan said.
He added that in order to relieve overcrowding at many facilities, agents have started releasing illegal immigrants immediately upon apprehending and processing them.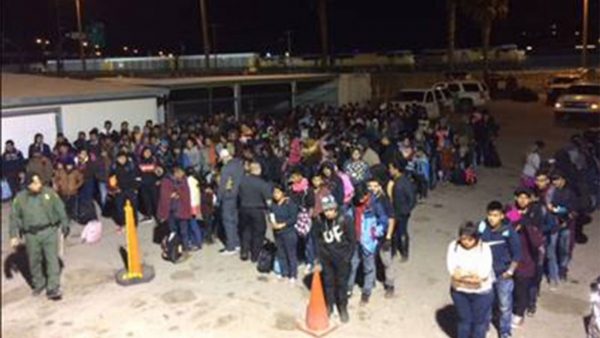 "For the first time in over a decade CBP is performing direct releases of migrants," McAleenan said. "This is in a limited capacity, it's very reluctantly, and it represents a negative outcome for enforcement."
McAleenan said this would only encourage more migrants to cross the U.S. border illegally and claim asylum—regardless of the merit of their claim.
"But it is the only current option that we have from a life and safety perspective to try to reduce the overcrowding in our facilities," he said.
The Epoch Times Reporter Charlotte Cuthbertson contributed to this report.