Hundreds of students across the state are showing up to school this week without masks in protest of California's ongoing school mask mandate.
Students up and down the state—including Chino Hills High School in Southern California, Bella Vista High School, and the Oakdale Joint Unified School District in Northern California—are protesting the fact that the mask mandate in schools will continue, even though the state's indoor mask mandate is set to end on Feb. 15.
Some schools have accommodated protesting students by opening up designated "protest sites."
More than 300 unmasked protesting students at Chino Hills High were sent to the campus's quad lunch area, while unmasked students from Bonita High School in Los Angeles County were placed in an "alternative location," according to a school spokesperson. At Bella Vista High School, protesting students were sent to an empty classroom or sent home.
Students say they've experienced growing feelings of isolation and anxiety because of the masks, as well as growing feelings of frustration toward state and school officials who insist on the mandate despite reports that children have the lowest rates of COVID-19 transmission.
And in a neighboring city, the entire district, which serves about 10 schools, shut down protests this week after more than 500 students showed up maskless last week.
Last week, those same protesting students were either sent to a "protest site" on campus or sent home. Those students were planning to continue their protest this week until Oakdale Joint Unified School District Superintendent Dave Kline said no more.
"Remaining unmasked is not an option at this time," Kline wrote in an email to parents over the past weekend, noting that any students who wanted to continue going maskless would have to enroll in the district's remote independent study program.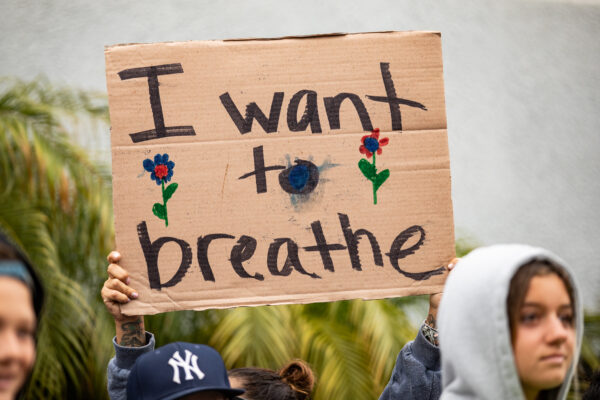 Kline indicated in the email that the district could lose COVID-19-related insurance coverage and be fined by the state if it stopped complying with the mandate. He also outlined California Government Code Section 8665, which states that anyone who violates a governor's order—including health mandates—could be charged with a misdemeanor and a $1,000 fine or six months in prison.
Some parents are working with an advocacy group called Let Them Breathe, which provides legal support to parents challenging school COVID-19 pandemic mandates.
Let Them Breathe founder Sharon McKeeman told The Epoch Times that Kline's email alarmed students and parents—but that the school district doesn't have the authority to charge parents with misdemeanors or force students to enroll in online programs.
"The misinformation about misdemeanors has a lot of students confused and scared," McKeeman said. "They're just trying to peacefully stand up for their rights and share their smiles."
Let Them Breathe's attorney wrote a letter to Kline stating that the school district lacks the authority to charge students who choose to not mask up, per state Education Code 51747.
"This message inaccurately insinuates that [the district's] students who choose to peacefully protest K–12 mask mandates are at risk of criminal prosecution," the letter reads. "Importantly, [the district] and its employees lack authority to pursue criminal prosecution against its students based on a student's refusal to wear a mask in school."
The letter also unsuccessfully urged the school district to let the protests continue, stating that the district couldn't force students to enroll in its online-only program.
"California law could not be clearer that enrollment in any such program must be voluntary. Independent study is an optional educational alternative in which no pupil may be required to participate," the letter reads.
Parents and state officials have joined students in calling for an end to the school mandates. In Southern California, about 40 parents and families at Bonita High School gathered in front of their schools on Feb. 8 to protest the mandate.
Torrance Unified School District board member Betty Lieu demanded on Feb. 8 that Los Angeles County Department of Public Health Director Barbara Ferrer end the mandate, following a letter written by California Assemblyman Kevin Kiley (R-Rocklin) and signed by 124 school board members from across the state demanding an "end to all masking, testing and vaccination mandates" and a "return to normal school activities."
Requests for comment weren't returned by Kline, representatives from Chino Hills High School, representatives from the Torrance Unified School District, or representatives from the Los Angeles Department of Public Health.