Parents opposed to critical race theory (CRT) in California classrooms are outraged over accusations from school boards that criticism of ethnic studies curriculums based on CRT and other neo-Marxist ideologies is akin to domestic terrorism.
The National School Boards Association (NSBA), which denies that CRT is being taught in K–12 schools, stated in a recent letter (pdf) that parents at local school board meetings opposed to CRT and mask mandates are contributing to a "growing number of threats of violence and acts of intimidation occurring across the nation" and asked the Biden administration to address the issue.
The NSBA letter states, "As these acts of malice, violence, and threats against public school officials have increased, the classification of these heinous actions could be the equivalent to a form of domestic terrorism and hate crimes."
Celeste Fiehler, a member of ParentUnion.org, told The Epoch Times the NSBA comparison of parents to "domestic terrorism" is ludicrous and wrong.
"It's ridiculous. It's an intimidation tactic," she said. "I'm not afraid of the FBI knocking on my door because I stood up for my kid as a parent."
She opposes CRT, which she calls "hate-based" education that divides students into oppressed and oppressors based on race and privilege.
"When you take power away from parents, or their ability to raise their children, you're going to get angry parents—parents who love their children," said Fiehler, whose children attend the Desert Sands Unified School District (DSUSD) in Riverside County.
"We're not knocking down podiums. We're not burning down school buildings. We're asking for fair education for our children, and what we oppose is the curriculum."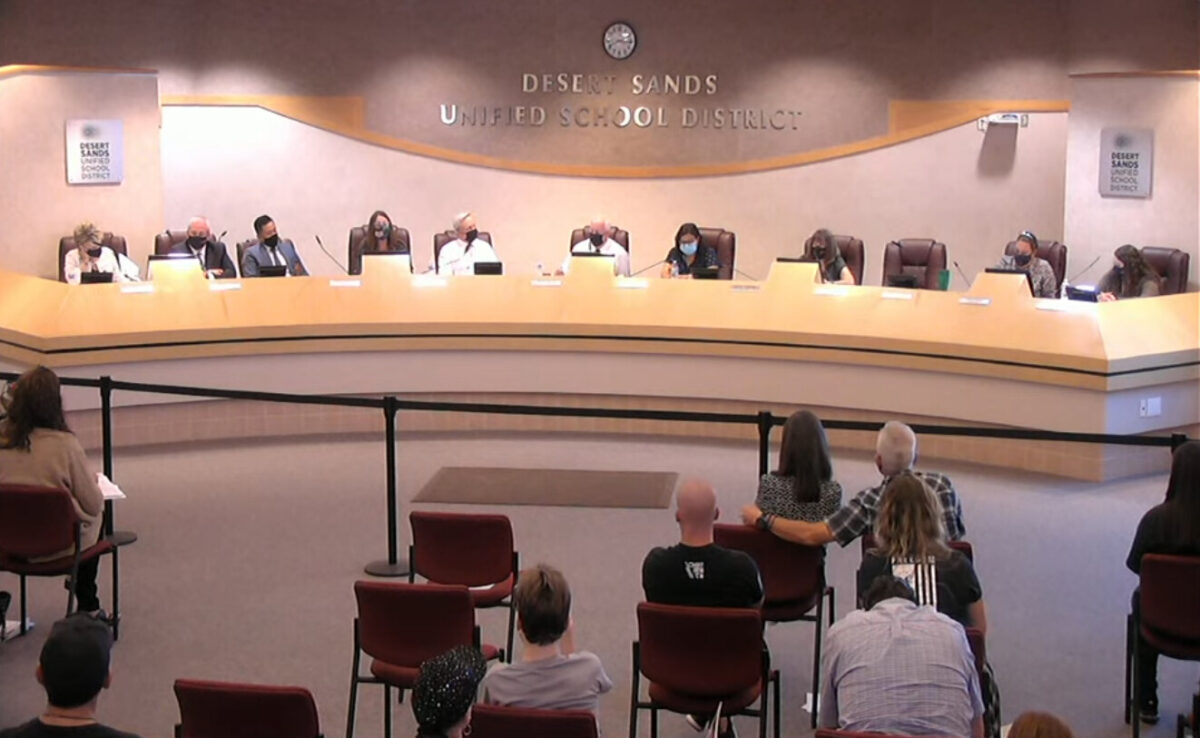 Attorney General, DOJ Respond
U.S. Attorney General Merrick Garland responded with a memorandum and the U.S. Department of Justice (DOJ) issued a statement announcing a concerted effort to target threats of violence, intimidation, and harassment by parents directed toward school board members, teachers, and other personnel.
"Threats against public servants are not only illegal, they run counter to our nation's core values," Garland wrote. "Those who dedicate their time and energy to ensuring that our children receive a proper education in a safe environment deserve to be able to do their work without fear for their safety."
Garland has directed his office and the FBI "to meet in the next 30 days with federal, state, tribal, territorial, and local law enforcement leaders to discuss strategies for addressing this disturbing trend. These sessions will open dedicated lines of communication for threat reporting, assessment, and response by law enforcement," according to the statement.
The DOJ will create a task force consisting of representatives from the department's Criminal Division, National Security Division, Civil Rights Division, the Executive Office for U.S. Attorneys, the FBI, the Community Relations Service and the Office of Justice Programs "to determine how federal enforcement tools can be used to prosecute these crimes, and ways to assist state, tribal, territorial and local law enforcement where threats of violence may not constitute federal crimes."
The DOJ will also create specialized training and guidance for local school boards and administrators to "help school board members and other potential victims understand the type of behavior that constitutes threats, how to report threatening conduct to the appropriate law enforcement agencies, and how to capture and preserve evidence of threatening conduct to aid in the investigation and prosecution of these crimes."
Riverside County
Fiehler blasted the "domestic terrorist" label at a DSUSD meeting this month.
"If you think for one second that parents who love their children and are here to protect them … are domestic terrorists, then consider every single one of us just that," Fiehler said.
"Being a domestic terrorist, you'll see me in the pickup line and the drop-off lines of three different schools, rushing three kids to sports, and at the high school football games because I love my children," she told the board.
"What you won't see is this tired terrorist mom doing is burning down buildings, destroying property, physically assaulting people throwing Molotov cocktails out my car window, or murdering anyone," she said, referring to incidents during the 2020 summer riots. "I'm a law-abiding citizen who wants a fair and healthy education for my children."
"So, don't mess with parents protecting their children because you will lose."
Fiehler said Biden and Vice President Kamala Harris downplayed the violence that occurred during protests following the death of George Floyd last year.
"Thousands of people were injured, hundreds of lives were changed forever, and a lot of people died because of them," she said.
Rather than policing parents, she said "the activists should be investigated."
Fiehler said some school boards have taken steps to disrupt the conversation on CRT and other important topics, including censoring videos of public meetings on YouTube to remove parents' comments and removing chairs to limit the seating capacity at meetings.
Monterey County
Kelly Schenkoske, a Monterey County parent who homeschools her children, has opposed the ethnic studies curriculum and CRT at Salinas Union High School District (SUHSD) meetings.
The NSBA's comparison of parents protesting CRT to domestic terrorism—suggesting there is some kind of moral equivalency—is simply false, she said.
"They want to shut down any dissenting voices. They want conformity," Schenkoske said. "While they're attempting to silence the civic engagement of parents and taxpayers, they're ramping up efforts to push civic engagement on youth."
Many teachers in public schools are actively recruiting unsuspecting "young foot soldiers" to promote their own political ideologies, she said.
The book, "Rethinking Ethnic Studies" by R. Tolteka Cuauhtin, encourages student activism and talks about the youth voice as imperative, Schenkoske said.
"It showcases their agenda for all," she said.
SUHSD has recently used a new tactic, allowing students to comment first at school board meetings, Schenkoske said. While there hasn't been a change in official board policy, she said it's another strategy the board has used to silence dissenting opinions and block criticism.
At the last board meeting, parents who requested their three minutes to speak were denied the opportunity because of the new policy.
"None of them were ever allowed to speak. Students were given the entire allotted time," she said.
SUHSD teacher Peter Williams has mentioned several times at recent school board meetings that parents opposed to CRT shouldn't be allowed to speak.
Orange County
Irvine parent David Whitley told The Epoch Times that many Orange County parents are fed up with what public schools are teaching, and many have chosen CRT as "a hill to die on."
"We're either going to get this nonsense tamped down, or people like me are going to leave the state. There's no reason to stay in a place that is completely anti-American and growing to be anti-white under the guise of anti-racism. It just defies logic and reason," he said.
Comparing irate parents to domestic terrorists is "completely absurd," he said. "If there's one thing parents should be doing, it's being extremely angry at what the public schools are teaching their kids … so I am ecstatic that more and more parents are going to the school board meetings and speaking up."
Although "it's a little bit late in the day" to try to fix public schools in the state, Whitley said parents can no longer sit back and watch what's happening.
Whitley said it's not surprising that the recent backlash from parents has left local school boards and other government officials feeling threatened.
"They should," he said, "because the country is run by families and by parents. The public schools are there to educate their kids so that they're informed and good citizens, and what they're doing in the public schools is literally dividing the nation and destroying the country."
Whitley urged more parents to stand up against the school boards.
Children are being taught to have "different moral views, different views on sexuality, different views on American history, different views on the nuclear family and their place in life itself," he said. "It's just absurd."
While he's glad to see so many mothers at school board meetings, Whitley said more fathers are now showing up.
"That may be why they're intimidated, because it's not just a bunch of soccer moms that are talking at the school board meetings now," he said.
"And they want to intimidate us with the power of the FBI? Well, I know people in law enforcement, and they don't like what's going on either," Whitley said. "So, it's going to come to a head at some point because what I know is the parents that are upset by this aren't going away until they're either in handcuffs or they stop indoctrinating their children."
Californians for Equal Rights
Meanwhile, the Californians for Equal Rights Foundation (CFER) has joined forces with 20 organizations in response (pdf) to NSBA's "fear-mongering" letter," the organization said in a recent statement.
"Going forward, CFER will stand with our parent and community supporters in the unifying and broad-based movement against toxic racial divisions and political indoctrination in our public education system," according to the release.
"CFER is particularly alarmed by DOJ's categorical allegation of grassroots activities at the school district level as 'criminal conduct,' and how this call for federal investigations can gravely discourage civic participation."
Frank Xu, CFER president, said, "In response to community demands for more transparency and parental access to controversial educational activities, CFER has engaged in local organizing and awareness building on issues such as ethnic studies, critical race theory and racial preferences."
"Contrary to the victim narrative promoted by DOJ to coddle school board personnel, lack of responsiveness and accountability on the part of many public-school authorities has prompted a growing number of parents speaking at open meetings and seeking legitimate channels to express their concerns," the release states.