Dee DiCostanzo began to cry as she shared memories of her father John.
John DiCostanzo died six years ago, expecting to be buried nearby at the former Marine Corps Air Station El Toro in Irvine.
After all, the City of Irvine had approved the 125-acre site in 2014 to build a federally recognized veterans cemetery.
Dee keeps her father's ashes in her Irvine home, waiting to bury him at the El Toro site, now a part of the city's Great Park.
"It would mean a lot," Dee told The Epoch Times, describing how her large family living nearby would be able to visit her father's resting place. "We all live in Long Beach or Irvine or Laguna Niguel, so for us to have a place like the Great Park [in Irvine] and to be able to go there and visit it would be nice. Right now, we have nothing."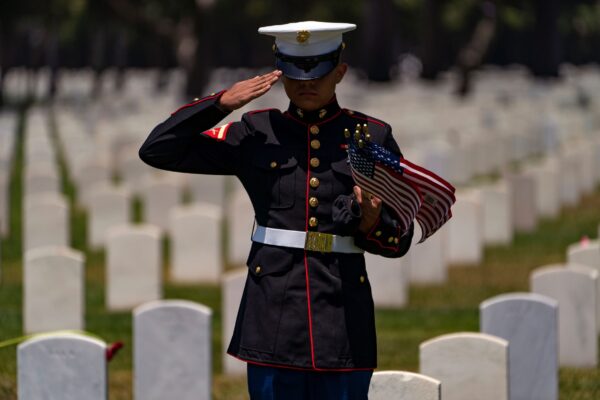 Ongoing political wrangling has delayed plans to build a local state-funded memorial and cemetery for area veterans who now are left with burying loved ones hours away at national cemeteries in Riverside or Los Angeles.
Local leaders last year tossed aside the Irvine plans in favor of a site in Anaheim Hills at Gypsum Canyon but unlike the Irvine site, the Anaheim site has not yet been studied.
Opposition from neighbors of the El Toro site and interest from housing developers prompted the current Irvine City Council to endorse the Gypsum Canyon in Anaheim Hills, where officials held what they called a groundbreaking in December.

In an effort to speed up the process, the state Legislature passed Assembly Bill 1595 on Aug. 25. The legislation funds a study of any site in the county and creates a fund to receive private donations to pay the costs of conducting studies. The bill still needs the governor's signature before becoming law.
The situation is frustrating six years after her father's death, DiCostanzo said.
Her father's family was poor, but he wanted to go to college so he would dig graves to earn money, she said. When he turned 18, he enlisted in the U.S. Army as a way to pay for his college, spending two years in the service.
Near the end of her father's life, they attended her husband's funeral together. Dee's husband, also a veteran, was buried at the Riverside National Cemetery, the nearest federal veterans cemetery that still allowed burials.
"When we left there, [my father] said 'This is really beautiful,'" Dee said. "I knew that's what he would have wanted and that's what he actually thought we would get for him before he passed."
Longtime Irvine Councilman Larry Agran, who spearheaded an effort in 2014 to win city approval of the El Toro plan, told The Epoch Times he is confident the site will be selected. The land where the cemetery would be located is part of the original base, a 125-acre area now called the Amended and Restated Development Agreement (ARDA) site.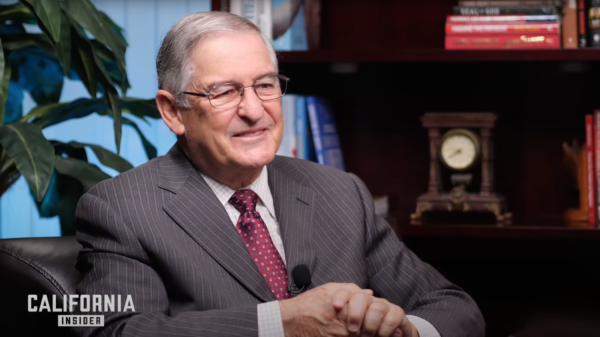 "I'm quite confident that the study [to be funded by the legislation] will reveal that the [Irvine] site is the superior site, and having been approved by the voters of the City of Irvine, will, in the end, be the location for the state-funded veterans' memorial park and cemetery," he said.
If signed by Gov. Gavin Newsom, the new legislation would pave the way for officials in Anaheim to conduct a study of the Gypsum Canyon site as an alternative to Irvine's location. The study would be similar to one that has already been done in Irvine. Agran expects the study will show the Anaheim Hills location is much more costly and difficult to develop and could be prohibited legally from development by deed restrictions.
Vietnam Veteran Frank McGill, of Irvine, agreed with Agran, saying the former Marine base is a much nicer site. McGill operates a group called Veterans for the ARDA Site Cemetery.
"I think it would be very meaningful," McGill said. "The cemetery will never be built at Gypsum Canyon. There are too many geological problems on that site."

Developers have shown interest in the El Toro site, which could be worth up to $1 billion if turned into housing, according to anti-corruption activist Harvey Liss, with a group called Build the Great Park Veterans Cemetery.
"I've been following this since the beginning," Liss said. "It's just been horrifying. I believe in the end, we will win."
Assemblyman Steven Choi (R-Irvine), supports building the cemetery at Gypsum Canyon.
"While there have been numerous challenges and setbacks, we have finally come together with all cities united in support of a veterans cemetery at Gypsum Canyon, and now with the passage of AB 1595, we are a major step closer to making it a reality."
The bill's author, Assemblywoman Sharon Quirk-Silva (D-Fullerton), said she was proud of the passage.
"I'm proud to say that AB 1595 has passed off the Assembly floor and is headed to Governor Gavin Newsom's desk! With Orange County being the state's largest county without a veterans cemetery, today's vote brings us one step closer to providing a final resting place for the honorable men and women who have served our country," she wrote on Facebook.
For now, DiCostanza keeps her father's ashes in her living room, waiting for a decision. An elderly veteran called her recently and told her he was waiting for a local veterans' cemetery to be built, she said. He lived alone and was forced to get a plot in Laguna Hills for himself.
"It was just really sad to hear his story," she said. "He was all alone."