NEW YORK—Today's most innovative and resourceful chefs already insist on using the entirety of their ingredients. 
The nicest part of the carrot may be used for the main dishes, while the orange tops, tips, and peels are simmered into a complex soup stock—which, we are told, benefits from the flavor and nutrition contained in the carrot trimmings. 
The restaurant may actually advertise its sustainability as a credential to attract new customers who are open to trying common sense presented in a modern way. Deconstructed broccoli stem hotdog with fermented tomato ketchup anyone? 
This food trend is great for minimizing waste, which is a huge problem in America. And get ready, because eating is going to get a lot more interesting.
What is changing is that chefs in New York are now able to order from their supplier—not whole fruits and vegetables—but cases of edible food scraps. Imagine cooking with 20 pounds at a time of cabbage cores, strawberry tops, or pineapple peels.
Thanks to New York-based Baldor Specialty Foods, a major purveyor of produce to the city's top chefs, the era of transacting food scraps has arrived.
Thomas McQuillan is the man in charge of rejigging how Baldor deals with its waste. Just eight months into the project, there is already much progress to report.
All pipes led to a dumpster out back, and all that food waste got trucked at Baldor's expense to the landfill.
McQuillan's job is to find a productive use for the 10,000 pounds of food scraps produced in the course of the company's daily operations. It is most ideal if it gets eaten by humans, he said, but there are other options too. Anything is better than sending it to the landfill, which is what they've been doing.
"It's not waste if you don't put it in the garbage," said McQuillan. 
Baldor's work began when a request from a Blue Hill restaurant chef for food scraps allowed Baldor to see the business opportunity. Not only was it the right thing to do, but Blue Hill had insisted on paying for Baldor's garbage.
Baldor's processing facility Fresh Cuts works with 40–50 types of fruits and vegetables daily. Its workers chop, dice, and peel to create 1,400 different products, such as carrot sticks and shredded Brussels sprouts. At the end of the day, the business is left with copious amounts of organic matter, such as Brussel sprout bits, mango peels, and the outermost ring of the onions, which can be tough to eat.
Until very recently, all Baldor's food waste moved from conveyer belts into large pipes that line the walls and cavernous ceilings of its production facility. All pipes led to a dumpster out back, and all that food waste got trucked at Baldor's expense to the landfill, where, in the process of decomposing, it would create the dangerous greenhouse gas methane.
Seeds of Change
It was last February when Blue Hill at Stone Barns' Culinary Director Adam Kaye called. His call would change everything for Baldor. Blue Hill was also inspiring many, many others with its commitment to sustainability.
"Blue Hill took the shock factor out of it," said McQuillan.
Kaye was doing a waste audit, inquiring about what waste products Baldor had that he might use to cook with. He and famed Blue Hill executive chef Dan Barber wanted to do a popup event at Blue Hill's Manhattan restaurant and serve only wasted food items for three weeks.
Kaye describes his visit to Baldor as a "watershed moment"—seeing Baldor's "huge dumpster, spewing vegetable matter." It ended up inspiring a Dumpster Dive salad that featured old kohlrabi, lettuce cores, and celery cores, the tenderest parts with the bright green leaves—great for chefs; not so good when you are packaging celery sticks for dipping.

"It takes the chef to prove the value of these things and make it delicious," said Kaye. He added that getting the supply chain to work with Baldor and its numerous other "waste" suppliers "took a lot of blood, sweat, and tears," but that the process was therapeutic for the many suppliers involved in the project, who felt bad about the waste, but didn't see any other alternative.
As McQuillan and I walked through Baldor's production facility recently, evidence of the company's blood, sweat, and tears was everywhere. Petite yellow patty pan squashes, and long green peppers were discarded by a worker with just slight evidence of damage.
The work of creating new products out of waste is no small feat.
Piles of cantaloupe peels, purple cabbage, and peapods were seen discarded in places other than those designated for keeping. "The pigs could eat that," said McQuillan, who's gaze appeared to zero in on the waste instinctually. "I'll speak to the staff about it later," he added, smiling.
The work of creating new products out of waste is no small feat. Retraining, and new ways of thinking are required of Baldor's 1,400 employees.
Workers will need to place the food remnants in special containers, which need packaging, and their own storage procedures. Fortunately, the amazing thing about Baldor's food waste is that it is fully washed and sanitized, and so it is about the cleanest, high quality waste around.
Family Values
Baldor's business roots go back to 1918, when Louis Balducci Sr., who hailed from Bari, Italy, rented a pushcart for $5 a week in Greenpoint, Brooklyn.
This led to Balducci's Produce in 1946, around which the family built a reputation for excellence. After an expansion in 1972, Balducci's diverse selection began to draw chefs from far and wide who drew inspiration from the seasonal offerings and requested delivery. Baldor was born as a division within Balducci's in 1972, and in 1991 it was established as a separate company.
Baldor's seen a lot of dramatic changes in the last few years. It began with the passing of founder Kevin Murphy in early 2013 at the age of 58, and his son TJ Murphy taking over the business and helping to modernize it.
Ben Walker, Baldor's director of marketing, spoke proudly of the company's updated website. It highlights Baldor's extensive product list (4,500 items) with beautiful photography. It also features the farms they source, weekly market updates, and new and exciting product offerings, from superfoods, to chocolate, to turnips the size of a marble.
The public's interest in better quality food is what's driving the company's success.
The company is also working on an expansion of its Hunts Point Food Distribution Center facility in the Bronx. It will spend $20 million to add 100,000 square feet to its current 193,000-square-foot space.
McQuillan said the expansion will give more shelf space for product, which is needed to accommodate the company's double digit organic growth. Sales at the privately held company are somewhere in the range of $300 million to $500 million.
Walker said the public's interest in better quality food is what's driving the company's success. People are dropping the catchall national distributors like SYSCO Corp. for us, said Walker, because we offer the variety and quality consumers want.
McQuillan has been with Baldor less than a year, and as business analyst and head of special projects, he has already done a lot. He's also part of the family in the sense that he is good friends with TJ Murphy's first cousin Charles Balducci.
As the former president and CEO of construction supplier IDC Corporation, McQuillan has spent over a decade working in distribution logistics. Prior to that, he worked as an administrator for MBA and MS programs at Temple University, and at St. John's University, where he obtained his master's degree in business administration.
When McQuillan was assigned the waste project he educated himself about food waste in America, which may be as high as 40 percent of the food supply, according to government estimates.
A USDA study found waste at the retail level (where Baldor operates) was about 10 percent of the total, and that American consumers waste about 21 percent. Approximately 9 percent, not studied by the USDA, is wasted at the farm producer level.
"This is something we have control over. … As long as people are starving and there is a need for food products, how could we not do something dramatic?" McQuillan asked.
Eat Your Veggies
Baldor's effort to get its organic trash to zero is still a work in progress, just like the collective awareness that is growing around this issue.
McQuillan said the company saves vegetable scraps based on customer demand. So far, buyers can select from seven items on a SparCs (scraps backward) product list, and there are more options if buyers want.
Baldor is currently working with five SparCs buyers, which will take care of over half the company's food waste.
What Baldor is doing is helping people get back to how we used to live and cook, when every part of our food was eaten.
MISFIT Juicery, owned by Georgetown University grads Philip Wong and Ann Yang, recently partnered with Baldor to experiment with using leftover mango peel, watermelon, and carrots. They started the Washington, D.C.-based company to use up discarded and unwanted fruits and vegetables.
Misfit is a term used to describe produce that doesn't look perfect. Farmers generally can't sell it, so it becomes part of the compost, or landfill.

Wong said MISFIT is about "reimagining how we utilize food." Something like a carrot peel is "functionally the same for us" as a whole carrot, he said.
Wong said having a consumer product like MISFIT juice on the shelves in cafes and groceries helps raise consumer awareness, because "food is very personal, like a touchpoint in all of our lives." 
Esther Choi, chef-owner of Mokbar, a popular Korean noodle bar in Chelsea Market, is experimenting with using Baldor's cabbage cores for kimchee. She would love to "get the word out that these products are very usable and nutritious."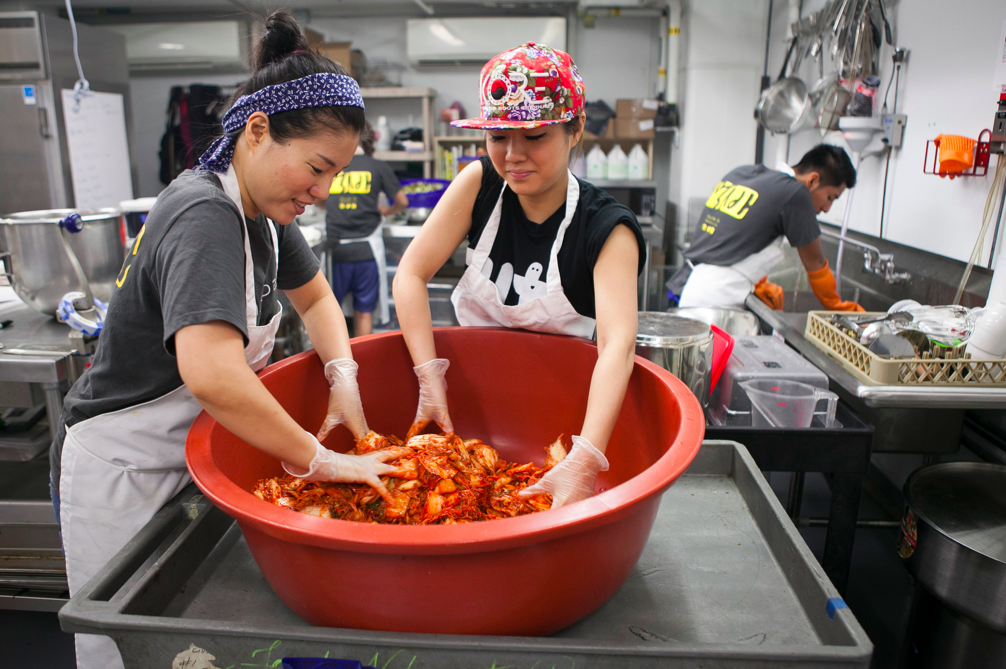 She is also excited about using radish tops, something her grandmother used in Korea. Choi is hugely passionate about using the entirety of the vegetable. "We throw away a lot of the things that in Korea you would use," she said.
Choi is planning to start a new company and carry a product line of Korean condiments. A visit to Baldor, and the promise of a regular source of ingredients, inspired her and her partners to think bigger about the business. After all, she said, "You can practically ferment and pickle anything."
McQuillan knows that what Baldor is doing is helping people get back to how we used to live and cook, when every part of our food was eaten.
These days, he is really excited about a new and rather secret product he describes as a "game changer vegetable opportunity."
It is something that "nobody else is doing," he elaborated, and it promises to capture a large amount of organic waste.   
Baldor is currently working with five chefs to test and develop this product, and company executives said that it may be something that is mass produced for human consumption.