Bruno Mars at Halftime: What Does the Super Bowl Halftime Show Mean to America? (+Vintage Videos)
September 8, 2013 11:38 am Last Updated: September 8, 2013 11:38 am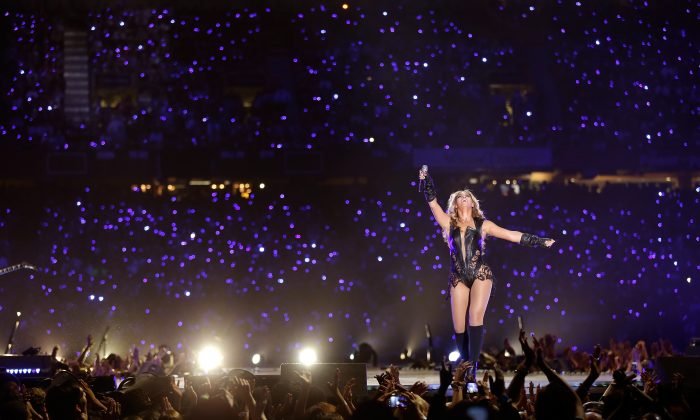 Bruno Mars is expected to be the performer at the Super Bowl XLVIII halftime show, according to multiple reports citing sources familiar with the NFL's entertainment plans. An official announcement is expected some time Sunday. 
Author and pastor Dr. Norman Vincent Peale wrote "How the Super Bowl Reflects American Society," published on the University of Virginia website.
He traces the history of the halftime performance: the first ten featured marching bands. The extravagance grew through the 1970s. It wasn't until the 1980s that the performances really shifted to pop culture, and the shows from the 1990s through today "have increasingly lacked a coherent theme," he wrote.
"What the Super Bowl presents for its halftime show mirrors the desires of the American people," Peale said. "The American culture needs to be visually stimulated at all times or our attention is lost. So the halftime show has become a spectacle in itself."
Professor of communication at DePauw University Jeff McCall wrote a commentary on the halftime show significance in 2012.
"Marketing professionals advise companies to keep their promotional efforts linked to the product being pitched," McCall said. "Madonna's upcoming performance at Super Bowl XLVI, next Sunday, as well as halftime shows of recent years, has no relationship to the professional football product."
He noted the performance is meant to draw in viewers who are usually uninterested in football. He thinks this is unnecessary: "Is the NFL that insecure to think its biggest game of the year can't generate sufficient viewership? There wasn't a pop concert at halftime of the playoff game when Denver upset the Steelers, but the ratings were enormous."
He jokingly suggests including political interviews or cooking programs during halftime to draw in an even more diverse audience.
What are the halftime performances you remember most? We'll skip over the controversial Janet Jackson/Justin Timberlake number, and the performances of more recent memory, such as Beyonce's in 2013 or Madonna's in 2012, to take a look at some tapes from the archives.
Mouseketeers 1977 at Super Bowl XI
Chubby Checker and the Rockettes, 1988, 'Something Grand'
Disney Characters and New Kids on the Block, 1991, 'Step by Step'
Michael Jackson, 1993, 'Black or White'
Diana Ross, 1996, 'Stop in the Name of Love'