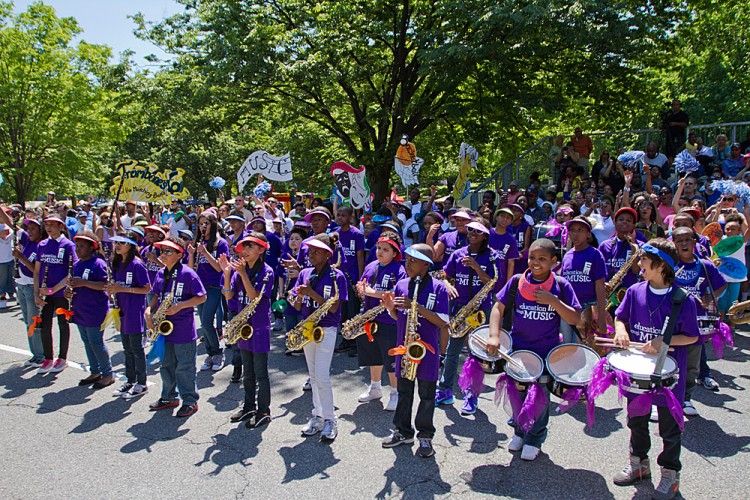 NEW YORK—Groups of instrument-playing schoolchildren, armed forces, and others marched on Sunday down the tree-lined Mosholu Parkway in the Bronx. The parade was a celebration of Bronx culture and history.
"We're here to celebrate what makes the Bronx so beautiful—the culture," said Judy Friedman, vice principal of PS 48. In front of her, a gaggle of students clothed in purple played instruments, a miniversion of a marching band.
"Besides academics, you get to bring the fun spirit into it also," said Friedman, adding that the band stems out of a first-year program made possible by Education Through Music. "It brings them to instruments that otherwise they wouldn't be able to get—they love it."
Delighted parents and other onlookers clapped and cheered for school marching bands and other groups as they moved by.
Kelvin Gomez and Sarielis Bermaber both moved to the United States three years ago from the Dominican Republic. They held their home country's flag between them as part of a group of students representing New World High School.
[etssp 561]
The school focuses on immigrants by "infusing English as a second language into all content areas of instruction," according to its website. Bermaber, an 18-year-old senior, said that by her estimate, 50 different cultures are represented in the school.
"Even though we're really different, we get along," she said. "We want to represent that [today]."
Sadibou Sylla, a 28-year-old math teacher, hails from Senegal. He walked with a group of men who won the African Advisory Council Bronx Week Soccer Tournament. "We're the best in all of New York," he said, smiling. They were expecting to receive their award later in the day.
"There's a lot of different culture in the Bronx," Sylla said. "We're representing the African culture."
On a parallel street, vendors displayed their wares, and food. At one tent, a family sold Western Caribbean eats; a smorgasbord of meats, including curried chicken and beef, jerk chicken, and roast pork; with cupcakes, and other goodies for dessert from one woman who owns her own bakery. "Her specialty is red velvet," said her sister.
An Ecuadorian family nearby served ethnic fare. The daughter ladled cold drinks—tamarindo, pina, limonada, and ensalade de fratas, a red Kool-Aid-like drink with fruit chunks—out of large containers, attracting a steady stream of customers. One booth served coconuts with straws, ready for slurping.
Rafael Reyes has lived in the area for many years—27 to be exact. He watched the parade for the fifth consecutive year, accompanied by his wife and mother-in-law.
"It's great, great for the neighborhood," he said. "The whole neighborhood is out here."
The parade capped off the 10-day 2012 Bronx Week. Events included a centenarian celebration, where Bronx Borough President Ruben Diaz Jr., commemorated senior Bronx residents who are or will turn 100 this year; a film festival featuring films made in the Bronx or by Bronx filmmakers; and an induction of four persons, including model and actor Tyson Beckford, into the Bronx Hall of Fame.
The Epoch Times publishes in 35 countries and in 19 languages. Subscribe to our e-newsletter.