Brock University is the latest Canadian school to end its relationship with Beijing's Confucius Institute, part of a growing trend in North America and other parts of the world where educational institutions are cutting ties with the program.
Confucius Institutes (CI) are run by an agency of the Chinese regime headquartered in Beijing. They are branded as educational and cultural programs, but have been cited by intelligence agencies as being a part of the Chinese Communist Party's propaganda tools to exert influence abroad and control activities to Beijing's liking on campus.
In the United States, close to 40 universities have closed their CIs or are in the process of closing them.
With Brock University ending its partnership, that leaves 10 CIs still operating in Canada. At one point there were 15 Canadian educational institutions that had partnerships with CIs.
Brock University didn't provide a reason for ending its partnership.
Most recently, the province of New Brunswick said that it was pulling the Confucius Institute out of its educational system, with Education Minister Dominic Cardy saying the program's aim is to put a "friendly, cheerful face for a government that is responsible for more deaths than nearly any other in the history of our species."
McMaster University ended its CI program in 2013 after the Chinese partners refused to remove a clause from their hiring requirements that violated human rights in Canada. The clause required that teachers sent from China to teach at CIs in Canada sign a form declaring that they will not practice Falun Gong, whose adherents are persecuted in China. The case came to the university administration's attention after a teacher at the CI came forward to say she was forced to sign the form because she was afraid if she didn't, she would be outed as a Falun Gong adherent and face persecution, a fate her mother had experienced at the hands of the Chinese regime.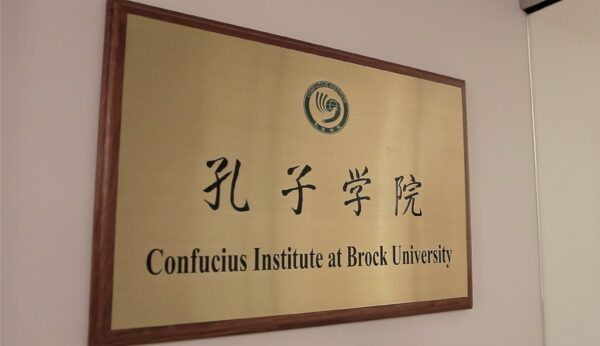 The same year, the Canadian Association of University Teachers (CAUT)  issued a statement asking all Canadian universities and colleges to cut ties with CIs, calling them "essentially political arms of the Chinese government."
"They restrict the free discussion of topics Chinese authorities deem controversial and should have no place on our campuses," CAUT said.
The University of Sherbrooke was the next university to close its Confucius Institute in the same year, following CAUT's call.
In 2014, the Toronto District School Board voted to close its Confucius Institute after a community backlash against the school board's partnership with the program. The deal was spearheaded by the board's chair, Chris Bolton, while the rest of the trustees had been kept in the dark. He resigned from his post before the end of his term amid questions and concerns raised by parents and other trustees.
Other Canadian universities, such as the University of British Columbia and the University of Manitoba, have rejected partnerships with CIs.
Educational institutions in Canada that continue to host CIs are British Columbia Institute of Technology, Saint Mary's University, Dawson College, Carleton University, University of Regina, University of Waterloo, University of Saskatchewan, the Coquitlam School District, Seneca College, and Edmonton Public Schools.
Then-head of the Chinese Communist Party's propaganda department Li Changchun said in 2009 that Confucius Institutes are "an important part of China's overseas propaganda set-up."
He said in another speech in 2011 that CI's have made "an important contribution toward improving our soft power."
"The 'Confucius' brand has a natural attractiveness. Using the excuse of teaching Chinese language, everything looks reasonable and logical," Li said.
Closures
In the United States, CI closures have been accelerated by a measure in the National Defence Authorization Act introduced by the federal government in 2018 that bars universities that host the program from receiving Pentagon funding.
In 2014, a year after CAUT's call, its American counterpart, the American Association of University Professors, echoed CAUT's statement against CIs, saying the institutes  "function as an arm of the Chinese state and are allowed to ignore academic freedom."
The National Association of Scholars (NAS), an education advocacy group in the United States, has followed with similar statements.
"Confucius Institutes import censorship into American higher education," Rachelle Peterson, policy director with NAS, told The Epoch Times.
According to Peterson, as of May, 38 American universities had closed or are in the process of closing their CIs.
Last month, dozens of leaders of the College Democrats of America and the College Republican National Committee representing universities in more than 45 U.S. states signed a joint letter with rights groups calling for an end to CIs on American campuses.
The Australian state of New South Wales announced last year that it was ending its CI partnership, citing concerns about potential "inappropriate foreign influence."
Other CIs in Australia have been notified by the federal government about the country's new anti-foreign influence laws, which requires individuals or organizations working for foreign governments to register as foreign agents.
There have also been around a dozen CI closures in Europe since 2013.
With reporting by Cathy He