A British mother-of-seven is appealing for help identifying the unknown thugs who lynched her children's pet lamb.
Katie Dodd, 35, told StokeOnTrentLive that she found Destiny the lamb hanging from a tree by a piece of pink twine.
"It was so horrible to see her hanging, I'm so angry," Dodd told the news outlet, recounting her distress at finding the lamb dead on April 29 at her hobby farm in Packmoor in the north of England.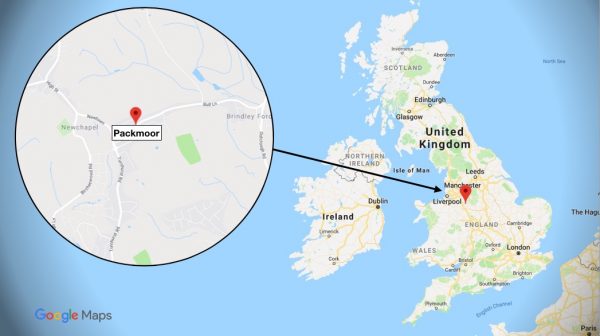 Dodd said this was not the first time hooligans had targeted her small hobby farm. Days after the lamb was found dead, she said someone opened the gates to her farm and let the sheep escape.
"When I started the smallholding we had 18 sheep and they gave birth to 11 lambs," she told StokeOnTrent Live. "Now we've got six lambs and 15 sheep left."
In another incident, she said someone blinded a lamb named Socks in one eye.
"There have been other instances where they have dug holes in the ground and covered them up for the animals to fall down," she added.
It was reported that she has moved her sheep to a secret location until the perpetrators are caught.
The 35-year-old discovered the lifeless lamb strung up by a piece of twine on her farm. https://t.co/vWJNNh1u38

— StokeonTrentLive (@Sotlive) May 31, 2019
Hobby Farm to Help Autistic Children Cope
The 35-year-old mother told the news outlet that she started the small hobby farm as a way to help her two autistic sons cope with developmental issues.
"We started with a couple of rescue animals because my sons didn't really go out that much as they struggle with social interaction," she told the publication.
"They all have their own personal sheep or lamb that was theirs to look after. One was used as a therapy sheep. Now we have to keep the children away because we don't know what we're going to find."
She said she suspects someone who wants to drive her off the land is behind the cruel incidents.
"It was a space for the kids to be able to run around and relax but people who want us to move off the land started to damage the smallholding."
"I've had to move the sheep away because it's unsafe."
She said she has reported the lamb lynching both to the RSPCA and the police.
A Staffordshire Police spokesman told StokeOnTrentLive that the case was being investigated.
Reactions
After news of the incident was posted on the StokeOnTrent Live Facebook page, people reacted with sympathy.
Kelly Jones-Vickers wrote: "This has been going on for far too long Katie, it sickens me that no body has been prosecuted yet. Hopefully the culprits will see this and give you and your animals a bit of peace. You are a wonderful person and a wonderful mum. Keep your chin up."
Vanessa Cork wrote: "This is the saddest thing, that poor woman, why are people so cruel to animals, I hope your new safe place brings you and your children happy memories to be made."
Kirsty Thomas wrote: "Are there any volunteers willing to go and do some stake outs up there at night? Catch them in the act? Failing that, get some wildlife cams to put around the land."
Animal Rights Group Investigates Man Who Drop-Kicked Cat in Disturbing Video
*Warning: contains graphic content.*
The Royal Society for the Prevention of Cruelty to Animals is investigating the case of a man seen on video violently kicking a cat.
The RSPCA (England & Wales) announced on its Twitter feed over the weekend that the disturbing incident—which shows the unidentified man coaxing the cat before giving it a savage kick—would be "looked into."
The organization has also called for the public to help identify the person responsible.
Disturbing Video
The stomach-churning video was posted by the Twitter account Protect All Wildlife (@Protect_Wildlife) with the caption, "Let's find this oxygen thief!!!!"

The footage shows the man appearing to be kind to the cat, stroking it behind the ears. He then turns to the camera and smiles before winding up for a brutal kick that sends the cat flying as a "thud" sound is heard.
Someone off-camera is heard laughing hysterically as the cat spins through the air before it lands several feet away before bolting.
It is unclear whether the cat sustained any serious injuries.
"OMG. I hate that Twitter automatically plays films etc. I was totally unprepared for this," one Twitter user commented. "There should be a warning before this plays."
The video has been viewed over 2.4 million times and shared over 15,000 times in a few days.
Another Twitter user argued the video is "inappropriate to put online" and "will only encourage others," to which someone replied: "Hopefully it doesn't. These campaigns are known to be successful at bringing justice to the evil individuals who do this. It would be great if this one is found and charged."
"Sometimes it's important to see that there is evil in the world," another Twitter user wrote, adding: "even though it makes us uncomfortable. If we lie to ourselves and say every human and every inch of the world is wonderful, we shelter ourselves, and we are unprepared for the actual world."
After viewing the disturbing clip, celebrities have taken to Twitter to express their outrage.
Actress Kirstie Alley wrote: "Omg I would never usually retweet something so hideous .. but if you know this monster PLEASE turn him in!!"
And comedian Ricky Gervais noted: "I can't decide the best punishment for this dirty [expletive]."
Last year the RSPCA rescued and collected over 102,900 animals, according to its website, and investigated over 130,700 complaints of cruelty.