The actor and political activist Laurence Fox filmed Hampshire Police arresting a man at his home for posting an offensive meme on Facebook, allegedly after a complaint was made and the suspect refused to pay for and attend what he called a "reeducation" class.
Hampshire Police have been criticised for arresting and handcuffing an army veteran for an "alleged hate crime" at his home in Basingstoke, southern England, on Thursday after he posted an image of the transgender flag which was mocked up to look like a swastika on social media.
Police & Crime Commissioner Hampshire & Isle of Wight told The Epoch Times in a statement by email that she was "concerned about both the proportionality and necessity of the police's response to this incident."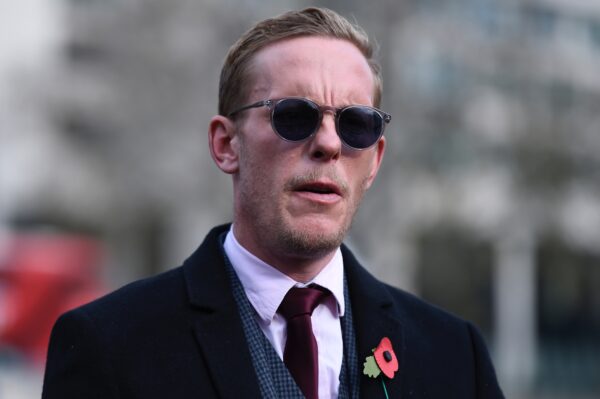 The police had received a complaint about the image and this was allegedly their third visit over social media posts.
'Big Brother' Overreach
The man, who has not been named, was supported by the organisation Fair Cop and The Bad Law Project. Both founder members of the organisation former policeman Harry Miller and British actor and leader of the new political movement the Reclaim Party Laurence Fox were at the scene of the arrest and posted footage on Twitter.
Fair Cop is an organisation that was set in response to what it calls a "Big Brother" overreach of various police forces. The Bad Law Project was set up to deal with what they call "a culture of coercion and control that is fast replacing our legal system."
— Laurence Fox (@LozzaFox) July 28, 2022
Laurence Fox told The Epoch Times that he alleges that there are a number of laws broken and police procedures not followed.
"The Bad Law's position is that you cannot arrest someone who has not committed an offence," he said.
"The police force in Britain has stopped being a police force that polices without fear or favour. It's become a politicised police force exactly like the Stasi, Cheka, and the Gestapo," said Fox.
"All horrific incidents that happened in the 20th century began with the politicisation of the police force. And that's what is happening in the country. They are operating rogue against the law. They are policing an ideology," said Fox.
"Woke ideology has permeated every single one of our institutions and it's a religion to them. They don't care whether they aren't allowed to do it, they're going to do it because it's what their 'god' tells them to do, the one of equity, diversity, and inclusion," he added.
Fox said the veteran contacted The Bad Law Project as he was very worried about police turning up at his front door on Sunday morning.
The police told him that they were going to visit him again on Thursday and Fox and Miller waited at the veteran's house and brought a cameraman with them.
In December 2021, Miller won a legal challenge against a national policy for forces to record gender-critical views as non-crime "hate incidents."
"It's very clear in the Miller vs College of Policing judgment that they are not allowed to do this, but they are still doing it," said Fox.
In the footage, three police officers are seen with Miller, who tells them they are not following correct police procedure.
An officer tells him that "this was his opinion," and Miller replies that "it's not an opinion, it's a fact" and "you don't get to make up subjective and objective reality."
The officer then arrests Miller for "obstructing the police." Police said that handcuffs were put on him "he was explaining" himself.  The ex-army veteran was also arrested shortly after.
— Laurence Fox (@LozzaFox) July 28, 2022
Fox said that both were released without charge.
The Facebook Police
In the publication The Critic, Miller wrote an article called The Facebook Police where he said that new policing guidelines are "wholly ineffective," detailing the first visit by the police on Sunday.
"They remind the suspect that this is their third visit, having previously intervened pursuant to a joke about Tom Daley's knitting, and the reposting of a Hitler in a bunker meme. The meme has been doing the rounds since the late noughties but this is immaterial to the police officers who are keen to exercise their powers of Three Strikes and You're Out," he wrote.
The image, a swastika made out of four LGBT pride flags, was originally posted on Twitter by Fox In June after he said that the image reflected his belief that LGBT pride month is "enforced with a sense of hectoring authoritarianism." His account was subsequently locked by Twitter for being against its "hateful imagery" policy, according to The Daily Mail.
Miller claimed that the veteran was instructed to attend a Community Awareness Course for £60. Victim Awareness Courses are designed for people over 18 "who have committed an offence such as theft, criminal damage, low-level public disorder or assault where no serious physical injury has occurred."
Miller alleges police told the veteran that the course would "reeducate" him.
The Epoch Times has not been able to independently verify this claim.
'Something is Wrong'
In a statement, Police & Crime Commissioner Hampshire & Isle of Wight Donna Jones told The Epoch Times by email that she was "aware of the video published on Twitter which shows the arrest of two men in Hampshire yesterday, one for malicious communications and one for obstruction of a police officer."
The police and crime commissioner is an elected official tasked with setting out the way crime is tackled in the area.
"I have taken this issue up with the Constabulary today and have been advised officers made the arrests following a complaint from a member of the public of an alleged hate crime. It follows a post on social media of Progress Pride flags in the shape of a Swastika," she said.
"I am concerned about both the proportionality and necessity of the police's response to this incident. When incidents on social media receive not one but two visits from police officers, but burglaries and non-domestic break-ins don't always get a police response, something is wrong," added Jones.
"As Police Commissioner, I am committed to ensuring Hampshire Constabulary serves the public as the majority of people would expect. It appears on this occasion this has not happened," she said.
"This incident has highlighted a really topical issue which Hampshire Constabulary and other police forces need to learn from. In order to support this I will be writing to the College of Policing to make them aware of this incident and encourage greater clarification on the guidance in order to ensure that police forces can respond more appropriately in the future," said Jones.
Hampshire Police told The Epoch Times by email that they were making enquiries following a report that an offensive image had been shared online. They were investigating an alleged offence under Section 127 of the Communications Act (2003).
They said that a 51-year-old man from Aldershot was arrested on suspicion of sending by public communication network an offensive, indecent, obscene, menacing message or matter. He was released under investigation and now has been NFAd [No Further Action]. They added that a "57-year-old man from Market Rasen, Lincs, was arrested on suspicion of obstructing/resisting a constable in execution of duty. He was released under investigation, and our enquiries are ongoing. Due to this being a live investigation we cannot comment further."
"It is important to say that our officers come to work every day to protect the public. They were acting in good faith after being deployed to investigate the report of an offensive image being shared online. Policing reports in relation to online content is a complex and challenging picture. We are engaging further with our Police and Crime Commissioner to make sure that we deploy our resource in a way that reflects need in our local communities," Hampshire Police added.
New Guidance
On Monday, the feminist Youtuber Kellie-Jay Keen was visited by Wiltshire Police to "offer words of advice" after a complaint was made against comments in her video that the complainant felt were "inappropriate and offensive."
On July 21, new guidance from England and Wales's police body said that individuals "who are commenting in a legitimate debate, for example, on political or social issues, should not be stigmatised because someone is offended."
Chief Constable Andy Marsh, CEO of the College of Policing, said that non-crime hate incidents should not be recorded where they are trivial, irrational, or if there is no basis to conclude that an incident was motivated by hostility.
"The police regularly deal with complex incidents on social media. Our guidance is there to support officers responding to these incidents in accordance with the law, and not get involved in debates on Twitter," said Marsh.