FARNBOROUGH, England—Britain's Defense Minister Gavin Williamson unveiled a model of the country's proposed new fighter jet named Tempest at the Farnborough Airshow on July 16 and said it would seek international partners to help develop the project.
The government said 2 billion pounds ($2.7 billion) had been earmarked to finance the project through 2025 and that additional funding would be provided by its industrial partners on the project.
The aircraft, which will eventually replace the Typhoon fighter jet, will be developed and built by industrial partners BAE Systems, Britain's biggest defense company, alongside UK engine-maker Rolls-Royce, Italian defense firm Leonardo, and European missile maker MBDA.
Williamson was speaking at the Farnborough Airshow in front of a giant screen that was pulled away to reveal the sleek gray life-size version of Tempest, the cockpit window visible in its pointed nose, above a white underbelly.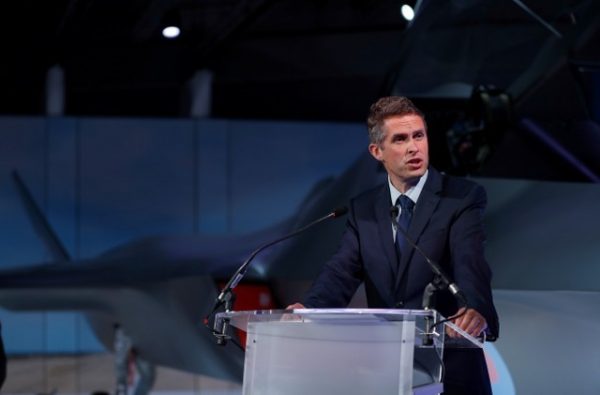 Britain wants to find an international partner to help develop the jet, and Williamson appealed to the crowd packed with visiting military chiefs, who were at the BAE Systems chalet to see the model.
"Our approach hinges on international collaboration," he said.
"My question to potential partners in the room today is simple: How can you work with us, how can we work with you?"
Air Vice-Marshal Simon Rochelle from Britain's Royal Air Force said Britain was having discussions with a number of potential partner countries, including Sweden and Japan.
Analysts have said Sweden is seen as the most likely partner, although countries such as South Korea, Japan, and Turkey, or Gulf arms-buying nations like Saudi Arabia, are also possibilities.
Under the plans, the new jet will be operational by 2035, ready to replace the Typhoon fleet, which is due to be retired in 2040.
The new jet will be able to be operated by a pilot in the aircraft, but will also have an unmanned capability.
Brexit
Prime Minister Theresa May announced the new plans earlier on Monday when she opened the Airshow.
"I want to announce the publication of the UK's combat air strategy, which confirms our commitment to maintaining our world-class air power capabilities," she said.
The UK-led project comes as Britain is due to leave the European Union in less than nine months.
It will face competition from a rival European project after France announced in June that it would take a leading role on a new fighter program, saying it would start as a bilateral effort with Germany that could be expanded later.
The Typhoon, in contrast, was developed by the four-nation group of Germany, Spain, Britain, and Italy in the 1980s.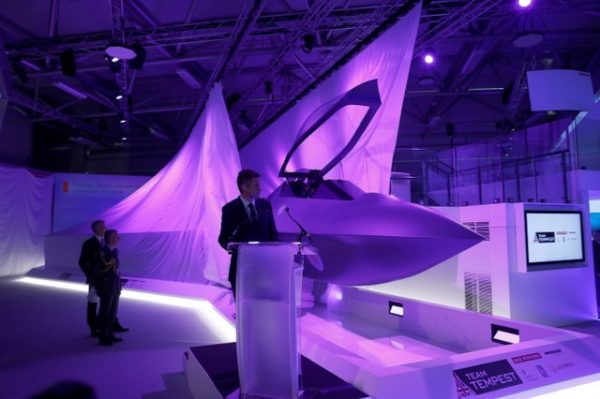 BAE Systems Strategy Director for Air Michael Christie said Britain had the capability to develop Tempest alone, but that it made sense to develop it with a partner as this helped ensure future sales.
"The partnership is a reality of today's defense market. It is very rare for major capital programs to be done on their own and it's very rare for somebody to develop something and just sell it," he said.
Britain has not developed a fighter jet alone since the 1960s. However, it has helped to develop and build the most advanced stealth fighter in the UK fleet, which is the U.S.-made F-35, with BAE Systems carrying out about 15 percent of the work on each jet.
On July 15, the Pentagon reached a multibillion-dollar deal to buy the next batch of F-35s from Lockheed Martin.
Airbus and its long-time rival, France's Dassault Aviation, have agreed to work on the Franco-German project together.
Missile maker MBDA is owned joint-owned by Airbus, BAE Systems, and Leonardo.
By Sarah Young