BRUSSELS/LONDON—Britain and the European Union have agreed a draft text setting out a close post-Brexit relationship, though wrangling with Spain over control of Gibraltar must still be settled before EU leaders meet on Sunday, Nov. 25 in order to rubber-stamp the pact.
Thursday's news sent the pound nearly 1 percent higher on relief among investors that 18 months of tense and tortuous negotiation were bearing fruit, keeping Britain close to its biggest market and ensuring nothing much will change during a transition period due to last until at least the end of 2020.
"The British people want Brexit to be settled. They want a good deal that sets us on a course for a brighter future," British Prime Minister Theresa May told parliament.
"The deal that will enable us to do this is now within our grasp. In these crucial 72 hours ahead, I will do everything possible to deliver it for the British people."
Her spokesman said she believed she could win a critical vote in parliament on the deal, expected next month, but many of those she needs to persuade appeared unconvinced.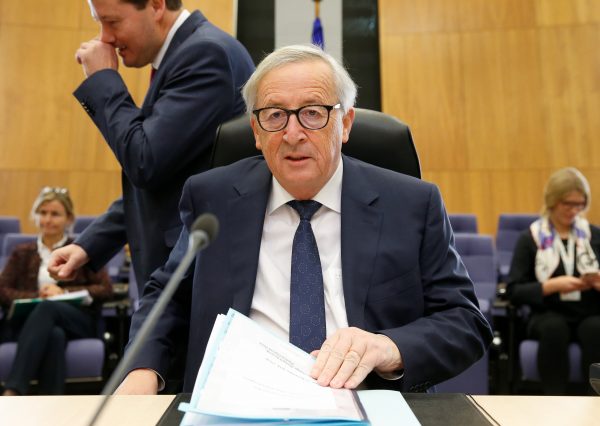 Some fellow Conservatives seeking a cleaner break from the EU accused her of "betraying Brexit" while opposition Labour leader Jeremy Corbyn called the outcome of the negotiations "the worst of all worlds" for keeping Britain linked to the vast EU market but without a say in its rules.
After a draft treaty last week set the terms for Britain's departure in March, May had met EU chief executive Jean-Claude Juncker on Nov. 21, hoping to finalize an ambitious declaration on future ties that could help her secure backing at home for the entire Brexit package.
But the deal faces a rocky ride once it reaches a deeply divided British parliament, with hardline euroskeptic and staunch pro-EU factions, and various shades of gray in-between.
'If There Are No Changes, We Will Veto Brexit'
The main question mark is whether Spain, seeing Brexit as an opportunity to swing the EU's weight behind its 300-year campaign to reclaim Gibraltar from Britain, can be persuaded to remain patient.
Spanish Prime Minister Pedro Sanchez tweeted on Thursday night, "After my conversation with Theresa May, our positions remain far away. My government will always defend the interests of Spain. If there are no changes, we will veto Brexit."
While the withdrawal agreement only requires a qualified majority not unanimity, the EU always seeks consensus on such sensitive matters.
EU sources told Reuters that French calls for access to British fishing grounds and insistence that post-Brexit Britain follow EU environment, tax, labor, and industrial rules are largely drafted, leaving a gap for Spain's concerns that Madrid be given an effective veto over applying any future deal to Gibraltar.
EU diplomats said they hoped Spain could accept a statement, similar to one made before the withdrawal negotiations, that nothing in a future EU-UK treaty would apply to Gibraltar unless Madrid consented to that after bilateral talks with London.
The main text of the political declaration said the EU and Britain "agree to develop an ambitious, wide-ranging, and balanced economic partnership.
"This partnership will be comprehensive, encompassing a free trade area as well as wider sectoral cooperation … will be underpinned by provisions ensuring a level playing field."
Crucially for May, it commits the EU to looking for ways to avoid triggering a "backstop" clause intended to ensure the Irish border remains free of customs checks. Those include, it says, technical and administrative means favored by May's Brexiteer allies that could limit Britain's need to keep its broader economic and trade rules in line with the continent.
By Gabriela Baczynska and Kylie MacLellan